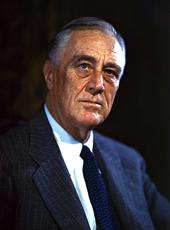 Address on Lighting the Community Christmas Tree, Washington, D.C.
Tonight is Christmas Eve. We are gathered again around our Community Tree here in Lafayette Park, across the street from the White House. Darkness has fallen over the Capital but all about us shine a myriad of brilliant lights. All our hearts, warmed by the eternal fire of Christmas rejoice, because new life, new hope, new happiness are in them.
In this setting I wish my fellow countrymen everywhere a Merry Christmas with peace, content and friendly cheer to all. I wish also to thank the thousands who have remembered me and my family this Christmas with individual greetings. We shall always treasure these friendly messages.
At this time let us hope that the boon of peace which we in this country and in the whole Western Hemisphere enjoy under the Providence of God may likewise be vouchsafed to all nations and all peoples. We desire peace. We shall work for peace. We covet neither the lands nor the possessions of any other nation or people.
We of the Western World who have borne witness by works as well as words to our devotion to the cause of peace, ought to take heart tonight from the atmosphere of hope and promise in which representatives of twenty-one free republics are now assembled in the Pan-American Conference at Lima, Peru. I consider it a happy circumstance that these deliberations will be successfully concluded soon after the birthday of the Prince of Peace. It is indeed a holy season in which to work for good will among men. We derive new strength, new courage for our work from the spirit of Christmas.
We do not expect a new Heaven and a new Earth overnight, but in our own land, and other lands—wherever men of good will listen to our appeal—we shall work as best we can with the instruments at hand to banish hatred, greed and covetousness from the heart of mankind.
And so the pledge I have so often given to my own countrymen I renew before all the world on this glad Christmas Eve, that I shall do whatever lies within my own power to hasten the day foretold by Isaiah, when men "shall beat their swords into plowshares and their spears into pruning hooks; nation shall not lift up sword against nation, neither shall they learn war any more."
Franklin D. Roosevelt, Address on Lighting the Community Christmas Tree, Washington, D.C. Online by Gerhard Peters and John T. Woolley, The American Presidency Project https://www.presidency.ucsb.edu/node/209425