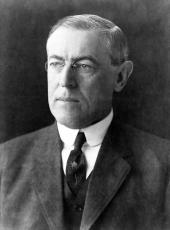 Address to a Joint Session of Congress on Panama Canal Tolls
Gentlemen of the Congress:
I have come to you upon an errand which can be very briefly performed, but I beg that you will not measure its importance by the number of sentences in which I state it. No communication I have addressed to the Congress carried with it graver or more far-reaching implications as to the interest of the country, and I come now to speak upon a matter with regard to which I am charged in a peculiar degree, by the Constitution itself, with personal responsibility.
I have come to ask you for the repeal of that provision of the Panama Canal Act of August 24, 1912, which exempts vessels engaged in the coastwise trade of the United States from payment of tolls, and to urge upon you the justice, the wisdom, and the large policy of such a repeal with the utmost earnestness of which I am capable.
In my own judgment, very fully considered and maturely formed, that exemption constitutes a mistaken economic policy from every point of view, and is, moreover, in plain contravention of the treaty with Great Britain concerning the canal concluded on November 18, 1901. But I have not come to urge upon you my personal views. I have come to state to you a fact and a situation. Whatever may be our own differences of opinion concerning this much debated measure, its meaning is not debated outside the United States. Everywhere else the language of the treaty is given but one interpretation, and that interpretation precludes the exemption I am asking you to repeal. We consented to the treaty; its language we accepted, if we did not originate it; and we are too big, too powerful, too self-respecting a nation to interpret with a too strained or refined reading the words of our own promises just because we have power enough to give us leave to read them as we please. The large thing to do is the only thing we can afford to do, a voluntary withdrawal from a position everywhere questioned and misunderstood. We ought to reverse our action without raising the question whether we were right or wrong, and so once more deserve our reputation for generosity and for the redemption of every obligation without quibble or hesitation.
I ask this of you in support of the foreign policy of the administration. I shall not know how to deal with other matters of even greater delicacy and nearer consequence if you do not grant it to me in ungrudging measure.
Note: Address delivered at a joint session of the two Houses of Congress, March 5, 1914.
Woodrow Wilson, Address to a Joint Session of Congress on Panama Canal Tolls Online by Gerhard Peters and John T. Woolley, The American Presidency Project https://www.presidency.ucsb.edu/node/206433