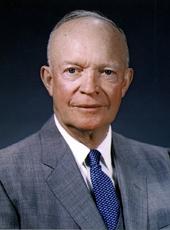 Address at Ceremonies Honoring the Memory of Woodrow Wilson, Staunton, Virginia
Mr. Mayor, Senator Byrd, Senator Robertson, members of the Woodrow Wilson Birthplace Foundation, the President, Faculty and student body, and friends of Mary Baldwin College, and my friends:
I am indeed happy to share this platform with, and to be introduced by my old and esteemed friend, Harry Byrd. He and I share, I might add, a number of similarities in background and in viewpoint.
Both of our mothers were born in Virginia. We both entered the public service the same year--45 years ago--Mr. Byrd as a freshman State Senator, while I joined the Army as a Second Lieutenant. And though our starting points were different, our careers eventually converged across the lines of party policies to wage a campaign as allies against a common enemy, excessive costs in government. I am proud to have been able to fight for fiscal responsibility shoulder to shoulder with your distinguished Senior Senator. And I am sure that I speak for him also when I say we are both proud that your Junior Senator, Willis Robertson, could be here, because he belongs in that same fighting army.
Harry Byrd's integrity, statesmanship, and character have earned for him the respect of those dedicated to sound government. And I salute this legislative warrior, and devoutly hope that he may long continue annually to trot up the Old Rag Mountain--which he apparently does to condition himself for his service in the United States Senate.
My friends, I have come here today as Senator Byrd has said, to pay honor to the memory of a very great man, a man of ideals and high purpose, and a fighter for what he believed to be right. And I had the opportunity to visit the birthplace of my mother, born two years after Mr. Wilson, so you can understand that this journey today is, for me, full of sentiment and deep feeling for this area in which two people who were so important in my life were born.
So we are joined here today to honor the memory of Woodrow Wilson, the seventh of the Presidents of the United States to be produced by the Commonwealth of Virginia.
Incidentally, throughout my remarks, I shall quote often from President Wilson, without attempting to identify the quotations as such.
It is now just two years short of a half-century since Wilson returned to Staunton for a triumphal homecoming after his election as President in 1912.
Today again, another connection I had with Mr. Wilson, in 1913 I was a Cadet corporal at West Point, and I marched in his first Inaugural parade.
Neither of the two warmly anecdotal talks he gave on that occasion-one at Mary Baldwin College and the other at Staunton Military Academy--could in any sense be construed as major addresses. Yet in both we catch glimpses of the progression of ideas that formed the touchstone of Wilson's faith--the ideas which had slowly taken shape and firm root during a career that gave him such rich preparation for the presidency. In that career he enjoyed a varied and valuable experience--he was a scholar--a man of thought; a college president; a Governor of one of our largest eastern States where he necessarily exercised both executive and political functions.
Wilson paid special tribute to his native State on his homecoming to Staunton and to the important influence Virginia's dedication to freedom played in his own development. On an earlier occasion he had already made a masterly presentation of the vital role of state government in our republic.
"We are certified by all political history," he said, "that centralization is not vitalization."
Today we know the wisdom of this principle is still applicable despite the great changes in our society that massive industrialization and population growth have brought about. Yet we are beseeched on all fronts to deposit more and more functions and authority in the hands of central government.
Sometimes we abdicate local responsibility, consciously, in the false hope of permanently ridding ourselves of some nagging problem; in other instances it is done unknowingly as we become too preoccupied with other matters to observe the extending reach of centralized authority. In either case the net result is to diminish further the freedom that flourishes best where responsibility is held and authority is exercised, close to home. I trust that as each of us reflects upon the working partnership of the Federal-State system, he will become increasingly mindful of Wilson's perceptive warning that "Centralization is not vitalization." The need for eternal vigilance of the people against the insidious maneuverings of centralized bureaucracy is constant.
Virginia's valiant struggle against oppressive centralism antedates the American Revolution by at least a hundred years. The citizens of this State have never faltered in their support of this cause. I salute them for their stalwart defense of one of the most vital features of America's free government--the reserved rights of the sovereign states.
When Woodrow Wilson stood here in December of 1912, at the age of 56, he sensed a new responsibility descending upon America. Abundantly furnished with wealth and extraordinarily furnished with opportunity though we were, he remarked, we tended to forget that our mission was not to pile up this wealth, but to serve mankind in humanity and justice. Indeed, he said, all the world was coming to this view.
Wilson was profoundly conscious of this turning point. He knew that the human commonwealth could not remain a trackless society, unsupported by rules of conduct that could sustain peace with justice. And he gave a wealth of thought to this problem.
Finally, six years later, he presented the arguments for adoption of his famous 14 points. What we seek, he declared, is "The reign of law, based upon consent of the governed, and sustained by the organized opinion of mankind."
This indeed was the goal that Wilson sought without success. But today we have a second chance to win through to that goal. And we dare not fail.
This week we commemorated an event that President Wilson would have applauded--the fifteenth anniversary of the United Nations Organization. He would have seen it as a lineal descendant of the League of Nations. It would please him to know that above the multilingual communication that goes on daily in the United Nations, a mighty effort is being waged by men and women of good will to learn a new language--a new universal language of mutual trust and faith. It can be learned but only through the mutual understanding that must be established in the human commonwealth. Its purpose is to lighten, not darken, the mind; it is a common tongue whose dialect knows neither suspicion nor hatred.
Over the years the stir of ideas was what Wilson loved most. Once in his teaching days he noted that "the use of a university is to make young gentlemen as unlike their fathers as possible." Most of us might be momentarily startled by such an assertion, but on reflection we would see that he was merely decrying an excessive worship of habit, ritual, dogma, and even labels.
To him, the fact that an idea was not presently attainable in no way dimmed its validity. "Sometimes people call me an idealist," he said. "Well that's the only way I know I am an American. America is the only idealistic nation in the world."
While Wilson was very definitely a man engrossed in the world of intellectual thought, he had a profound distrust of cloistered study. "Would I not be a better professor of public law for having been Assistant Secretary of State?" he asked, testifying to the value he placed on experience.
And his ideal of leadership was the concept of the thinking man in action. And the strength of the true leader, as he sensed it with great conviction, was not force, but persuasion; not matter, but the spirit.
The great problems of humankind, President Wilson held, could only be successfully overcome through the union of thought and action in enlightened leadership. He recognized that leaders must generate momentum. But this does not require a cunning and facile tongue, he told the students at Staunton. Momentum does not require eloquence. "It just needs the kind of serenity which enables you to steer by the stars, not by the ground."
He was not a man who believed in bruising the ears of his fellow men with shrill cries of alarm. Only clear expression of ideas "wins entrance into minds," he argued--and their sincerity into their hearts.
Wilson displayed an almost prophetic vision in the times that were even then swiftly descending upon us, and which could require from all peoples an effort to organize the world for a peace with justice. As we push forward with the hard, serious tasks ahead we can take satisfaction that an American idealist tried to chart the way for us.
His sweeping grasp of history made him acutely conscious that men and societies have often been inclined to follow false leaders to their destruction. Thus the great task of a society, as he saw it, was to be able to recognize who are the safe leaders. The citizen, in short, must distinguish between two alternatives, he said--"one trimming to the inclinations of the moment, the other obedient to the permanent purposes of the public mind. The one adjusts his sail to the breeze of the day; the other makes his plans to ripen with the slow progress of the years. While one solicitously watches the capricious changes of the weather, the other diligently sows grains in their seasons."
With this in mind, societies must choose between the conflicting teachings of political expediency on the one hand and the pursuit of noble, long term goals on the other. This is the kind of decision that free peoples are often called upon to make--and we can only pray that Wilson's counsel will always be their guide.
Certainly, if we heed Wilson we shall never hesitate to pay for freedom whatever price may be required. And in such a determination on the part of all of us, there is the constant assurance of victory. Let us remember another passage from President Wilson: "The highest and best form of efficiency," he said, "is the spontaneous cooperation of a free people."
The greatest tribute we can pay him is to reflect seriously on his life, his thoughts, his work, realizing that in the self-discipline he preached lies the one true way by which free peoples may sustain freedom and live fruitful and meaningful lives in peace.
Thank you very much indeed.
Note: The President spoke at 1:35 p.m. on the porch of the Administration Building at Mary Baldwin College, upon invitation of the Woodrow Wilson Birthplace Foundation. His opening words referred to Thomas E. Hassett, Mayor of Staunton, U.S. Senators Harry F. Byrd and A. Willis Robertson of Virginia, and Dr. Samuel R. Spencer, Jr., President of Mary Baldwin College.
On his trip to Virginia the President visited the birthplace of his mother, Mrs. Ida Stover Eisenhower, near Mt. Sydney in Augusta County.
Dwight D. Eisenhower, Address at Ceremonies Honoring the Memory of Woodrow Wilson, Staunton, Virginia Online by Gerhard Peters and John T. Woolley, The American Presidency Project https://www.presidency.ucsb.edu/node/234305