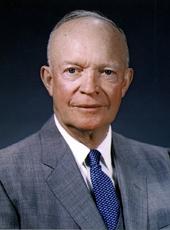 Address Before a Joint Session of the National Congress of Uruguay.
Mr. President, distinguished members of the Congress, ladies and gentlemen, citizens of Uruguay:
Before I give to you my communications, the thoughts that I have wanted to say to you, I want to express something of my feelings concerning the welcome that has been given me by Montevideo--all the way along the beaches, through the streets with their majestic buildings, and by a people that seemed to be expressing the utmost in friendship.
My only regret is that every member in every dwelling in the farms and cities of my country could not have seen this day, because they would have realized that this people was trying to say "We are with you, in believing in freedom, in our dedication to liberty, and because we are so joined with you we send across these oceans to you from North America, our very best wishes."
I deem it a high honor to address you, the democratically elected representatives of the people of Uruguay.
I bring you from my people and my government earnest expressions of friendship and good will.
The United States shares with Uruguay an abiding desire to live in freedom, human dignity, and peace with justice.
The great wonder of history is that leaders--knowing that peoples everywhere, regardless of economic station, race, or creed, possess a burning desire to achieve these values--still have been unable to prevent the world from becoming tragically divided by mistrust, threat, and even overt hostility.
In our time, the destructive power available for misuse is awesome. We have now reached the point in human progress where the choice before us is mutual annihilation or abiding cooperation in the construction of the peace that lives as a cherished dream in the hearts of people everywhere.
At this fateful time, the people of the United States find themselves carrying unbelievably heavy burdens. They do this not just in their own interest, but for the benefit of all who cherish freedom--all who believe that human affairs should be managed in harmony with basic moral law. They do this for all who are deeply convinced that peoples have the inalienable right to live in peace, with their creative energies devoted exclusively to building the social, cultural, and economic institutions consonant with their own desires.
My country makes these sacrifices with no avaricious end in view. The United States does not covet a single acre of land that belongs to another. We do not wish to control or dictate to another government. We do not desire to impose our concepts of political, cultural, or economic life upon either the largest or the smallest, the strongest or the weakest, of the nations of the earth. We believe that the people of every nation are endowed with the right of free choice, and that the most sacred obligation of the world community is to guarantee such choice to all.
Need I document these assertions? The Philippines today are independent--by their own choice. Alaska and Hawaii are now, proudly, equal partners in our federated, democratic enterprise--by their own choice. Puerto Rico is a Commonwealth within the United States system--by its own choice. After World War I, World War II, and the Korean War, the United States did not in any way enrich itself at another's expense--even from former enemies.
Indeed, it did the opposite. We offered substantive help to others, first for reconstruction, and then, because of thundering threats, for the creation of a cooperative defense system to protect the free world from deliberate attack or the miscalculation of arrogance.
I am aware of the feeling of many people in Latin America that the United States, while giving bounteously for postwar reconstruction and mutual security, has been less generous with our good neighbors of this hemisphere.
I am the first to acknowledge the fallibility of nations and leaders, even those with the best intentions. But I ask you and all our good friends of the Americas to consider this:
The aid we gave to Europe after the Great War helped restore that area as a producer and buyer, to the benefit of Latin America as well as to ourselves. During the war, the trade of Latin America with the United States increased six-fold, and has been sustained at a higher level since then.
The resources we have exported for the construction of a defense perimeter have been for the benefit of all who desire freedom, independence and the right to be unmolested as they work for the improved well-being of their own people.
These efforts have required our people to impose upon themselves the most burdensome levels of taxation in our national history. They have caused us to forego doing as much as we otherwise would in some internal projects. They have brought difficulties in our international financial affairs. But--let me emphasize this--the assistance flowing to Latin America from the United States, in the form of private and public loans and technical aid, has been higher in recent years than ever before. Indeed I wonder if many realize the extent, both in mass and beneficial effect, of the capital going into Latin American enterprises from United States sources? In the last fiscal year, for example, the private and public funds made available in Latin America from the United States and its companies approximated one billion dollars--and it is difficult to set a figure representing the subsidiary benefits brought about by the creation of new jobs, new markets, and new enterprises.
Yes, while we have known holocausts of anxiety, suffering, and great human tragedy three times in this century, we have not turned inward to indulge in self-pity. We have willingly extended the hand of friendship and cooperation, and in this process we have attached no greater importance to solid, abiding partnerships with any area than we have with those of the American republics.
Of course we face vexatious problems requiring constant attention. We have them. You do.
As for our bilateral problems, the record clearly reveals that they have been susceptible of solution when the healing balm of understanding has been applied.
I am keenly aware that all of Latin America--and Uruguay is no exception--is plagued by the fluctuation of raw commodity prices. Latin America has need for industrialization, diversification, education, health facilities, and capital to speed development.
Progress in any nation is and must be largely the task of its own people, institutions, and leaders. But the United States stands ready to help in any way it soundly can, within the framework of our world responsibilities and the limits of our resources. Further, we work for the time--not distant I hope--when all the nations of the world in attaining greater prosperity will progressively share in programs of assistance to less developed countries. Indeed, I would go further: I believe it is the duty of every nation, no matter how large or small, how weak or strong, to contribute to the well-being of the world community of free men. For a time, perhaps some can supply only certain skills, or personnel, or spiritual support. The important consideration is that we should all accept a common sense of responsibility for our common destiny.
I am sure you hold the concept, as we do, that every human being, given an opportunity to do so, will make his contribution to the general welfare. You must feel, as we surely do, that hunger and privation must be eliminated from the earth by the cooperative effort of peoples and of governments of good will. We are certain, as you must be, that the cooperative effort of free working men and women, dedicated to and living under democratic principles, can out-produce the regimented working force of any nation suffering under dictatorial control.
Nations must constantly explore new opportunities to be helpful to one another. Who would have thought, a few years ago, that six nations of Europe would now be joined in a common effort to enlarge trade opportunities, to lower production costs, and thus to improve living standards? Or that seven other nations would develop a loose confederation for cooperation with those six? Yet these developments are under way. They can contribute to the growth of the free world, provided of course that both blocs operate with due regard for the interests of other countries.
Here in Montevideo last month, you were host to a meeting of the representatives of eight nations, at which was taken an important formal step toward the creation of a common market in which Uruguay would be a participant. You are dealing here with the possibility of widening each nation's markets in such a way that. you increase the efficiency of many industries and thus greatly enhance the opportunity to obtain credits to hasten development. I congratulate you.
The beginning point of all cooperation--or between individuals, or between groups within a single society, or between nations--is genuine human understanding.
The conclusion, within the next few days, of a Fulbright Agreement between Uruguay and the United States for the exchange of students and professors is an important step in this direction.
Surely we of Uruguay and the United States should not fail in developing the knowledge about one another, and the abiding understanding, on which dependable cooperation can be based. I know you respect our democratic processes, our system of economic freedom, our adherence to those cardinal concepts of human dignity and consecrated intelligence which we draw from our religious philosophy.
Certainly we admire you. The people of Uruguay, like the people of the United States, came from many different places, but all were guided by passionate desires for freedom, justice, and opportunity. Under a great leader, Jose' Artigas, you struggled for independence, even as we did under George Washington. And then you set to work.
We have watched the development of democratic institutions in Uruguay with unbounded admiration. We have been impressed with your individualism--with the development of the flaming spirit of liberty, justice, and self-discipline in the citizens of Uruguay. And we have applauded your successes as you have battled against human want, without sacrifice of human liberty.
It is no wonder that, in a world in which millions have been subjected to the philosophy and fetters of vicious tyranny, we feel a deep spiritual relationship to you.
We have worked well together in helping build the most influential regional organization on earth, the Organization of American States-in helping make the United Nations an instrument of true promise for international cooperation--and in seeking the solution to the problem of transcendent importance: peace, with justice, in freedom.
Controlled, universal disarmament is now imperative. The billions now living demand it. That we can make it our children's inheritance is our fondest hope.
The United States is deeply committed to a ceaseless search for genuine disarmament, with guarantees that remove suspicions and fears. Nearly seven years ago I said what I now re-pledge: the United States "is ready to ask its people to join with all nations in devoting a substantial percentage of its savings achieved by disarmament to a fund for world aid and

reconstruction."
Members of the Congress: I profoundly thank you for the honor of meeting with you, for your generous hospitality and for the friendly greetings of the Uruguayan people whom you represent. May God favor you in your efforts to promote the interests of your people in freedom, and inspire you to still greater effort in our common struggle to achieve a world which lives in harmony under moral law.
Note: The President spoke at 6:05 p.m. at the Legislative Palace. His opening words "Mr. President" referred to Senator Juan Carlos Raffo Fravega, President of the General Assembly and of the Senate.
Toward the close of his address the President quoted from an address before the American Society of Newspaper Editors on April 16, 1953 (see 1953 volume, this series, p. 179).
Dwight D. Eisenhower, Address Before a Joint Session of the National Congress of Uruguay. Online by Gerhard Peters and John T. Woolley, The American Presidency Project https://www.presidency.ucsb.edu/node/235335