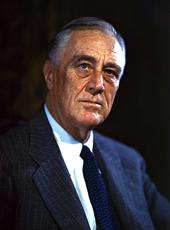 Address to Advisory Council of the Committee on Economic Security.
I am glad to welcome you to the White House and to tell you that I am happy that there is so much interest in the problem of economic security. Last June I said that this winter we might well make a beginning in the great task of providing social insurance for the citizen and his family. I have not changed my opinion. I shall have recommendations on this subject to present to the incoming Congress.
Many details are still to be settled. The Committee on Economic Security was created to advise me on this matter. It will bring to me, not any preconceived views, but a mature judgment after careful study of the problem and after consultation with the Advisory Conference and the cooperating committees.
On some points it is possible to be definite. Unemployment insurance will be in the program. I am still of the opinion expressed in my message of June eighth that this part of social insurance should be a cooperative Federal-State undertaking. It is important that the Federal Government encourage States which are ready to take this progressive step. It is no less important that all unemployment insurance reserve funds be held and invested by the Federal Government, so that the use of these funds as a means of stabilization may be maintained in central management and employed on a national basis. Unemployment insurance must be set up with the purpose of decreasing rather than increasing unemployment. It is, of course, clear that because of their magnitude the investment and liquidation of reserve funds must be within control of the Government itself.
For the administration of insurance benefits, the States are the most logical units. At this stage, while unemployment insurance is still untried in this country and there is such a great diversity of opinion on many details, there is room for some degree of difference in methods, though not in principles. That would be impossible under an exclusively national system. And so I can say to you who have come from all parts of the country that not only will there have to be a Federal law on unemployment insurance, but State laws will also be needed. In January the great majority of the State Legislatures will convene, as well as Congress. You who are interested in seeing that unemployment insurance is established on a nationwide basis should make your plans accordingly.
We must not allow this type of insurance to become a dole through the mingling of insurance and relief. It is not charity. It must be financed by contributions, not taxes.
What I have said must not be understood as implying that we should do nothing further for the people now on relief. On the contrary, they must be our first concern. We must get them back into productive employment and as we do so we can bring them under the protection of the insurance system. Let us profit by the mistakes of foreign countries and keep out of unemployment insurance every element which is actuarially unsound.
There are other matters with which we must deal before we shall give adequate protection to the individual against the many economic hazards. Old age is at once the most certain, and for many people the most tragic of all hazards. There is no tragedy in growing old, but there is tragedy in growing old without means of support.
As Governor of New York, it was my pleasure to recommend passage of the Old-Age Pension Act which, I am told, is still generally regarded as the most liberal in the country. In approving the bill, I expressed my opinion that full solution of this problem is possible only on insurance principles. It takes so very much money to provide even a moderate pension for everybody, that when the funds are raised from taxation only a "means test" must necessarily be made a condition of the grant of pensions.
I do not know whether this is the time for any Federal legislation on old-age security. Organizations promoting fantastic schemes have aroused hopes which cannot possibly be fulfilled. Through their activities they have increased the difficulties of getting sound legislation; but I hope that in time we may be able to provide security for the aged—a sound and a uniform system which will provide true security.
There is also the problem of economic loss due to sickness—a very serious matter for many families with and without incomes, and therefore, an unfair burden upon the medical profession. Whether we come to this form of insurance soon or later on, I am confident that we can devise a system which will enhance and not hinder the remarkable progress which has been made and is being made in the practice of the professions of medicine and surgery in the United States.
In developing each component part of the broad program for economic security, we must not lose sight of the fact that there can be no security for the individual in the midst of general insecurity. Our first task is to get the economic system to function so that there will be a greater general security. Everything that we do with intent to increase the security of the individual will, I am confident, be a stimulus to recovery.
At this time, we are deciding on long-time objectives. We are developing a plan of administration into which can be fitted the various parts of the security program when it is timely to do so. We cannot work miracles or solve all our problems at once. What we can do is to lay a sound foundation on which we can build a structure to give a greater measure of safety and happiness to the individual than any we have ever known. In this task you can greatly help.
Franklin D. Roosevelt, Address to Advisory Council of the Committee on Economic Security. Online by Gerhard Peters and John T. Woolley, The American Presidency Project https://www.presidency.ucsb.edu/node/208240