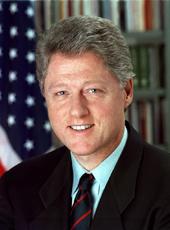 Acts Approved by the President
Approved May 16
H.R. 4204/Public Law 103–249
To designate the Federal building located at 711 Washington Street in Boston, Massachusetts, as the "Jean Mayer Human Nutrition Research Center on Aging"
H.J. Res. 239/Public Law 103–250
To authorize the President to proclaim September 1994 as "Classical Music Month"
S.J. Res. 146/Public Law 103–251
Designating May 1, 1994, through May 7, 1994, as "National Walking Week"
Approved May 18
S. 2000/Public Law 103–252
Human Services Amendments of 1994
Approved May 19
H.R. 1134/Public Law 103–253
Clear Creek County, Colorado, Public Lands Transfer Act of 1993
H.R. 1727/Public Law 103–254
Arson Prevention Act of 1994
S. 341/Public Law 103–255
To provide for a land exchange between the Secretary of Agriculture and Eagle and Pitkin Counties in Colorado, and for other purposes
William J. Clinton, Acts Approved by the President Online by Gerhard Peters and John T. Woolley, The American Presidency Project https://www.presidency.ucsb.edu/node/220202