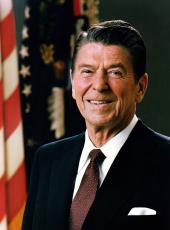 Written Responses to Questions Submitted by Bild-Zeitung of the Federal Republic of Germany
Berlin Wall
Q. On August 13, 1961, the East Germans erected the wall that has been separating the city of Berlin. Twenty-five years later it is still there, and 74 people have been killed trying to escape to the West. What does this mean for East-West relations?
The President. The Berlin Wall is an affront to the human spirit. It symbolizes the failings of totalitarian regimes and their inability to crush the innate human striving for freedom. Its very existence reminds us of the need to defend our democratic way of life and to continue our work for freedom and peace. The wall also reminds us of the continued, forced division of Europe, of Germany, and of Berlin. Dismantling the wall would be a major step towards improvement of East-West relations. Its continued existence will remain a burden on our relations with those regimes responsible for it.
Q. When do you believe the wall can be torn down?
The President. I would like to see the wall come down today, and I call upon those responsible to dismantle it. No regime can attain genuine legitimacy in the eyes of its own people if those people are treated as prisoners by their own government.
Arms Control
Q. Soviet Secretary Gorbachev has made a series of proposals for arms reduction. Will there soon be fewer nuclear weapons and conventional arms in Europe?
The President. We welcomed the recent Soviet proposals as a signal that the Soviets have begun to make a serious effort. I have responded in a constructive spirit. The arms control process is gaining momentum. The ball is now in their court. If they respond constructively, we can make important progress.
My highest priority is reaching a balanced and verifiable agreement on deep, stabilizing reductions of nuclear arms. This is an attainable goal. I am ready to work with the Soviets and Mr. Gorbachev to achieve this. Separately, NATO, through the decision readied at Montebello in October 1983, is proceeding to unilaterally reduce its nuclear inventory to reach the lowest inventory consistent with credible deterrence.
We continue to work for progress in negotiations on conventional weapons as well. In the CDE negotiations in Stockholm, we seek to negotiate verifiable confidence and security building measures. In MBFR, NATO proposed a major new initiative last December which addressed the East's primary concerns. In both of these fora our proposals contain fair and reciprocal measures for verification, including on-site inspection. At the CDE the East has recently been more responsive to our concerns. In MBFR, however, the Soviets have so far failed to respond seriously, especially with respect to following up on Mr. Gorbachev's January 15 endorsement of "reasonable" verification measures. Nonetheless, we continue to hope that the Soviets will return to us with a constructive response.
NATO is continuing to study General Secretary Gorbachev's proposal for a new conventional arms control approach encompassing all the territory from the Atlantic to the Urals. NATO has also launched a study designed to examine conventional arms control in Europe in its totality and find the best way to achieve a stable, verifiable balance of conventional forces at a lower level. We will continue to pursue with the Soviets these proposals designed to strengthen security and peace in Europe.
Reunification of Germany
Q. In 1952 Stalin proposed that Germany could be reunited as a neutral country in central Europe. Under what conditions would you today see a chance for a united Germany?
The President. The United States is committed to ending the unnatural division of Europe. We support the goal of reunification of Germany through peaceful means and in accordance with the democratically expressed will of the German people.
West Berlin
Q. The Soviets are trying to raise the status of Berlin again and again. What guarantees can you give to the people of West Berlin that they can live on in peace and freedom?
The President. There should be no doubt of our enduring commitment to Berlin and to its future. We have sustained this commitment for over 40 years, and it will continue to be the centerpiece of our European policy. We have demonstrated on numerous occasions our readiness to stand firm in defense of Berlin. At the same time, we are continually striving to establish a normalization of conditions in and around the city.
West Germany-U.S. Relations
Q. In the past few months there has been some dissension between Washington and Bonn—for instance, SDI, the Libya crisis, and the threat of a trade war. How are German-American relations now?
The President. I would disagree with your use of the word "dissension." In fact, our relations with the Federal Republic are excellent. Let's look at the examples you mentioned. On SDI, we have concluded an agreement with the FRG on cooperation in SDI research, and our Department of Defense has just awarded the largest overseas SDI research contract yet to a West German firm. On Libya, while we have had some differences of views on our counterattack against Libyan terrorism, your government agrees on the need to work together with the United States and other governments to fight terrorism, which threatens all civilized nations. On trade issues, we and the FRG are united in our desire to combat protectionism, avert the threat of a trade war, and work together to reach mutually acceptable trade arrangements. So, I don't see "dissension" in our relationship—just the opposite. We have a longstanding close and deep relationship with the FRG and ties of great friendship and regard for the German people.
Chancellor Helmut Kohl
Q. Chancellor Kohl calls you one of his best friends. How is your relationship?
The President. I agree with Chancellor Kohl. That close relationship is based, first and foremost, on the warm relations between our two countries and peoples. The FRG and the United States share the preeminent goals of economic and political freedom for all, of liberty for the individual, and of pursuit of a just and stable peace throughout the world. The Chancellor and I agree on the philosophy underlying many of the policies he advocates in Bonn and I pursue here—for example, on the importance of the private sector and on the need to preserve basic human and family values, as well as our common security. Finally, we've established a very close and warm personal relationship.
Soviet-U.S. Relations
Q. When is your next meeting with Gorbachev, and do you think there should be regular summits of the two world powers?
The President. At our meeting last November, General Secretary Gorbachev and I agreed to meet again in the United States in 1986, and he invited me to the Soviet Union in 1987. We have made suggestions to the Soviets about this year's summit to which they should now respond. While no dates have been set, Secretary [of State] Shultz and Soviet Foreign Minister Shevardnadze will meet September 19 and 20 here in Washington to discuss details, and we are working on the assumption that there will be a summit this year as agreed. At the Geneva summit we also agreed to intensify the dialog between our two countries at all levels. Since then there's been a lot of discussion as well as a number of meetings on the whole range of issues: arms reduction, humanitarian questions, bilateral matters, regional affairs. This process, mostly at the expert level, has been useful and will continue.
Note: The questions and answers were released by the Office of the Press Secretary on August 11.
Ronald Reagan, Written Responses to Questions Submitted by Bild-Zeitung of the Federal Republic of Germany Online by Gerhard Peters and John T. Woolley, The American Presidency Project https://www.presidency.ucsb.edu/node/259660