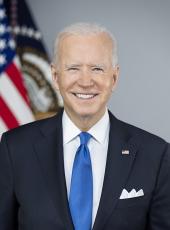 WHAT THEY ARE SAYING: Local Conservation Leaders Applaud President Biden's $1 Billion Investment to Restore the Great Lakes
Yesterday in Lorain, Ohio, President Biden and Environmental Protection Agency Administrator Michael Regan announced $1 billion from the Bipartisan Infrastructure Law will help cleanup and restore the Great Lakes. Local conservation leaders praised the record investment.
Read what they are saying below:
Great Lakes Commission Chair Todd L. Ambs: "Accelerating the restoration of Great Lakes Areas of Concern is a beneficial move for our region. This work protects the environment and human health and is a great economic driver for the region as well."
Executive Director of the GLC Erika Jensen: "The Great Lakes Commission is grateful to U.S. EPA for their continued partnership on efforts to restore Great Lakes resources. We forward to seeing this critical work continue in collaboration with other federal, state, and local partners."
Executive Director of Wisconsin Conservation Voters Kerry Schumann: "The Great Lakes, though massive, are not immune to threats. From industrial pollution to invasive species, the world's largest source of freshwater is vulnerable despite its great size. The climate crisis only exacerbates these threats. As a Great Lakes state, Wisconsin has a keen interest in keeping the region and its water resources clean and healthy. This unprecedented $1 billion investment under the Great Lakes Restoration Initiative and the Biden Administration's Infrastructure and Jobs Act is a significant step for protecting the Great Lakes and the people who depend on their health."
Federal Policy Director of Illinois Environmental Council Brian Gill: "The Biden administration is prioritizing the restoration and protection of the Great Lakes. The millions of Illinosans who rely on the Great Lakes for drinking water, food, recreation and tourism will benefit from this unprecedented investment."
Federal Government Affairs of Director for Michigan League of Conservation Voters Bentley Johnson: "Our Great Lakes are part of our way of life here in Michigan, and this funding will help protect these valuable resources for years to come. The Great Lakes Restoration Initiative is a critical tool to preserve our Great Lakes, and the additional $1 billion from the bipartisan Infrastructure Investment and Jobs Act will help clean up pollution in watersheds around our Great Lakes that are the source of drinking water for millions of people."
Director of the Ohio Environmental Council Action Fund Trish Demeter: "We applaud President Biden and his administration for their historic investment to restore healthy waterways throughout the Great Lakes, including important strides to delist Ohio's remaining areas of concern by 2030. We have a lot of work left to do to fully restore and protect Lake Erie. Today's funding announcement will accelerate important clean up efforts, while also supporting critical efforts to reduce agricultural runoff, restore vital habitat, protect millions of Ohioans' drinking water, and equitably invest in underserved communities."
President of New York League of Conservation Voters Julie Tighe: "These investments in the Great Lakes, from protecting a vital source of drinking water for tens of millions, to cleanup projects that will restore natural habitats and revitalize native species, are significant and critical across the country. Initiatives like this are bipartisan, popular, and more important now than ever here in New York to not only make once-in-a-generation progress, but doing so the right way to supercharge the green economy with good-paying jobs."
Deputy Legislative Director for League of Conservation Voters Madeleine Foote: "It is no coincidence that many of the most severely environmentally degraded sites in the Great Lakes are located in low income communities and communities of color. By targeting these historic investments in those communities, the administration is making significant progress on its Justice40 Initiative and helping to ensure every community has access to the clean water they need to thrive. However, while we applaud the administration's actions today, the climate crisis threatens the future of the Great Lakes — Congress must quickly pass the Build Back Better agenda to ensure they can continue to serve as sources of drinking water, recreation, and a way of life for generations to come."
Chairman of the Oneida Nation of Wisconsin Tehassi Hill: "The Great Lakes Restoration Initiative is helping the Oneida Nation and other indigenous communities address the disproportionate impact of pollution and environmental degradation in our region. The Bipartisan Infrastructure Law's investment in this program provides us with a critical tool to address generations of environmental injustice,"
Chief of the St. Regis Mohawk Beverly Cook: "The St. Regis Mohawk Tribes looks forward to implementing AOC management actions under the Bipartisan Infrastructure Law and Great Lake Restoration Initiative. The funding has the potential to accelerate opportunities for Tribal Nations, states and EPA to work cooperatively to remove impairments and ultimately delist sites.
Joseph R. Biden, WHAT THEY ARE SAYING: Local Conservation Leaders Applaud President Biden's $1 Billion Investment to Restore the Great Lakes Online by Gerhard Peters and John T. Woolley, The American Presidency Project https://www.presidency.ucsb.edu/node/354545