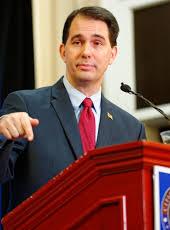 Walker Campaign Press Release - Walker Campaign Press Release - Governor Scott Walker Announces Minnesota Campaign Co-Chairs
Des Moines, Iowa - Gov. Scott Walker today announced a team of state leaders who will serve as co-chairs for his presidential campaign in Minnesota. Walker's growing leadership team in his neighboring state is a reflection of his unique appeal in the Midwest and his dedication to competing aggressively in the early caucus state. They join Walker's state chairman, House Speaker Kurt Daudt, in leadership of the campaign's efforts in Minnesota.
"This is a group of great leaders, principled conservatives, and good neighbors, and it is my privilege to have their support," said Walker. "These individuals witnessed Wisconsin's turnaround and the impact of our reforms up close, and I'm honored to have them on our team as we share our record and message with Minnesota and with the nation."
Walker's Minnesota campaign co-chairs include:
State Sen. Dave Thompson

Kurt Zellers, former Minnesota House Speaker

Marty Seifert, former Minnesota House Minority Leader

Chris Tiedeman, Minnesota GOP National Committeeman
State Sen. Dave Thompson is a lifelong Minnesotan. He sits on the State Senate Taxes Committee and the State and Local Government Committee, and he is ranking minority member of the State Senate Tax Reform Division. He was a Republican candidate for Minnesota governor in 2014. Dave and his wife Rhonda have been married 27 years, and live with their 2 children in Lakeville.
"I believe Scott Walker is the one candidate for president who has the ability to win the general election and govern as a common sense conservative," said Thompson. "Governor Walker won three hard-fought elections in Wisconsin while standing up for his principles and refusing to compromise his heartfelt beliefs. He is courageous, and he is a winner. It is an honor to endorse Governor Walker for President of the United States."
Kurt Zellers was elected the 57th Speaker of the Minnesota House of Representatives for the 2011-2012 Legislative Session. He had previously served as House Minority Leader for the 2009-2010 Session. Zellers is just one of three Republicans in Minnesota to lead the GOP to a legislative majority in the House since party designation was enacted in 1972. He ran for governor of Minnesota in 2014. Zellers also worked as a public relations executive for local public relations firms, private sector businesses and three statewide campaigns during the past 20 years.
"Our nation is at a crossroads, and we need principled and proven leadership," said Zellers. "Governor Walker embodies our authentic American success story. He has proven his mettle, led his state out of tough times, and is the best person to lead America back to greatness. I'm proud to support Governor Walker."
Marty Seifert, a resident of Marshall, served in the Minnesota House of Representatives from 1996 until 2010, and was elected minority leader of the Republican caucus from 2006 to 2009. He previously worked as a high school social studies teacher and an admissions counselor at Southwest Minnesota State University, the same university where he received his bachelor's degree in political science and secondary education. In 2014, Seifert was a Republican candidate for governor.
"Scott Walker is a conservative leader with proven solutions," said Seifert. "He has shown multiple times that he can unite Republicans and attract non-Republican voters, which is exactly what the our party needs right now."
Chris Tiedeman is a longtime Republican activist and campaign strategist. He got his start in politics at St. Olaf College as State Chairman of the Minnesota College Republicans and Treasurer of the College Republican National Committee. In 2000, he was a candidate for the Minnesota State House of Representatives. He is a principal and part owner of Weber Johnson Public Affairs, a public affairs and political consulting firm located in St. Paul, where he focuses on grassroots and strategic consulting. Chris serves on the Board of Directors of the Minnesota Adoption Resource Network, a non-profit focused on advocating for kids stuck in the system looking for forever families. He lives in Blaine.
"Gov. Walker understands the importance of Republican activists in the caucus process and the role our party plays in Minnesota," said Tiedeman. "He is committed to organizing for the caucuses and has the proven track record to be successful. The grassroots are drawn to his message of big, bold reforms, and will support him because we are looking for a leader who will continue to fight and win on our behalf."
Additional members of Walker's Minnesota leadership will be announced in the coming months.
Scott Walker, Walker Campaign Press Release - Walker Campaign Press Release - Governor Scott Walker Announces Minnesota Campaign Co-Chairs Online by Gerhard Peters and John T. Woolley, The American Presidency Project https://www.presidency.ucsb.edu/node/312024