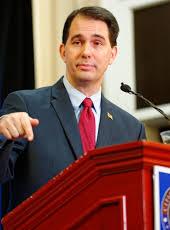 Walker Campaign Press Release - Politicians Talk, Leaders Deliver
It's been happening for years. Like clockwork every election cycle, the politicians on Capitol Hill vow to get our economy growing again and create more jobs.
Those of us outside the Washington bubble have all heard the talk, we just haven't seen the results.
On the national level, unemployment and taxes are too high, and economic growth and labor participation are too low. Meanwhile the federal government just keeps getting bigger. For all of the fighting the politicians in Washington do, victories on behalf of the taxpayers are few and far between.
In Wisconsin, we don't just talk about growing the economy, cutting taxes and shrinking government, we actually make it happen. When I became governor, I inherited a mess. The state was saddled with a $3.6 billion deficit and unemployment was over 8 percent. Wisconsinites had endured so many years of tax hikes, many had stopped believing they'd ever be cut.
A week after I was elected, I met with all of the state's Republican lawmakers and said that the voters had told us they wanted big, bold reforms. Some in the statehouse didn't want to challenge the status quo, but I told them it was put up or shut up time. If we didn't do what we said we'd do, the voters would have every right to throw us out. We adopted a strategy that's rare in politics: we actually delivered on our campaign promises.
We said we'd cut taxes and we did, lowering them by $2 billion and eliminating an entire tax bracket in my first term alone. By 2017, we will have provided taxpayers with $4.7 billion in honest to goodness tax relief, jumpstarting the economy and helping hardworking citizens. We've also cut property taxes every single year I've been governor, and they are now lower than when I came into office.
To help our businesses grow, we eliminated miles of bureaucratic red tape. We made Wisconsin a friendlier environment for businesses and workers by becoming a Right to Work state and giving workers the freedom to decide whether or not to join a union. We turned around a $3.6 billion deficit and balanced every budget I have signed as governor. We did it by cutting wasteful spending and eliminating sweetheart deals for the special interests that were bad for taxpayers.
We didn't just shake up the status quo, we turned it on its head, and peoples' lives are better because of it. Our unemployment rate is now below the national average at 4.6 percent, down from 8.1 percent before I took office. Prior to my election, Wisconsin had lost over 130,000 jobs. But since I've been governor, the state has created nearly 150,000 new ones, and our labor force participation rate is now higher than the national average.
If we want to get our national economy growing again, cut taxes and shrink government down to size, we need more than someone who is good at giving speeches and making campaign promises. We need a leader who can deliver results, just like we've done in Wisconsin.
Scott Walker, Walker Campaign Press Release - Politicians Talk, Leaders Deliver Online by Gerhard Peters and John T. Woolley, The American Presidency Project https://www.presidency.ucsb.edu/node/312106