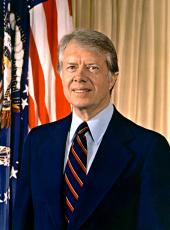 Visit of President Anwar al-Sadat of Egypt Toasts at the Dinner Honoring the Egyptian President.
PRESIDENT CARTER. First of all, let me welcome everyone here.
In our great country we have a lot to be thankful for. I won't take my entire time to describe the blessings that we have in the United States, but one of the blessings that we have tonight is to have two very close friends to come and visit us, along with their family and their official family, from Egypt. Sometimes when people walk in a home, there's an instant feeling of warmth and friendship and common purpose and even a degree of love. And that's the way we feel when the Sadats come to visit us at the White House.
That's not the only thing I'm thankful for. Every day when the election progresses through its long and tortuous route, I'm thankful that one man is not running against me in the United States. [Laughter] How would you like to run against Anwar Sadat— [laughter] —for President of the United States? I would guess that he's possibly the most popular man not only in .our country but in most parts of the world, because he has demonstrated in his own life, in a unique and exemplary way, statesmanship, understanding of others in a strong and compassionate and self-confident manner, and the epitome of political courage.
When he decided in his own fashion to make an historic trip to Jerusalem, it transformed the attitude of the world. There was a shock that went through society in almost every nation on Earth and a thrill that one person could change instantly a discouraging and even debilitating deadlock, which had given four wars in 30 years.
It's hard to think back now on those troubled times, because so much has changed in the last 30 months—a time when Israel was hated and despised by almost all Arab governments, when no Arab leader had the temerity to even meet with or talk to or recognize diplomatically or acknowledge the right of Israel to exist. And President Sadat decided to change all that. And he was received with gratitude and friendship and with courage by Prime Minister Begin and the people of Israel.
A lot has happened since then, and the response has been extraordinary—an unprecedented achievement of an accord, an agreement, a mutual commitment between Israel and Egypt after 13 days of intense negotiations at Camp David, when the limit of, I would say, human commitment and tenacity and perseverance and patience was tested. And we came out with a signed document that laid the groundwork for the future.
I have reread this document lately, and it's filled not only with achievement but with promise. It would be inconceivable that we would let this promise slip from our grasp and end the hopes and the confidence and the aspirations of two troubled peoples, and indeed the entire world, with failure. It's inconceivable.
It's important for us to remember that peace between Israel and Egypt is not a threat to others. It's a possibility for the realization of the hopes of the Palestinians and the hopes of all Israel's neighbors and, indeed, all the nations of the Arab world to live in peace and to slowly but inevitably remove hatred from their hearts and to seek for common understanding. It's not easy. No one claims that it's easy. It hasn't been easy so far. But it's important. The two countries have set May 26 as a goal date for the consummation of the expectations at Camp David, and I think we should not forget the promise, that still exists in a live and vital way, of success.
I just summarized on a piece of paper the basic elements of the Camp David accords. It's a brief document. And I would hope that all of you might get a copy of it and just read it over, because it's indeed extraordinary. It specifies that the U.N. Security Council Resolution 242 will be a basis for future negotiations in the relationships between Israel and all her neighbors. It expresses a firm commitment to the respect for the territory and the independence and the integrity and the sovereignty of all nations and the right for them to live in peace behind recognized and secure borders.
It specifies that the relationship that's now developed between Israel and Egypt should not be confined to those two nations, but the same kind of thrust should extend to the relationship between Israel and all her neighbors. It's a foundation for future success with nations that so far have not chosen to take advantage of this wonderful opportunity.
This document specifies the organization of a self-governing authority in the West Bank and Gaza, derived through free elections held by the people who live in those two troubled areas. And with the establishment of a self-governing authority, Israel has agreed to withdraw the military government and the civilian administration associated with it, and then to withdraw all her troops from the occupied territories, and then the remainder of those troops to be located in specified security locations. The people of those two territories are granted autonomy, and as Prime Minister Begin said many times in the presence of President Sadat and me, not just autonomy—full autonomy. Full autonomy, he said many, many times.
It's important for us to know that the agreement calls for a strong local police force and for that local police force to be interrelated with law enforcement officials in Jordan and in Egypt and in other surrounding countries.
It's important for us to remember that security arrangements should be agreed upon, that there should be a recognition of the legitimate rights of the Palestinian people, that the Palestinians have a right to participate in the determination of their own future, and that the Palestinian question should be resolved in all its aspects, and that the nations involved—that is, Egypt, Israel, we, and others—should provide for the resolution of the problem of the Palestinian refugees.
You can see how far-reaching this document is, and Prime Minister Begin, President Sadat, and I are pledged to carry out all these agreements on our word of honor and on the honor of the nations that we represent. It's a solemn commitment which cannot be lightly ignored or violated.
The world now may be skeptical about the prospects of success, but the world is not nearly so skeptical now as it was before Camp David or before the peace treaty was signed between Israel and Egypt. We've overcome difficulties in the past, and the United States plays a full role in assuring that the negotiations now underway will be successful.
A week from now, Prime Minister Begin will be here. And he has the same commitment to the success of this effort as is shared between President Sadat and myself. We cannot afford to fail, because of these two nations committed to peace and led by courageous men who are determined not to fail.
Tonight, I would like to propose a toast: To the people of Egypt, a proud and ancient nation which has provided leadership for the world through many generations, and for its great leader, President Anwar Sadat, his lovely wife, and all the human characteristics that are so fine and noble which they represent. And I'd like to propose a toast to peace.

PRESIDENT SADAT. My dear friend President Carter, Mrs. Carter, dear friends:

Thank you for your kind words and genuine hospitality.
As you well know, it is always a pleasure for us to visit your great country and work with you for the noble cause of peace and friendship among nations. The historic steps we have taken together on the road to peace constitute the most positive contribution to that cause.
We are determined to pursue our mission until a comprehensive settlement is achieved. This was our pledge when we started together, and it remains our firm commitment. If a comprehensive settlement was a necessity at the time we began our endeavor, it is an absolute must today.
The talks we held today confirmed my confidence in your unwavering commitment to justice and morality. You have demonstrated once again your sensitivity to other people suffering a denial of rights. You have proven your determination to stand firm by your commitments. You set a shining example for genuine concern and unselfish concern for peace and stability in every corner of the world. You fully realized the interdependence and community of interests between all nations today. As ever, you shouldered your responsibility with vision and courage.
In the weeks and months ahead, we shall continue to work together for the consolidation of peace. We shall spare no effort in our concerted drive to effect a genuine change in the West Bank and Gaza. A real transfer of authority must take place, and a new era of reconciliation should begin. This would be in the interest of all nations, not the Palestinian peoples alone. No one benefits from the continuation of .occupation and the perpetuation of conflict. No one profits from the escalation of tension and the deepening of suspicion, suspension, and distrust among those who live in the same region. Everyone stands to gain from a just and lasting peace in the cradle of civilization.
I am happy to say that we are quite satisfied with the development of our cooperation in various fields. This is greatly appreciated by every Egyptian. We are determined to intensify the creative exchange between our peoples for the good of all nations. Such a healthy and sound relationship, based on mutual respect and trust, can promote a higher degree of universal understanding and cooperation. It sets a model for human interaction and solidarity with those who believe in the oneness of the destiny of man. Let us pledge to continue this march and reinforce our friendship in every possible way.
Dear friends, permit me to ask you to rise in a tribute to our great friend, President Jimmy Carter, and Mrs. Carter, to all of you present tonight, to every American who lent us his support and understanding, and to the ever-growing friendship between our nations. God bless you all.
Note: President Carter spoke at 8:07 p.m. in the State Dining Room at the White House.
Jimmy Carter, Visit of President Anwar al-Sadat of Egypt Toasts at the Dinner Honoring the Egyptian President. Online by Gerhard Peters and John T. Woolley, The American Presidency Project https://www.presidency.ucsb.edu/node/250535