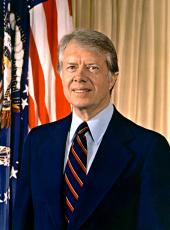 Visit of Lieutenant General Obasanjo of Nigeria Toasts of the President and Lieutenant General Obasanjo at a Dinner Honoring the Nigerian Head of State.
THE PRESIDENT. First of all, let me welcome all of you here. This is one of those great occasions in our country's history when a new relationship between two great nations is beginning to take form and the advantages of that relationship are becoming obvious to all those involved.
This weekend I went to Camp David, and I spent probably 18 or 20 hours studying tax reform options, and I spent 2 or 3 hours reading a very interesting book called "Things Fall Apart," written by a great modern novelist called Achebe from Nigeria. This was an intriguing book about the life of a small community in Nigeria and how it was changed with the advent of the intrusion of white missionaries and the British Government officials and how there was a struggle to retain both the freedom and independence and heritage that was precious to the Nigerians in the face of inexorable changing social and economic times. It was a very fine book, and I would recommend it to any of you here who haven't read it.
This is a time of great admiration in my own life for General Obasanjo and the people who come with him, and also the great country that General Obasanjo represents.
There is a common theme that runs through the advice to me of leaders of African nations: "We want to manage our own affairs. We want to be friends with both of the great super powers and also with the nations of Europe. We don't want to choose up sides. We don't want you or the Soviet Union to inject yourselves into the internal affairs of the nations of our continent. We believe that we are able and we are certainly willing to resolve challenging and very difficult disputes."
And if there's one nation that has come into the forefront because of great population, 80 million, because of economic advances, the wealthiest nation in Africa, probably, because of enlightened leadership, it's Nigeria.
This is a country that went through a very terrible civil war. And those of us who live in either the North or South in our own country know that it took us a hundred years to overcome the consequences of a divisive civil war in our own country. But under the leadership of General Obasanjo and the Military Council, Nigeria has healed its wounds and has carved out for its own citizens a very fine and rapidly improving quality of life and at the same time, in an almost unprecedented fashion has earned the confidence and trust of the other leaders of Africa and perhaps of the world as far as integrity is concerned and sound judgment and fairness.
I don't know, in my own limited experience as a statesman, a public official, but as a long student of history, that I've seen this happen before so quickly. It's also an almost unprecedented thing to know that a group of military leaders love their nation so much and love the principles of human freedom so much that without fanfare or turmoil or bloodshed they've laid a firm basis for rapid transfer of authority to the people themselves through free elections and through civilian rule.
And a democratically chosen constitutional convention comprised of about 230, 240 people are already completing the first draft of the constitution which will have a president and a bicameral congress, legislature, and they have maintained an absolutely free judicial system.
And the anticipation is that the first elections might take place in 1979, perhaps no later. They've extracted the finest aspects of British jurisprudence, in my opinion, and retained it. They have a unique system, Cy,1 of choosing judges. The Chief Justice of the Supreme Court of the nation and the chief justices of the supreme courts of the states choose the new appointees to be judges, and they are submitted to the Military Council and, as a pro forma thing they're approved. This is something that I would welcome here in the United States. It would take off me the responsibility of appointing judges. [Laughter]
1 Secretary of State Gyms R. Vance.
But the point I'm making is that there is a remarkable trend of change with pride and determination of preservation of human rights and absolute human freedom, a deep commitment to democracy in an extremely rapid way, and an acquisition, because of fulfillment, of the trust of the other nations of Africa and, indeed, of the whole world.
And I'm very proud to see our own relationship with Nigeria improving rapidly.
As we've discussed today, the problems with Chad and Libya, the advice that I've had is, "Let us handle it. We're already working with the Chadeans and the Libyans, and I believe that we can resolve it." And as we are deeply concerned about the Horn of Africa, I've learned today that the OAU has a standing committee and that Nigeria will be the lead nation in bringing Somalia and Ethiopia together if things go well. And through negotiation, perhaps the differences can be resolved with an alleviation of the bloodshed that's being demonstrated there now.
Well, I'm very proud to have this friendship, because our hopes are the same for Africa as those that exist in the hearts of our visitors here tonight--that there might be peace, that there might be an honoring of national borders, that there might be a complete absence of military intrusion or unwarranted influence from the European nations or the super powers, ourselves or the Soviets, or any other outside force, that there might be the establishment of majority rule, an end to racism and discrimination, that there might be maximum autonomy for the nations that exist there, enhancement of human freedom, and an improvement in the quality of life of people who live in Africa.
These are exactly the same things we hope for. And because of my own limited knowledge of Africa, but a burgeoning interest in Africa on the part of our own Nation, it helps me to have a friend, adviser, and counselor like our guest here tonight to make sure that our own decisions are made on the basis of sound advice and accurate analysis of things as they exist.
I'd like to close by saying that we have very strong ties with Nigeria at the people level, even though there have been differences of opinion in the last few years which are now being rapidly alleviated. There are more than 15,000 Nigerian students in the United States, and this in the future will help to tie our countries together.
And I'm determined, as a fellow Baptist--[laughter]--and as a fellow engineer and as a fellow leader of my Nation, to join in with General Obasanjo to assure that these demonstrations of progress are continued at an accelerating rate in the future.
On behalf of the people of this country, I would like to offer a toast to the great leader and leaders of Nigeria and to the people of that great country who have served so well, our friends.
LIEUTENANT GENERAL OBASANJO.
President Carter, distinguished guests:
I wish to thank you most sincerely for the excellent dinner we have just had and for the warm and friendly reception which you and your government have so graciously accorded me and members of my delegation.
I also thank you for the kind and generous terms in which you spoke about my country and myself. We have seen demonstrated in this short period of our visit a new awareness of the need to establish a bridge of communication between our two countries and our two peoples. But ! believe that a close affinity already exists between our two countries. History and shared ancestry bind us to a large section of your population. This affinity for that derives from our common attachment to freedom and independence and all their ramifications.
You attained your independence 200 years ago. We have been independent for only 17 years. For us in Nigeria, independence is indivisible and total, and we regard our independence as incomplete so long as parts of the African Continent remain under the yoke of colonialism.
Our perception of the policies of successive United States administrations was that concern for Africa and its problems played an insignificant role in the formulation of these policies. It appeared to us that Africa had become a mere pawn in a global chess game which had no serious relevance to our concerns and interests. Even if such a policy served the interests of the United States at that time, the effect of its implementation was to alienate the vast majority of the people of Africa whose history and even aspirations cut them out to be staunch friends and allies of the American people.
At our independence all the indications to us were that it was almost natural that the United States and Nigeria would enjoy a cordial and close relationship. Events subsequently showed that the genuine desire of Nigeria to walk in close collaboration with the United States to promote freedom and understanding could not be reciprocated.
There are those who hold the view that such setbacks are natural in the history of relations between nation states. Some maintain that both the United States and Nigeria did not utilize the opportunity which their common belief and historical ties offered them. Even at that time, while relations between our two Governments were at their lowest ebb, there were individuals in both countries who, because of their determination and foresight, resisted the temptation to give up all attempts at fostering friendly relationships and kept open the lines of communication and dialog between our two peoples until the atmosphere improved.
Hence, we are again in a position to indicate our readiness to work together for the cause of freedom and understanding and fo foster cooperation in areas of mutual benefit. While we seek to forge closer relations between our two countries, let us, Mr. President, remember that the commitment of our peoples to freedom is total and that we can only carry our people along with us if we continue to uphold and nurture those principles which motivate their action.
As far as we are concerned, we are happy to note that for the first time a United States administration is showing signs of recognizing the necessity of placing Africa in its proper position as a major focal point in the quest for international peace and stability. Nowhere in the world is there a greater assault on human rights than in Africa. Nowhere is the continued exportation of weapons of war and the technology of destruction likely to have graver consequences than in Africa. And so long as Africa remains unstable, for whatever due political reasons, so long will developments there continue to pose a threat to world peace.
This is why we welcome with pride the place which you and your administration have given to human rights. This has kindled a new awareness of freedom and its overall importance in the overall context of relations between nation states.
If this policy is consistently pursued, the peoples of Africa will have no difficulty in accepting that your stand and commitment to freedom and justice is more than mere rhetoric. The basic rights of all human beings, which your administration upholds, remind us all that one of the primary responsibilities of all governments is to jealously protect and assure the fundamental rights of their peoples. We in Nigeria share this belief with you, Mr. President.
There is hardly any need for me to recount here the steps we are taking in Nigeria to restore the government of our country to a democratically elected body by 1979. While our own traditions of government and historical experience will inevitably influence the form and content of our constitution and the style of government in our country, we cannot ignore the lessons and experiences of older republics.
Mr. President, since our arrival here, you and I have discussed at length the situation in southern Africa. If we have devoted so much time to the subject, it is largely because we share the view that nowhere else in the world are the ideas of freedom, justice, and human rights so wantonly and systematically trampled upon than in that unhappy part of our continent.
While I do not wish to go over the issues again here, I would like to stress that they are of paramount importance in the relations between our two countries and peoples. I am sure, therefore, that we shall continue to monitor events in the three problem areas of southern Africa.
Here again, Nigeria, for her part, is prepared to support all efforts aimed at finding just and peaceful solutions to the problems of southern Africa. Those of us who are skeptical about the current well-intentioned international efforts directed at bringing about desirable change in southern Africa through peaceful means are led to that conclusion by our understanding of racism and colonialism. Peaceful negotiations can only be carried out in an atmosphere of mutual respect and confidence. Neither Vorster nor Smith inspire any confidence, trust, or respect. Indeed, given the very systems they are committed to maintain, it is idle and unrealistic to expect them to miraculously abandon their chosen course on their own.
Apartheid and the belief in the superiority of one race over another is the fundamental belief among the white groups in South Africa and Rhodesia. This belief has been systematized and sustained by a whole range of state operators of violence. We therefore believe that only the eventual bankruptcy of the system will bring about acceptable change in southern Africa. But this will be a long process, which we cannot expect the principal victims to patiently endure. This is why we believe that an armed liberation struggle by the oppressed is justifiable and bound to succeed. This is a commitment which we in Africa have a duty to support.
While we acknowledge that some countries outside Africa may not feel able to subscribe to this position, we think they can assist in this effort by discontinuing their current involvement with the racist system in terms of their massive investment and their deliveries of arms and, in particular, the technology of armaments.
If, as almost the whole world seems to be agreed, apartheid is a uniquely evil system, then no one should hesitate to feel we have a moral duty to humanity to take these minimum steps.
Mr. President, other aspects which touch directly on the bilateral relations between our two countries flow from the premise of our mutual commitment to common ideals. In spite of the undue and often misleading publicity given to Nigeria's petroleum resources, ours is a developing country. Eighty percent of Nigeria's working population is in the agricultural sector. Our per capita income is less than $350 per annum. Thus we cannot be considered as a rich nation. It is our hope, therefore, that we will continue to enjoy the cooperation of the United States in the execution of programs designed to improve the quality of life for our people.
Our resources and available technology cannot yet support self-sustained improvement in the standard of living of the bulk of our population. As with other technologically and industrially advanced countries, we shall seek to consult more closely with the United States in exploring further ways of strengthening cooperation in our endeavor to develop a strong technological base for the mechanization of production and the resultant improvement to the material well-being of our people.
Mr. President, as you are aware, the dialog between the industrialized countries and the developing nations on the structure of a new world economic order ended inconclusively, and there was no agreement as to what system should replace the existing one.
We are encouraged to know that the United States is committed to work towards the creation of a more just world economic system, because we also desire the elimination of a situation in which nations of the world are prominently categorized as industrialized and developing states, haves and have-nots. I am happy that we are both committed to the creation of a new world order which will take due cognizance of the interdependence between states, a world in which nation states will relate to one another on the basis of equality, understanding, and mutual respect.
May I once again express my sincere gratitude and that of my delegation for your generous hospitality. I also seize this opportunity to assure you that we welcome your impending visit to Nigeria. It certainly will add a new dimension and impetus to the efforts of all who desire to forge meaningful and mutually beneficial relations between the peoples and governments of our two countries.
Honorable Members of Congress, distinguished ladies and gentlemen, may I invite you to rise and drink with me a hearty toast to the continued good health and happiness of President Carter and to the well-being of the people of the United States of America.
Note: The President spoke at 8:47 p.m. in the State Dining Room at the White House.
Jimmy Carter, Visit of Lieutenant General Obasanjo of Nigeria Toasts of the President and Lieutenant General Obasanjo at a Dinner Honoring the Nigerian Head of State. Online by Gerhard Peters and John T. Woolley, The American Presidency Project https://www.presidency.ucsb.edu/node/242820