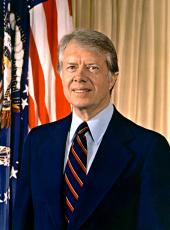 United States Olympic Team Remarks at the Welcoming Ceremony for Participants in the 1980 Winter Games.
For me, as President of the United States of America, this is one of the proudest moments that I've ever experienced. These are wonderful young Americans, and they have thrilled our Nation. And we're all deeply grateful for your tremendous achievements.
Immediately after the hockey game between the United States and the Soviet Union, I placed a call to Herb Brooks, congratulated him and the team, told him how proud we were of all of them, and invited this group to come to the White House. He said, "Mr. President, we've got another game to play Sunday morning, and I can't promise that we'll come until we see how that event goes." And I said, "Well, if you can come, we'd certainly like for you to do so." [Laughter] He said, "Well, after the Olympics are over, I think there are some buses that will be available at Lake Placid to bring us to the White House." [Laughter] And I said, "If you don't mind, Herb, I think I'll send a couple of planes to pick you up." [Laughter] So, here they are. And we're very proud of them.
This has been a wonderful week for our country. These young men and women have performed magnificently, and as the whole Nation knows, this group has won as many medals as any Winter Olympic team in history. But to the team, I would like to say that, even more importantly, you've conducted yourselves in the finest traditions of our country and of the Olympic ideal. You've thrilled the entire world.
Eric Heiden's performance at these winter games will be remembered for years to come—when he won a gold medal for speed skating in the 500-meter, 1,000-meter, 1,500-meter, 5,000-meter, and 10,000-meter races. I know from personal experience how long a 10,000-meter race is. [Laughter]
As all of you know, Eric Heiden will take his place in Olympics history along with greats like Jim Thorpe, Jesse Owens, Mark Spitz, Nadia Comaneci, Jean Claude Killy, and others who have distinguished themselves in an extraordinary way.
The U.S. hockey team—their victory was one of the most breathtaking upsets not only in Olympic history but in the entire history of sport.
And I also want to congratulate the other medal winners, who thrilled us with their wonderful performance: Linda Fratianne—where is Linda? Leah Poulos Mueller, who won two silver medals. This is Linda Fratianne—isn't she beautiful?—and Leah, with two silver medals.
And I would like to say that my heart went out especially to Beth Heiden, who did a tremendous job. And I think she deserves an awful lot of credit. Beth?
To Charlie Tickner, who was introduced earlier. Charlie? Is he here? Beautiful performance.
And I'd like to say a special word about Phil Mahre. His performance was particularly admirable because, as you well know, less than a year ago he sustained a crippling injury—on the same mountain, as a matter of fact—and many of his doctors said that he might never ski again or race again. What he accomplished in winning a silver medal represents vividly the courage and the competition, dedication of the Olympics in the finest possible way. But medal or no medal, Phil would deserve our respect and our admiration just for participating in this highly competitive sport.
But for all of you, the measure of your achievement is the effort and the dedication you gave to making a great team and to giving it all you had. Glenn Job, Susan Charlesworth, Al Ashton, Walter Malmquist, and everyone of you here today have made Americans proud. That pride in personal achievement and in honoring the ideals of the Olympics, which you share with your teammates, your coaches, your families, and your fellow Americans, is even more important than any medal.
Some people live their whole lives without ever devoting themselves to one major attempt for achievement. It's hard for them to appreciate what it means to get up before dawn, year after year, when others are still asleep, to be in training when others are enjoying themselves, to endure pain and exhaustion and disappointment, to give not just your time and energy but your entire self to achieving a great goal.
To go through all of that personal sacrifice is indeed a great achievement. And then to suffer an injury or some other obstacle that eliminates from final competition is tough to accept. But to go through that sacrifice and then have chances dashed by something that really has nothing to do with your own efforts can be an even harder blow.
The Soviet invasion of Afghanistan has violated peace and the principles of the Olympics. And it has caused us to make a motion that the Olympics be moved or postponed this summer. I intend to meet soon with a representative group of our summer athletes to talk to them about an alternative world-class competition for them this summer that does not harm Olympic principles and will not harm future Olympic games.
We often hear it said that there are no more heroes. We're all supposed to be too sophisticated for the recognition of heroes. But our Olympic athletes are heroes. They endure long and brutal training schedules. They make hard sacrifices, and so do their families and their coaches. They do it to reach their greatest potential, for themselves and for their country.
Today, on behalf of the American people, I salute not just the medal winners but all the heroes who've worked so hard to represent our country and to represent themselves in the Olympic games.
Here .also today are the officers of the United States Olympic Committee, including another gold medal winner, Dr. Tenley Albright. And I particularly want to recognize another president, President Robert Kane, who's been learning these past few weeks about the responsibilities of being a president and the hard decisions that presidents have to make. [Laughter]
And I also want to take this opportunity to remind the American people that the United States Olympic Committee depends for its funds, its money, on the generosity of American citizens and American businesses. In addition to training and selecting the U.S. Olympic team, the U.S. Olympic Committee carries on many other important and worthwhile activities to support athletic excellence in this country. An excellent way for all of us to express our pride in our young athletes is to continue and to increase our financial and our moral support for the U.S. Olympic Committee.
To these American athletes, to these modern-day American heroes, I want to express the gratitude, the admiration, the congratulations, and the thanks of an America which was thrilled by your performance at the Winter Olympics. God bless every one of you. Thank you from the bottom of my heart.
Note: The President spoke at 12:10 p.m. on the South Lawn of the White House.
Following the ceremony, the President and Mrs. Carter hosted a luncheon and reception for the athletes in the State Dining Room at the White House.
Jimmy Carter, United States Olympic Team Remarks at the Welcoming Ceremony for Participants in the 1980 Winter Games. Online by Gerhard Peters and John T. Woolley, The American Presidency Project https://www.presidency.ucsb.edu/node/250416