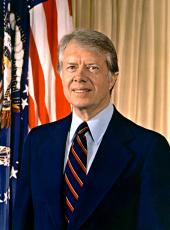 United Nations Remarks at a Working Luncheon for Officials of African Nations.
That's the briefest speech I've ever heard Andy Young make. [Laughter]
It is an honor for me to meet with the distinguished representatives of so many countries in Africa. President Machel and I were just noticing that we have 50 States in our Nation and about 220 million people. In Africa, there are also about 220 million people--49 states now; Zimbabwe will be 50 and Namibia will be 51.
In the past, we have not always enjoyed as close a spirit of friendship and cooperation with the nations of Africa as we would have liked. I think it's accurate to say, however, within the last 9 months, because of the good services of our Secretary of State, Cy Vance, and our Ambassador to the United Nations, Andrew Young, that those relations have improved greatly, and we are very thankful for this progress.
Our purpose is the same as yours--to see a strong, vigorous, free, and prosperous Africa with as much of the control of government as possible in the hands of the residents of your countries. We believe in majority rule. We believe in human rights. We believe in peace. And we, of course, also believe in strong harmony among neighbors and also between ourselves and you across the Atlantic Ocean.
This luncheon is a chance for me to get acquainted with all of you, and we are very eager for this chance to grow into closer and more constant consultations between myself, all of you, and the leaders of your great countries.
We have benefited greatly in the evolution of our own national policy from close consultation with many of you. I believe that our purposes are the same as yours.
We face together the problem of how to resolve the Rhodesian, Zimbabwe question. Our own cooperation with the British, with the Organization .of African Unity, with the strong leaders of nations who are neighbors of Zimbabwe have been very helpful in forming a common purpose. And now this question, as you know, has been presented to the United Nations. As the months ahead give us an opportunity for increasing realization of our hopes for majority rule and peace in Zimbabwe, we would welcome your constant advice and counsel about how we can use the influence of the United States in the most constructive way.
Of course, we are also dedicated to carrying out the resolutions which already exist concerning Namibia, and we hope for early and complete peace in the Horn of Africa. And we are eager to cooperate with you .in these noble efforts.
I might add, also, that we want to have very close and friendly bilateral relationships between the United States and every one of your countries. We now have about 2,000 Peace Corps volunteers in 23 nations in Africa. In the past, I know that this has been an effort about which there has been some doubt. But if you have a special need for technical help or help with agriculture, education, health, if you would let me know or Secretary of State Vance or Ambassador Andrew Young, we would be glad to participate with you on this basis, with your having control, of course, over how these volunteers might strengthen the ties between our country and yours.
We do this and offer this in a spirit of partnership and equality. And, of course, we also welcome delegations of your own citizens or individual students or others, who would like to come to our country and to learn about us and to form closer ties of friendship between our people.
I might close by saying that we are very eager to have a reduction in expenditures for weapons and arms, as I mentioned in my speech this morning. We have a substantial aid program. Our hopes would be that this could be in the form of humanitarian aid and not military aid.
We need to understand your special problems and your special hopes and dreams and aspirations for the future so that the opportunities in your own country might be realized. And I would personally appreciate direct communication from the leaders of your nations if a special occasion should arise where the United States might be of help in some matter that is important to your people.
Again, let me say how deeply grateful I am for the honor of meeting all of you.

We share a common purpose. Friendship can bind us together, and I'm very eager to meet you more than halfway.
I hope that those of you who represent your countries here will extend my heartiest and personal best wishes to the leaders of your country. And I know that many of them have been here already; some will come next year. And I look forward to a chance in the future, perhaps, of visiting your nation, to extend a stronger expression of friendship from the United States to the people whom you represent.

Thank you very much.
Note: The President spoke at 2: 03 p.m. at the headquarters of the U.S. Mission to the United Nations in New York City. He was introduced by Andrew J. Young, U.S. Representative to the United Nations.
The President hosted the luncheon for foreign ministers and heads of delegations to the United Nations.
Jimmy Carter, United Nations Remarks at a Working Luncheon for Officials of African Nations. Online by Gerhard Peters and John T. Woolley, The American Presidency Project https://www.presidency.ucsb.edu/node/242636