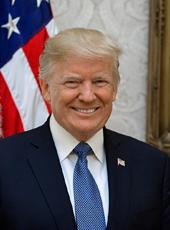 Trump Campaign Press Release - What They Are Saying: President Trump Won The Debate
Joe Biden was weak.
Joe Biden was the clear loser of tonight's debate.
Frank Luntz, pollster: "Biden should not have told Trump to shut up. Trump has rattled him, and it's not a good look for Biden. #Debates2020"
Jake Tapper, CNN: "I don't know if Joe Biden won the debate, per se. He had some nice moments, but I thought he was kind of flat."
Josh Rogin, The Washington Post: "Biden is wrong, the Trump administration did press the Chinese government to allow U.S. CDC representatives into Wuhan. Beijing refused."
Hugh Hewitt, MSNBC/NBC: "Winner: @realDonaldTrump on points. Loser: Chris Wallace. Winner: Judge Amy Comey Barret, who will be a justice. Loser: @JoeBiden for (1) having no response to "name one Joe." (2) "Antifa isn't a movement." (3) The lockdown discussion. Voters don't want a Biden lockdown."
Bill O'Reilly: "Biden is coming across soft on crime. Every time Trump directs a question to him about what he would do—he dodges."
Guy Benson, Fox News: "Biden pretending that the job losses are Trump's fault, while also demanding more shutdowns & slower reopenings. Absurd."
Ari Fleischer, Fox News: "Biden is too weak to take a stand on the filibuster or packing the court. He should take a stand."
Steve Hilton, Fox News: "oh please. knock it off with the Scranton schtick @JoeBiden. you're funded by Wall Street and your economic policies would hurt working Americans the most."
Kimberley Strassel, The Wall Street Journal: "Why is Biden allowed to repeat that the facts about Hunter--as put out by a Senate Committee, with data from Treasury Department--are discredited? Every newspaper has noted the money Hunter took, from Ukraine to China. It's all true; even Hunter admitted it."
Ari Fleischer, Fox News: "I thought that the president had the best line of the night when he said 'I've done more in 47 months than you've done in 47 years.' That was a pretty good way to sum everything up. And I still think that Joe Biden is leaving himself very vulnerable because he just refuses to take a stand out of weakness, he acknowledges it! 'I won't give you an answer on court packing or the filibuster because I don't want my answer to be the issue.' What kind of leader or statesman answers a question like that?"
President Trump was the clear winner of tonight's debate.
Adam Wren, Politico Magazine: "Trump is winning this debate."
Daniel Garza: "Spanish speaking viewers of Telemundo expressed their preference of who won tonight's presidential debate: 66% Trump 34% Biden. #DebateTuesday"
Andrew Sullivan: "Trump is dominating. That's the brutal truth. It's painful. So far."
Monique Currie, WNBA: "Trump is winning this debate"
Ryan Harris, former NFL player: "Trump won that debate. Hate it or love it."
Colby Covington, UFC Champion: "GREATEST PRESIDENT OF ALL TIME!! @realDonaldTrump #Debates 2020"
Tim Pool: "Even Biden laughs at Trump's jokes This is hilarious Trump knows how to entertain and that wins people over Its sales They won't remember what you said but they will remember how you made them feel"
Geraldo Rivera: "I thought that Joe wasn't sharp, and the President I thought was so forceful at times that I thought he was gonna try and eat Joe Biden literally on the stage."
Kimberley Strassel, The Wall Street Journal: "1) There are two ways to think of debates. a) Did you excite/enthuse base? On this, Trump wins. He was consistent, and made the points that he is running on in this election--law/order; economy; D corruption in terms of FBI investigation/Hunter; handling of virus. #Debates2020"
Bill O'Reilly: "Trump being very aggressive in contradicting what Biden says. First 7 minutes—Trump stronger."
Dana Perino, Fox News: "President Trump was very good on some of the specifics, I would say especially law and order, judges, veterans, and military. And he could really parry with Joe Biden on something like the Green New Deal."
Brit Hume, Fox News: "Trump came off as an enormously forceful personality, and if strength is what you're looking for in a certain sense maybe people would judge him the winner."
The verdict is in, and it could not be more clear. By every single standard, President Trump won tonight's debate.
Donald J. Trump, Trump Campaign Press Release - What They Are Saying: President Trump Won The Debate Online by Gerhard Peters and John T. Woolley, The American Presidency Project https://www.presidency.ucsb.edu/node/344023