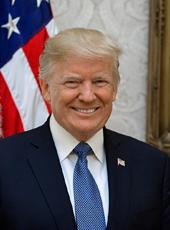 Trump Campaign Press Release - Donald J. Trump Endorsed by State Treasurer of Arizona
Jeff DeWit and Numerous Arizona Community Leaders Endorse Trump for President as Arizona Campaign Team Expands
(New York, NY) January 20th, 2016 — Today Donald J. Trump received the endorsement of Jeff DeWit, State Treasurer of Arizona. DeWit is a well-respected Republican leader in Arizona where he was first elected in 2014. In addition to Mr. DeWit, Mr. Trump received the endorsement of seven other community leaders including the former State Attorney General and NRA President, Bob Corbin, former State Senator, Lori Klein Corbin, former State Senator, Senator President Pro Tempore and House Majority Whip Robert Blendu, former Arizona State Republican Chairman Tom Morrissey, former Maricopa Country Republican Chairman Lyle Tuttle, former National Committeewoman Lori Urban and former State Treasurer of Arizona former Arizona State Senator and former Yavapai County Supervisor, Carol Springer.
Mr. Trump stated, "Jeff is a terrific guy. He has been supportive of my campaign since the very beginning and it is a honor to receive the endorsement of such an intelligent, high quality individual, committed to my vision to Make America Great Again!"
Mr. Trump has campaigned in Arizona on two occasions. His first rally in Phoenix, where he spoke about illegal immigration, was attended by thousands and he most recently Mr. Trump visited Mesa, Arizona for a campaign event with more than 12,000 people in attendance. He continues to dominate all Arizona state polls and lead by wide, double digit margins in all national polls.
Treasurer DeWit added, "Our country's political elite have forgotten that this country was built with grit and hard work, and don't seem to understand the economic ramifications of the laws they pass. As a businessman, turned State Treasurer, I am a big believer that we cannot rely on politicians to put our country back on the path to prosperity. We need a conservative political outsider with financial savvy and success, who understands what it means to build a business, make payroll, and flourish during tough times. America is fortunate to have this and more in Mr. Donald J. Trump."
DeWit continued, "As someone who has spent one on one time with him, I can tell you that Mr. Trump is one of the smartest and quickest minds of our time. His business success is extraordinary. His passion for America, our veterans, and protecting our freedoms is inspiring. But what may be his most admirable quality is his willingness to give back and serve our country, and fight to see that our children and our grandchildren will have the same opportunities to live, work, and raise a family in the greatest country ever known to man, the USA. I have been proud to stand with Mr. Trump since before his campaign for President was announced and in every step along the way, and I am excited to now serve as his campaign Chairman in Arizona to ensure victory in 2016. Together, let's Make America Great Again!"
In addition to these key endorsements, the Trump campaign has expanded its Arizona operation with new hire Thayer Verschoor, Former State Senator, Senate Majority Leader, Senate Pro Tempore, who will serve as Deputy State Director under Arizona State Director Charles Munoz.
Donald J. Trump, Trump Campaign Press Release - Donald J. Trump Endorsed by State Treasurer of Arizona Online by Gerhard Peters and John T. Woolley, The American Presidency Project https://www.presidency.ucsb.edu/node/314178