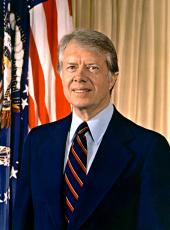 Toasts of the President and the Shah at a Dinner Honoring the Shah
THE PRESIDENT. First of all, I want to welcome all of you here this evening to join with me in expressing our own appreciation that the Shah and Empress would come here to represent their wonderful people of Iran.
There's one thing I can say about the Shah--he knows how to draw a crowd. [Laughter]
I really thought today, when the tear gas came across the South Lawn, that the Shah showed a tremendous amount of self-assurance and graciousness and also courage in giving his speech to the people of our country without hesitation, and I deeply appreciate that exhibition of your strength.
THE SHAH. Thank you.
THE PRESIDENT. This is one time when the news reporters were accurate about me. I saw on the evening television that they said it was one of the briefest speeches I had made. [Laughter] I was glad to turn the microphone over to the Shah. [Laughter]
We've had a wonderful chance to visit and get to know one another. Our country was blessed a few weeks ago to have Empress Farah come here and travel around our Nation. She came to visit Rosalynn and me. We are very delighted to have personal friends, as well as leaders of one of the great nations of the world.
There's an old saying in the East that history is a mirror to the past and a lesson for the future. And if there was ever a country which has blossomed forth under enlightened leadership, it would be the ancient empire of Persia, which is now the great country of Iran.
When the Shah assumed a mantle of leadership in his own country 36 years ago, he faced a very dismal future. His country was occupied then by foreign forces. His father had started some social change that was very doubtful about its own success. At that time, there were about 1,000 people in Iran who had advanced college degrees, and there are now 15 colleges and universities in Iran, 175,000 students in the college, and the Shah just told me that in 10 years, they'll have 500,000 college students in Iran. This is a remarkable demonstration of leadership and growth in the spiritual and also knowledge of the people of that great country.
As you well know, Iran has always been kind of a crossroads. The cultural history of Iran is absolutely remarkable. And Empress Farah has taken on her own shoulders a responsibility for preserving that ancient culture so that they can learn from the past and preserve the beauty for the future.
There's also been a growth in the wellbeing of the people there. They've expanded the opportunity for good health care as well as education.
Just not much more than 15 years ago, their average per capita income in Iran was not much more than a hundred dollars per year. The Shah just told me it was now $2,220 per year last month, and it's probably more this month. [Laughter] That shows what a tremendous job he is doing.
Iran has recognized that their great natural resources need to be husbanded and invested to guarantee a sound and a prosperous future in the years to come.
Iran is a country that is strong militarily, is strong politically, and is strong in the commitment and in the spirit of its people, and also is at peace with its neighbors, is well respected.
Iran is a nation, and its leadership is epitomized by a man who has a trust of other countries. Even those that historically have been enemies now look upon the Shah and the people of Iran with a great deal of confidence and trust, recognizing that they are a stabilizing influence in that region, indeed, throughout the Persian Gulf, the Indian Ocean, and with a growing degree of influence, in the Western World, in Japan, and in Africa.
I had a chance today to listen to the Shah explain to me the perspective of the region and the rest of the world as viewed from the great country of Iran. And I learned a great deal from him as he talked about the history and the present and future possibilities of the people in Pakistan and Afghanistan, of Burma, India, Iraq, other nations in the Middle East, in the Horn of Africa, things that I had not seen from that particular point of view. And it helped me greatly to understand the special challenges that face us as a great nation and the importance of the partnership that we have with the people of Iran.
We are bound together with unbreakable ties of friendship, of past history, a mutual commitment to the present and to the future. Our military alliance is unshakable, and it's an alliance that is beneficent in its impact on the rest of the world. Iran seeks no dominion over other people. They seek no territorial gains. They just want peace, and they have spread their influence, because of the great leadership of the Shah, very rapidly.
We look upon Iran's strength as an extension of our own strength, and Iran looks upon our strength as an extension of theirs. We derive mutual benefit from this close relationship. The Shah has been to our country more than a dozen times. His first meeting with an American President was in 1943, when President Roosevelt was in Tehran at a conference there; and subsequently he's met with every President we've had--with Truman and with Eisenhower, with Kennedy and with Nixon, with Ford and myself, with President Johnson. And this is a continuation of a growing understanding of one another.
The Shah is very gracious in his attitude toward Americans. In addition to the 175,000 students in his own colleges, there are about 30,000 Iranian students in the colleges of the United States. And this guarantees an investment in the future of understanding of one another. We have about 40,000 Americans in Iran, and in a very gracious demonstration of friendship which was not well publicized at all, the Shah has provided extra allotments of funds and educational opportunities for American young students there--boys and girls who are at the grammar school and high school level. This is something that he didn't have to do, but it was just an extra demonstration of how valuable they consider our friendship with them.
I would like to say, in closing, that we look upon Iran as a very stabilizing force in the world at large. We don't fear the future when we have friends like this great country.
There are some emerging nation. s who are assuming regional leadership roles which, in the past, has not been recognized. But I think that Iran is undoubtedly one of those great countries. And with the spreading of their own influence, the world is guaranteed a greater degree of assurance for peace.
We're proud that Empress Farah, perhaps one of the most beautiful leaders in the world, has come to see us again. She's admired by all. Her next-door seatmate here, Mr. Wasserman,1 has been trying to get her to join him in making a film as a movie star. [Laughter] I promised that if he made a film, I'd be the first one to buy a ticket to see her. [Laughter] But she's a gracious woman who has taken a lot of interest in the personal lives of the people of her country.
1 Lew R. Wasserman, president of Music Corporation of America, Inc.
And the Shah has a young son, who's now 17 years old, who will come here for his flight training when he reaches the age of 18. And I think this shows a mutual investment in the future by them in our country and by us in their country.
Your Majesty, it's a great honor for me to have you here with us at the White House to renew your old friendship for our country and to express our renewed commitment for friendship in the future. And on behalf of the people of our Nation, I would like to propose a toast to the Shah and to the Empress of Iran and to the great people of that country who are our close, present, and future friends.
THE SHAH. Mr. President, Mrs. Carter, ladies and gentlemen:
It is not very easy to speak after the warmth and the kind words that the President of the United States of America has pronounced towards my country, our people, and the Shahbanou and myself. But I would like to reemphasize once more that we look to your country, to your people, and today, to the new President that you have elected, as such good and trusted friends, that this gives us even more fortitude and courage to pursue our goals which are understood so well and which have been said so eloquently by your President.
My personal association with your country is a long one, but even before that, the United States has always shown towards our country and our people what could be expected of a great, unselfish, humanitarian nation which is standing by high principles of honor and dignity.
The reassuring words that the President has pronounced tonight will be felt deeply in my country with appreciation and gratitude. This is a world in which those who stand for the same ideals have to get even closer together. You can rest assured that with us you will find such people who, through any circumstances, will cherish their friendship and their ties with the United States of America and with their noble people.
I must say that since you took this high office, Mr. President, I was looking forward to meeting you, knowing you, and hoping to establish personal relationships. I can say with happiness and with pride that what I saw was absolutely equal, if not more than, anything that I could have expected.
I will take back with me to my country this memorable impression that I have had through my talks with you, through your great understanding of problems, through your vision of our present world and the world of tomorrow.
The important thing is that what we do for today could also serve the future. And I can see that you have that vision, and very clearly, too.
Because of your high position and the importance of your country, we only hope that you will continue to offer the leadership of your country, the potentials of your country, for a future world assured of peace and dignity and the certainty that it will be a better world to live in, better chances for all people of every race, of every creed, of every belief, that, together, we can surmount all the difficulties that can face us by the turn of this century.
I would like to reassure you that you will always find in my country and my people wholehearted support in your noble task, which is to serve your country and also human mankind.
I have to express also our deep appreciation for your hospitality and the friendship that you have shown towards us and, through us, towards our people, and ask all the friends gathered tonight here to join with me in a toast to the President of the United States of America and Mrs. Carter.
THE PRESIDENT. Thank you very much.
Note: The President spoke at 9:40 p.m. in the State Dining Room at the White House.
In his remarks, the President referred to an incident which occurred outside the White House grounds. Tear gas was used during an attempt by police forces to separate two groups of demonstrators, one supporting and one opposing the Shah and his visit to the United States.
Jimmy Carter, Toasts of the President and the Shah at a Dinner Honoring the Shah Online by Gerhard Peters and John T. Woolley, The American Presidency Project https://www.presidency.ucsb.edu/node/242806