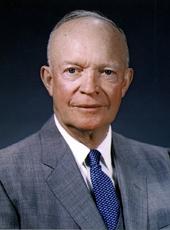 Toasts of the President and the President of El Salvador
Mr. President, Senora:
We are glad to welcome to this Capital and to this house the President of El Salvador and his charming wife.
In these days of tensions, no country can have any greater or more pride of possession than real friends. America--the United States of America--counts itself fortunate in its good friends. And friends and countries are not measured in value by the extent of territory or the size of their populations. They are, rather, measured by their constancy, their loyalty, and their dedication to their friends, to common values, priceless values that free men possess--above even life itself.
And it is because our country is bound to El Salvador by that kind of friendship, by that kind of mutual loyalty and common dedication to great principles and values, that I ask you all to stand to join with me in a Toast to the country of El Salvador and its President.
Note: The President proposed this toast at a state dinner at the White House. President Lemus responded (through an interpreter) as follows:
Mr. President, Mrs. Eisenhower, Ladies and Gentlemen:
It is for me a source of deep personal pride to have received an invitation of the President to visit the United States. But more than that, in the name of my government and in the name of the people of my country, El Salvador, I would like to express the feeling of gratitude and pride that we have on this occasion.
My country is small, perhaps, in the size of its territory, but it is great in the spirit which has always honored those human values and those spiritual values which have been the pride of great men of the earth.
My country which is small but which is proud of its traditions and of its history, has always maintained closest friendship with the United States. This is not a friendship which was born yesterday. This friendship has existed between our countries for more than a hundred years, and my country, El Salvador, is proud of that friendship, which dates from the very beginnings of our independence, with your great nation--which has served as one of the leaders in the free world and in the respect of those same values to which we have such great devotion in our own country.
Because of this, Mr. President, it is a source of great pride for me to recall the great people of this country who have made such a contribution to the preservation of those values. And it is for the future of those people with whom we have always, as I have said, maintained such a close relationship from the very beginning of our history, that it is my joy, my pride tonight, to express to you our thanks for this invitation. In it our people see, through this expression to me, an expression of friendship from the people of the United States to the people of our country who together in union with the other peoples of the free world are building a freer world which we know cannot be destroyed.
And it is for that reason that I raise my glass to drink to your health and your happiness.
Dwight D. Eisenhower, Toasts of the President and the President of El Salvador Online by Gerhard Peters and John T. Woolley, The American Presidency Project https://www.presidency.ucsb.edu/node/235320