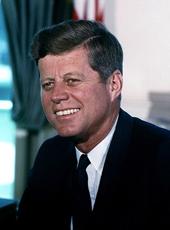 Toasts of the President and Prime Minister Abdirascid
I know that I express the sentiment of all of you in saying how pleased we are in having the Prime Minister here, his Foreign Minister, the Minister of Works, the members of the Central Bank, and others who bear responsibility in his country. We are also glad to have his Ambassador here, who has represented his country with great distinction and who speaks for his country and also has been a source of understanding between Somalia and the United States.
Many years ago, Sir Richard Burton, the great explorer, described the people of Somalia as the Irish of Africa. He was speaking of their extraordinary beauty of person, vigor, intelligence, and general uniqueness among the surrounding people. We understand that, Prime Minister, and this has increased the warmth of our welcome to you.
The problems which the Prime Minister faces, of course, are staggering. I think we are so close to what is happening that we really should take some perspective to understand what an extraordinary period we live in. We are so impressed by our own revolution, our Constitution, and the success which we feel we've made of it that we really do not recognize what an extraordinary decade we have lived through, where country after country, numbering in the dozens now, have suddenly become free following the end of World War II; have become members of the United Nations; have written, as the Republic of Somalia has done, their own Constitution providing for separation of powers; are building a new government, facing staggering problems, as his country does.
We were very fortunate in the generosity of nature here. But in his country, lacking water, lacking a good many means for sustaining their population, the Prime Minister is building his country, maintaining its freedoms, its sovereignty, and attempting to make it possible for his people to enjoy a more fruitful life. This is an extraordinary adventure for any nation.
We are particularly pleased to have one of the architects of this adventure, the Prime Minister, who played such an important part in its fight for independence, in the development of the constitution, in the maintenance of freedom, and now in the efforts to produce a more fruitful existence for his citizens.
So we're delighted to have you here, Prime Minister. I think you realize that Africa is a new continent for us. In 1957 the United States bad as many people at our embassy at Bonn as we had in all of Africa. Now, suddenly, Africa has become one of the keystones of the whole world struggle for freedom. It has become a dominant force in the United Nations. It holds great powers for good in the world, and it is looking to the United States, quite properly I hope, for recognition of the serious effort it is making to build life for its people.
So, Prime Minister, we want you to realize how important your visit is. We will learn a good deal from it. I hope you come to understand that the United States, though far away, shares your very strong aspirations.
I hope you will toast with me to the very good health of the people of the Republic of Somalia, the Prime Minister, and the members of his government, and to the health of the President of Somalia.
Note: The President proposed the toast at a luncheon in the State Dining Room at the White House.
In his response Prime Minister Abdirascid referred to the problems faced by the new African nations. "We feel," he said, "that we cannot overcome these problems by our own efforts alone. It is for this reason that we have great need of understanding and cooperation from the more developed countries, particularly the United States, and we have full trust that everything possible will be done that can be done in behalf of our countries."
He added that "the meaning of our struggle is not only in the sense of attaining political independence, but economic independence as well, as a way of achieving a better life and better social conditions for all in our countries .... We are here to contribute all we can toward the strengthening of the traditionally good relationships between our countries and for furthering and expanding areas of cooperation between us."
In his opening remarks the President referred to Abdullahi Issa Mohamud, Somali Minister of Foreign Affairs; All Sheikh Mohamed, Chief of the Somali Public Works Department; Dr. Abdi Aden Mohamed and Dr. Francesco Palamenghi-Crispi, President and Managing Director, respectively, of the Somali National Bank; and Dr. Omar Mohalllm Mohamed, Somali Ambassador to the United States.
John F. Kennedy, Toasts of the President and Prime Minister Abdirascid Online by Gerhard Peters and John T. Woolley, The American Presidency Project https://www.presidency.ucsb.edu/node/236625