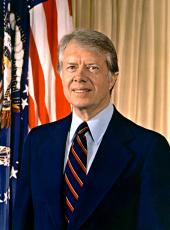 Toasts of the President and President Lopez Portillo at a Dinner Honoring the Mexican President
PRESIDENT CARTER. A hundred years after the University of Mexico was founded, the pilgrims landed on Plymouth Rock, and it was just shortly after the university was begun that the first Spanish settlers came to Georgia and to Florida and to several other States in the deep South.
Because the history books were written by historians from England, we don't remember the historical background of the early Spanish-speaking settlers who meant so much to our countries.
We declared our independence in 1776, about 200 years ago, and shortly after that, in 1810 the Mexican people declared their independence as well. So, we share a great, common history with our friends and neighbors and visitors from Mexico, and we also share a tremendous commitment to the early vision of those who sought equality and who sought freedom, who believed in individuality and the rights of common people to make their own decisions.
So, our sharing of history and our sharing of a common purpose has ,always bound us together. The Mexican people know what Yankee imperialism means, and being from Georgia--[laughter]--I have also heard the same phrase used. But we also share the realization that that is a time of ancient history and the equality of opportunity within our own Nation in recent decades is the same sort of spirit that exists among all the nations in our own hemisphere.
This is a good change, and now with a common border we see renewed opportunities to bind ourselves ever closer together to face the future with confidence, with hope, with the feeling of friendship, and with the feeling of common purpose.
This is the first state visit that Rosalynn and I have enjoyed having in your White House and ours, and it was not any accident that those that we wanted to come first of all were our close friends from Mexico.
About 12 years ago, I believe, our family took the best vacation of our lives. When my oldest son, Jack, finished high school, he and my other two sons, my wife, and I traveled for 3 weeks through Mexico. We all could speak a little Spanish.
We went to the small towns and villages where not many people could speak English. We had a hard time communicating in language, but there was an instant sense of appreciation for our being there and for the interest that we showed in those who took us into their hearts and into their homes. We've always looked back on that experience with great appreciation and fondness and pleasure.
And I believe that the future holds an even closer opportunity for mutual enjoyment and to get to know one another and to share a common destiny.
There has been a saying of one of President Lopez Portillo's predecessors, "Pobre Mexico. Tan lejos de Dios, tan cerca de los Estados Unidos," which means in English, "Poor Mexico. So distant from God, so close to the United States." But I know that under President Lopez Portillo's administration the distance from God has become much less, and the proximity to the United States, I hope, will become a blessing and not a curse. So, we believe that we are very fortunate to have with us tonight Carmen and Jose.
I'd like to repeat, to show what kind of person he is, something he told me at supper tonight. He is a very talented artist, and when his daughter was 3 years old she was the one that he was so much in love with that he wanted to paint a special painting. He had just outlined her little face and he had to go to work. She had never been outside at night and he left her there with her grandmother, and she went out on the terrace and she looked up, and for the first time she saw the evening star Venus. And she said, "Grandmother, what is that?" and her grandmother said, "That is a star." She said, "Give it to me," and her grandmother said, "I can't give you a star, little girl," and his daughter said, "When my father returns, he will give it to me."
So, when President Lopez Portillo came home and he was told about this story and recognized the faith that his daughter had in his ability, he drew in the painting her little had and darkness all around the back of her head and a star in the palm of her hand. Well, I think this illustrates very well what he means to the people of his country. The people have put their faith in him and they are beginning to realize the fruits of his tremendous intelligence, his talent, his ability, his sensitivity to their needs. And I think in the future the people of his great nation will know as his daughter did, that he is capable of delivering to them the things that they cherish so deeply.
I would like to propose a toast to President Lopez Portillo and his wife, and to the people of the great nation of Mexico.
PRESIDENT LOPEZ PORTILLO. President Carter has just referred to ancient history, and he has drawn this picture with very generous lines.
I would now like to refer to the history that is being made and written at this particular point in time. I would like to ask all of you to reflect on what is happening here and now in order to measure the enormous responsibility that lies on the shoulders of this great Nation.
Today, President Carter has done a great honor to my country by inviting me to visit the United States on a state visit, the first statesman to come to the United States during the administration of President Carter.
Responsibility has to be faced in two ways: by facing the problems that this Nation has, which is not only geographically a neighbor but also a neighbor that is undergoing a process of development, and we have studied the characteristics of this problem in depth. On the other hand, and a few minutes back one of his very distinguished Secretaries, the Secretary of State, Mr. Vance, has had to leave for the Middle East in order to participate in negotiations that are to bring about order and peace in the world.
In these few hours in this very place, contemporary history is being made, the history of American responsibility, the great responsibility that was brought about by power which is being written here at the White House that now houses an exemplary family full of unity and love, understanding, in which a lovely and intelligent child, Amy, has been reading "The Mystery of the Screaming Clock" right here at the table.
We have had the privilege of being able to spend some time with this lovely family in spite of the distance, the geographic distance, in spite of the differences in language, the differences in culture. And in spite of these differences, I feel that they are very close to me and very dear, and I think that I am speaking also for my wife.
As a human experience it is a privilege to be present in moments when the distance in responsibility is no longer. On the one hand, in spite of being at such a high level and having such a high position as this family does, they are able to give their love, affection, and warmth to the small child.
They facilitate communication among the members of the family in spite of protocol. And this family that is observing of their child while waiting for an increase in the grandchildren in 2 weeks time, and at the same time is praising all the loveliness of the small child, begins within that broad spectrum to have in its hands the participation of the United States in making the future for humanity.
For a Mexican it is very comforting, a Mexican that to a certain extent in some way is representing Latin America, who in a certain sense represents the developing world--it is very comforting, I repeat-to know that he who has the greatest responsibility in this country is not only a statesman but a man of solid moral principles who is brave enough to state that God and the United States must come close to Mexico, a man that loves his wife, a man that believes in the institution of the family.
It is my conviction that with a man of this nature, the role of the United States in the history of humanity will be outstanding and exemplary. That is why for me it is a great honor to raise my glass and propose a toast to the health of the Carter family, and so that wisdom will always be a guiding light for the President of the United States, Mr. Carter.
I thank you.
Note: President Carter spoke at 9:22 p.m. in the State Dining Room at the White House. President Lopez Portillo spoke in Spanish, and his remarks were translated by an interpreter.
Jimmy Carter, Toasts of the President and President Lopez Portillo at a Dinner Honoring the Mexican President Online by Gerhard Peters and John T. Woolley, The American Presidency Project https://www.presidency.ucsb.edu/node/243607