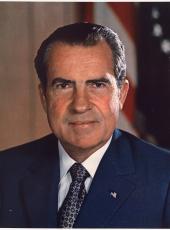 Toasts of the President and President Houphouet- Boigny of the Republic of Ivory Coast
Mr. President:
It is a very great pleasure to welcome you and your very lovely First Lady at the White House on this occasion, and because I know that this company and all of those who will be listening in the press room below are more interested in what you will be saying than what I will be saying, my remarks will be brief.
But first let me say that perhaps my greatest expert on foreign affairs is not really Dr. Kissinger, but my wife. And after she was able to take a trip to Africa, which I have been Wanting to take and I, incidentally, Dr. Kissinger, intend to take before my term of office is finished--the first American President ever to visit Africa--Mrs. Nixon came back with very warm feelings for all the countries she had visited, but she had a very special feeling about Ivory Coast, and its President and its First Lady.
She said that the President was a man who not only was handling the affairs of his country well but who had a great grasp of the problems of the world. And she said that his First Lady was, among all the first ladies she had met in the world, one of the most gracious, the most beautiful and--to a woman this is important, and to a man also--the best dressed.
Now, to be very serious for a moment, before introducing the President to this assemblage, people wonder what happens when the President of Ivory Coast and the President of' the United States sit down for an hour and a half and talk. Now, we both agree that we talked about cocoa and coffee and reverse preferences and international trade problems, and other bilateral matters, like whether Kaiser should or should not invest in Ivory Coast--and they should--but what, it seems to me, is particularly important about this visit is that while we covered all the bilateral problems very 'thoroughly and found that we had very little to disagree about, that the President was able to convey to me an understanding of not only the problems of his own country and the problems of the new African states but an understanding of his view of the world.
In other words, we have in our company tonight--and I wish all of you could know him as I have known him, as my wife has known him--a world statesman of the first rank, a man who has demonstrated by his leadership capabilities that he knows what it takes 'to take a new country and to give it the stability, the drive, and the spirit that will. make it a major force in that area of the world, but also a man who does not think of his own country as just an island, who is not parochial, as are too many of the leaders in the world today, but one who sees the whole world, as one who realizes that what happens 5,000 miles away in India and Pakistan affects him, as one who sees that what happens in the Mideast affects him and his people, as one who sees that what happens in any part of the world affects his country, although it is very easy to become obsessed with your own problems.
And for that reason, tonight I know that all of you--not only because we admire our distinguished guest for his leadership of his own country, with the best record of national growth and per capita income of any of the nations of black Africa, but also because he has demonstrated that he has that rare ability to see beyond the problems of the moment and look to the problems of the future, to see beyond the geographical problems that involve only his own island as it exists in the West Coast of Africa, and see beyond and see the whole world, because he is, truly, one whose views on the world scene can affect the world--it is for this reason that this house is honored for the third time to have him as our guest.
And so in presenting him to you, I present a man who represents his own country with great distinction, a man who is also one who understands and is a great advocate of the problems of the new Africa and where it must go, but also one who, when he comes to America, is able to speak with great understanding and great wisdom about those problems that, wherever 'they exist in this world, will affect the future of his country and the future of ours. To a world statesman of the first rank, the President of the Ivory Coast, President Houphouet-Boigny.
Note: The President spoke at 9: 45 p.m. in the State Dining Room at the White House. See also Item 286.
President Houphouet-Boigny spoke in French. His remarks were translated by an interpreter as follows:
Mr. President, Mrs. Nixon, Excellencies, ladies and gentlemen:
In few words, Mr. President, but in particularly sensitive and well-chosen words, you have said much about my country and my people, about our achievements and our expectations, which is both friendly and profound. I am deeply touched, and I do thank you in my own name, on behalf of my wife, and on behalf of the delegation with me here today. We all share in my very sincere joy and feelings.
It will soon be 2 years that we had the honor and the great pride to welcome Mrs. Richard Nixon to our capital city. This dazzling visit, which we shall always remember, attested, if need be, of the quality of the relations between our two countries and of the concern which you feel, Mr. President, to show your interest and your friendship to us.
Today, in spite of your heavy responsibilities, you have received us here, and you are sharing with your representatives of the government and the people of the Ivory Coast some of your very valuable time, and this indeed is again a very rare treat for all of us.
I shall deliberately not mention here the international problems and the African problems which with you we have surveyed in such a rewarding manner earlier today. I should like to dwell specifically upon the relations between the United States and the Ivory Coast, because I am indeed convinced that my third visit in the United States will, as much as my preceding and memorable visits, be a milestone along the comforting path of the relations between our two countries.
These relations to which the establishment of diplomatic links came very early and very spontaneously to give formal, official nature are, I am happy to stress, without any clouds. The cordiality, the diverseness, and the frankness of our relations are the dominant themes, and the reasons that we have to eternalize the excellence of these relations and enhance their effects are tied directly to the convergence of our interests as well as to the commonality of our feelings.
It is, Mr. President, in the first place in the area of business that we see the thrust of this convergence. Recipient of 14 percent of our exports, mainly coffee and cocoa, the United States has become the second customer of the Ivory Coast. It is also one of our privileged suppliers. This is all the more significant that the natural and traditional framework of our trade relations with Europe was not a natural incentive to a development of your exports towards our part of the world.
As to industrial investments which now remain very scant in our country, they should become in the very near future, with a textile plant near Abidjan, and as the more remote future for the two projects of rubber tires and the operation of iron ore--they should really take off in a much more significant manner.
In very general terms we note with deep satisfaction the new interest that your businessmen are taking in our country. At the same time, we appreciate the action and the diverse forms of the technological and financial aid of the United States in the Ivory Coast over the last several years. The Eximbank [Export-Import Bank of the United States] has particularly been active to support two of our regional development programs, two of the most essential ones, one in the central with the Kossou Dam and the other in the north for a huge sugar industry complex.
As to the valuable assistance of your Peace Corps volunteers, it is the extension of the AID program, and it illustrates our common preoccupation to give our cooperation the irreplaceable human dimension it needs to bring people together and to bring for better understanding nations and races, and this is a very happy plea and testimonial for this community of feelings between us that I referred to a minute ago.
To come to meet you, Mr. President, is not simply for the people of the Ivory Coast the opportunity to dwell upon the favorable course of our relations, to set forth its spirit and stress its thrust, it is also a way for us to satisfy a portion of the curiosity and admiration which has always led us to take an interest in your amazing nation.
I do not know which of your history, the virtue of your people or your phenomenal development in the scientific and economic area, is the most noteworthy. I am convinced that the lessons and the examples upon which we can ponder here are particularly rewarding and numerous.
What is first of all remarkable, I believe, is the aptitude of American society to merge into a single unit the most diverse contributions come from afar and particularly from the banks of the old Europe. Your history is like no other in that respect, to have transplanted so many human contributions--linguistic and religious contributions--so dissimilar--into a community which is so extraordinarily original, without precedent, without equivalent in any other part of the world.
The American adventure is also a way to define new relationships between man and nature. From the scouts and the pioneers who went West to the conquerors of the Moon, it is always the same challenge cast by every succeeding generation. It is also the birth of a new system of relationships between man and the coming into being of a genuine democracy which, regardless of the scope of its contradictions and its problems, has always preserved its main balance and has always offered to the world as a mirror, sometimes casting a deformed picture, but always an enlightening one of trans-intentions which come to be such a course of upheaval as we near the end of the century throughout all our societies.
The history of the United States is universal in scope, Mr. President, and it has been very aptly said that it is the common property of any man who wishes to be contemporaneous with his own time and who questions himself about the future of mankind. The United States has also shown man in a most fruitful way, the entire scope of his creative genius and his faculty to transform and enrich the natural bounties of the soil and the subsoil. Few countries, without any doubt, have as much and as many different resources as your country, Mr. President, but it still needs to develop these phenomenal resources in the most rational way possible, to put them at the service of the community. The fact that today the United States is the first industrial power in the world, at the same time from the standard of value and quantity as technological perfection, individual productivity, and invested capital--this fact is not due to chance.
Nowhere has the faculty to develop, produce, invent, and multiply been so effective, so rapid, and this variety is present nowhere else in the world. No other country has produced more business leaders; no country has obtained such a standard of living,
To have been the first to conquer the atom and then space, shows very eloquently the high degree and the capacity for renewal of American science, technology, and economy. This phenomenal progression does not go without its equilibriums and constraints. And this is not specifically part of your history alone; you are not the only ones today to attempt to resolve the delicate problem of equilibrium within growth, but perhaps, and this is also one of your main strengths, you are the first to have confronted with so much rigor and lucidity problems as essential and timely as those of pollution, the quality of life, urbanization, and the preparation of your own future.
It would be a simplistic and an unfair view to limit your innovative capability, your capacity to go beyond your own efforts, and to stimulate creative competitiveness to reduce it only to material dimensions. One tends to forget too often that your thinkers, your writers, your film makers, your architects, have brought much to the world. New forms of expression in thought and sensitiveness, a nation which gave to our movements of contemporaneous expression such key and diverse men as Mark Twain, Ernest Hemingway, John Ford, and Frank Lloyd Wright--that displays an intellectual vitality and a creative maturity which stand as an example.
As an example, indeed, is your entire history which has also avoided the traps of solitude to seek an opening towards the world. Its main thrust is generous passions and deep love of freedom.
Your country, Mr. President, remains in this connection, for all men who love justice, the country which, during a darker period of mankind's history, did not hesitate to throw its phenomenal resources into a battle which, on other continents, sought to reestablish a more effective order of dignity for man's Earth and to establish civilization, relationships no longer seeking as a justification racism and brute force.
And so you will understand why we feel so proud, Mr. President, to be again in your country today and to pursue our quest, our fascinating quest after your realities and your people.
There is a last reason which alone would be sufficient to give our meeting a great deal of significance, and I will say this very simply: It is the assurance that I feel as I come to meet you that I discover one of the most significant figures of our time. Few statesmen have exerted such a deep and remarkable influence as you have, Mr. President, at this latter part of our century on the disconcerting and tumultuous course of our history.
Having inherited a situation which the aftermath of the last war or ideological opposition had frozen in a balance of terror or an implacable conflict, you have in a few short years contributed in a decisive manner to rearrange the framework of international relations which have become accustomed to following exclusively a relationship based upon force and intolerances. Through specific measures consistent and concrete which display your courage, your realism, and your clear vision, you have enabled our world to regain part of the serenity it had lost, and you have enhanced the policy of comprehension, dialog, and peace to which, as you know, we are so passionately attached.
Even more than the respected President of the most powerful nation, you are, in the eyes of the people of the Ivory Coast, the shaper of a more harmonious world, the indefatigable apostle of the genuine consultations, and the generous initiator of peaceful confrontation.
To know this and to be aware of it matters to us, but to be able to say so in your own capital is a great and new comfort to us, Mr. President. If the Ivory Coast rejoices today so sincerely over our meeting, it is because it is aware that as a response to your friendly invitation it gives a very privileged character to moments that we should like to stretch in time. The already beautiful and long history of our very cordial relations receives a contribution, and also we bring a modest contribution to strengthening a climate of international concord, without which no undertaking of progress and justice appears possible.
As we begin a visit which will be important and fruitful for our common future, I should like to recreate our faithful friendship and our very deep esteem. But it would be a betrayal of this friendship, esteem, and confidence, Mr. President, if before I conclude I did not share with you the very deep preoccupation I feel, as a man, as a leader, as an African, in one word about the very serious problem in the Mideast.
Your action on behalf of peace, which is already so remarkable--and history will note your capital role--would remain incomplete if you did not succeed--acting with the leaders of the Soviet Union--not to impose, but to create and foster conditions for a just and durable peace in that part of the world where one should speak only of peace, love, and brotherhood.
I raise my glass to you, Mr. President, to you, Mrs. Nixon, and to the greatness and the prosperity of the American nation, strengthening of the friendship between the United States and the Ivory Coast, international cooperation and brotherhood among man.
On October 11, 1973, the President met briefly with President Houphouet-Boigny in the Diplomatic Reception Room at the White House prior to the departure of the Ivory Coast President from the South Lawn.
Richard Nixon, Toasts of the President and President Houphouet- Boigny of the Republic of Ivory Coast Online by Gerhard Peters and John T. Woolley, The American Presidency Project https://www.presidency.ucsb.edu/node/255349