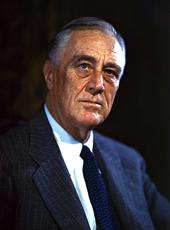 Toast to the President-Elect of Cuba at a State Luncheon
I want to say a word of welcome to a gentleman whom I feel I have known for a great many years. Dr. Ramon Grau San Martin came into my life very soon after I came to Washington in 1933. I am very, very happy that he is about to be inaugurated as President of Cuba, one of the three countries closest to us, not only geographically but in intercourse- visiting every day that goes by. We are a real neighbor, I think a good neighbor of Cuba.
Which reminds me, that the President-Elect is largely responsible for the good neighbor policy. I don't know that he is aware he is in large part responsible, because of the fact that he was mixed up in the revolution in Cuba in 1933. And there was a real reason for dissatisfaction in Cuba with its own government; and firing started.
And there were a great many people in this country who said, "Ah, now you must intervene under the Platt Amendment for the third time." And I got letters and telegrams that we must do something about this problem in Cuba.
And thinking it over for a week or two, as the trouble was continuing, I asked the ambassadors and ministers of all the other American Republics to come to the White House. They came into my study and sat down, and I said, "Gentlemen, I am going to make a very revolutionary announcement. I have decided not to send the armed forces of the United .States into Cuba. I am going to send some Coast Guard cutters, and other gunboats and small craft to the ports of Cuba, and send word to every American in Cuba that if they are afraid for their lives, to go down to a port and they will find a Coast Guard revenue cutter they can get on, and we will take them home to the United States without any expense. And having done that, we will send word to all the people of Cuba to go right ahead and have the revolution. We think it's rather silly not to work it out some other way, but we are not going to interfere under the Platt Amendment."
Well, the result was there was a certain amount of trouble in a short time. We never fired a shot. The Congress of the United States repealed the Platt Amendment, and Cuba since that time has had no trouble at all.
The President of Cuba, whom we have seen here before, we know is a military man. The President-Elect was not of his party, and at very low cost—I wish we could say the same thing about our coming election—was elected President. He does not represent the military profession. He is a doctor, he is a professor.
And so we are looking forward to a new Government in Cuba under their Constitution and under the leadership of Senor Grau San Martin; and looking forward to it with a great deal of satisfaction, because we know he is a true liberal.
Some people, nowadays, say that a liberal is merely another name for Communist. Senor Grau San Martin is not a Communist. I know that. Other people say that a liberal is a Fascist. I know that he is not that. I think that all of us who know anything about it feel that Cuba is to be congratulated on having him as their next President. We in the United States look forward to an even closer relationship, and a better understanding with the Government of Cuba, and the people of Cuba. We know that the President-Elect stands for certain ideals—practical ideals, human ideals.
So we are very happy to have him here at the White House. And I hope after the tenth of October, when his inauguration takes place, that he will come here very often. He knows, quite frankly, that it would probably be easier for him to come to Washington, during this war, than for me to go to Habana. But I hope when the war is over that as a private citizen, shall we say, or otherwise—(laughter)—I will have the chance to visit him in Habana.
So, to your health, Senor Martin. . . .
Franklin D. Roosevelt, Toast to the President-Elect of Cuba at a State Luncheon Online by Gerhard Peters and John T. Woolley, The American Presidency Project https://www.presidency.ucsb.edu/node/209784