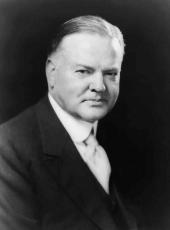 The President's News Conference
APPOINTMENTS
THE PRESIDENT. This is a day of appointments. I have appointed Mr. Wayland W. Magee of Bennington, Nebraska as the farmer member of the Federal Reserve Board. Mr. Magee has been an active farmer over many years, and was educated in the public schools of Nebraska and Universities of Nebraska and Iowa. He has been the president of various farm organizations and is endorsed by a wide variety of important folks.
I have appointed Mr. F. D. Letts, former Congressman, to the District Court in the District of Columbia and am promoting Judge Soper, of the District Court of Baltimore, to the circuit bench in this district.
WAR DEPARTMENT ECONOMY CONFERENCE
I have a question on whether we are going to the Rapidan Camp this week. I am calling a meeting of the Secretary of War and the Chief of Staff, the Quartermaster General, the Chief of Engineers, and the two Assistant Secretaries of War at the Rapidan on next Saturday. We shall leave here sometime during the day Saturday and return in time for dinner Sunday night. We are taking advantage of that occasion and the opportunity to discuss various matters in connection with the War Department over the weekend.

Otherwise I have nothing this morning.
Q. Mr. President, can you give us anything more specific as to what you will discuss ?
THE PRESIDENT. No. We will discuss the whole of the work of the Department--to a large extent public works.
Note: President Hoover's one hundred and ninetieth news conference was held in the White House at 12 noon on Tuesday, May 5, 1931.
F. Dickinson Letts was appointed Associate Justice of the Supreme Court of the District of Columbia.
On the same day, the White House issued biographical data and lists of endorsers for Mr. Magee and Mr. Letts. On May 7, 1931, the White House also issued biographical data and a list of endorsers for Morris A. Soper, in connection with his appointment as a judge in the Fourth Judicial Circuit of the Circuit Court of Appeals of the United States.
Herbert Hoover, The President's News Conference Online by Gerhard Peters and John T. Woolley, The American Presidency Project https://www.presidency.ucsb.edu/node/212609