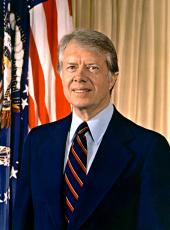 Swearing-In Ceremony Remarks at the Swearing In of the Chairman of the Council on Environmental Quality, the Deputy Director of ACTION, and the Administrator and Deputy Administrator of the Environmental Protection Agency.
I apologize for being late. This is not my normal custom, but I have been working the last 15 or 20 minutes on the Rhodesian question, and something came up at the last minute.
This is an afternoon ceremony that's very significant to us. I think that my own background in environmental questions and in matters that relate to the quality of life has been one of intimate and deep concern. And when I was elected President, my major purpose in dealing with Federal Government agencies that relate to energy or to environment, to the quality of life in every way, was one of appointing people in whom I had complete confidence and, also, who had the confidence of those intensely committed environmentalists and conservationists in our country.
At the same time, of course, in order for us to be effective, there must be a working relationship that cannot create insuperable barriers between those who are interested in development of jobs on the one hand, those who want to protect the quality of the outdoors, the purity of life on the other. I think that we've been successful so far, without abridging anyone's deep commitment and integrity in past statements and beliefs on the one hand, and adequate progress on the other.
And I'm very proud this afternoon to have a chance to introduce these men and women who will be serving in such important positions.
Charles Warren is a man whom I first met when I was in Plains being briefed on the major questions concerning energy. He's a person who has been very effective in California, in the legislature, in devising and drafting and implementing major and very innovative decisions concerning the energy question, environmental questions, protection of the coastal regions, not only from a present-day point of view but as they would impact on the lives of people in years to come.
He's a very successful man there. And I think at some considerable sacrifice to himself, financially, but because of his interest in this subject, he's agreed to come and serve with us. And he'll be the Chairman of those who will advise me on matters that relate to environmental quality.
I'm very glad that you've come to be with us. And I express my appreciation to you and look forward to working closely with you.
Among my closest friends in the world are two people who mean a lot to me, and I think in the past and in the future will mean a lot to our country. One of them is Dr. Peter Bourne, who helped me in Georgia to set up one of the finest drug treatment programs in the Nation. He's recognized as the foremost expert on alcoholism, drugs, their impact, and the way to control them properly. His wife, Mary King, is also one who has been very close to me. When I was campaigning for President, whenever I came to Washington, not having enough support or finances to afford a hotel room, I always slept on their folding bed and they always took me in.
And I'm very excited to know that Mary King, who is an expert on health care in all its forms, on the proper utilization of volunteer Americans, who has a sensitivity and a courage that's absolutely superlative, is willing to serve in an agency that will spread this kind of knowledge throughout the world.
The ACTION program is one that's involved with the Peace Corps, with VISTA, and with the recruitment and use of Americans--sometimes outside Government itself--who are willing to serve this country and other nations who are friends of ours.
I'm very grateful that Mary King is going to be the Deputy Director of ACTION. And when I asked her to serve, she said that she would do it if I would be present at her swearing-in ceremony. Nothing could have kept me away. Mary, I'm very proud of you. And I know this is going to be a great experience for you and for me both.
Another very crucial agency, as you know, is the Environmental Protection Agency. This is one that, in a practical way, administers the laws evolved by the Congress and the President to make sure that the agencies of Government and business world, as well, are oriented toward the protection of the quality of life. There are many aspects of it: environmental impact statements, enforcement of quality of air and water.
And this requires men and women in administrative positions who are knowledgeable about law, who are thoroughly familiar with the rules that have been laid down in an administrative way, and who can deal with forcefulness and understanding with the State and local governments and with private industry to make sure that in the face of progress, which is inevitable, that we don't destroy what's precious to us.
Doug Costle has had broad experience in this field and will be the Director of this agency, and another very close friend of mine, Barbara Blum, who helped me get many of the Georgia laws passed against formidable opposition because of her courage and tenacity and because of her knowledge of environmental questions while I was Governor of Georgia.
And I'm very grateful that they are willing to serve as the two top leaders in this important agency, the Environmental Protection Agency. It's with a great deal of pleasure that I welcome them into the Government circles, and it's also with a great deal of pleasure that I thank them for being willing to serve.
This is going to be a competent, dedicated, courageous, tough partnership. And I believe that the people of our country can rest assured that in the years to come, that our quality of life will never be abridged nor will it deteriorate. And I hope that we can set a standard in this country that will be emulated by other nations around the world as we deal with kind of an unexplored opportunity to protect the things that are precious to us. So, I am thankful to all of you for being willing to serve with us.
[At this point, Chief Judge David Bazelon, U.S. Court of Appeals, District of Columbia Circuit, administered the oath of office. The President then resumed speaking as follows:]
Judge, thank you very much.
This is my first experience in the Rose Garden, and I'm glad to be here where my predecessor enjoyed so many favorable press conferences.
Note: The President spoke at 2:24 p.m. in the Rose Garden at the White House.
Jimmy Carter, Swearing-In Ceremony Remarks at the Swearing In of the Chairman of the Council on Environmental Quality, the Deputy Director of ACTION, and the Administrator and Deputy Administrator of the Environmental Protection Agency. Online by Gerhard Peters and John T. Woolley, The American Presidency Project https://www.presidency.ucsb.edu/node/243043