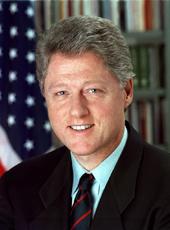 Statement on United Nations Security Council Action Against International Terrorism and the Taliban
I applaud the U.N. Security Council for taking a strong stand against international terrorism today and demanding that the Taliban stop harboring Usama bin Ladin. The Security Council's resolution, which passed by a unanimous vote, will result in economic sanctions being placed on the Taliban if they do not deliver bin Ladin within 30 days to a country where he can be brought to justice.
The Security Council's action demonstrates the international community's understanding of the threat posed by bin Ladin and his network of terrorists. Despite the condemnation of scores of countries after the 1998 bombing of our Embassies in Kenya and Tanzania, the Taliban has continued to allow bin Ladin and his network to operate training camps, make threats against the United States and others, and plan terrorist operations from their bases in Afghanistan. Now the international community has spoken with one voice. The sanctions the U.N. has chosen parallel the unilateral ones that the United States placed on the Taliban in July and will result in the restriction of landing rights of airlines owned, leased, or operated by or on behalf of the Taliban, the freezing of Taliban accounts around the world, and the prohibition of investment in any undertaking owned or controlled by the Taliban.
The international community has sent a clear message. The choice between cooperation and isolation lies with the Taliban.
William J. Clinton, Statement on United Nations Security Council Action Against International Terrorism and the Taliban Online by Gerhard Peters and John T. Woolley, The American Presidency Project https://www.presidency.ucsb.edu/node/229316