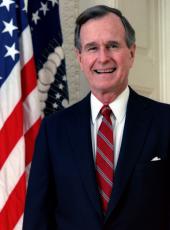 Statement on the Presidential Elections in Panama
The people of Panama clearly yearn for a free and fair election on May 7th so that their country can again take its rightful place in this hemisphere's community of democratic nations. Only the threat of violence and massive fraud by the Noriega regime will keep the Panamanian people from realizing that aspiration for democracy.
Free and fair elections on May 7th, and respect for the results, can produce a legitimate government in Panama which will end that nation's political and economic crisis and international isolation. That is clearly what the people of Panama deserve and desire.
The Noriega regime promised that free and fair elections would in fact take place May 7th and that international observers would be permitted to observe them. In recent weeks, the Noriega regime has taken steps to commit systematic fraud. Through violence and coercion, it threatens and intimidates Panamanian citizens who believe in democracy. It is attempting to limit and obstruct the presence of observers from around the world and the ability of journalists to report freely on the election.
Nevertheless, many observers intend to travel to Panama to shine the spotlight of world opinion on the Panamanian elections just as they did previously in nations like the Philippines and El Salvador. We admire their commitment to democracy and their courage, and will fully support their efforts.
The days of rule by dictatorship in Latin America are over. They must end in Panama as well. There is still time for Panama to resolve its current crisis through free and fair elections. The people and Government of the United States will not recognize fraudulent election results engineered by Noriega. The aspirations of the people of Panama for democracy must not be denied.
George Bush, Statement on the Presidential Elections in Panama Online by Gerhard Peters and John T. Woolley, The American Presidency Project https://www.presidency.ucsb.edu/node/263314