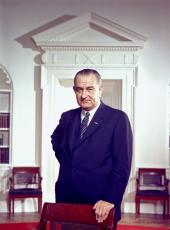 Statement by the President Upon Signing Bill Authorizing Increased Funds for Vocational Training of American Indians.
I HAVE signed H.R. 4778, a measure which authorizes increased funds for the vocational training of American Indians.
Fifteen million dollars will be authorized annually for institutional vocational training, on-the-job training, and apprenticeship programs specially adapted to the needs of American Indian men and women.
The program of vocational training for Indian adults is relatively new and has accelerated enormously during the past 4 years. Since its inception in 1958, more than 13,000 Indian men and women have received training, nearly 10,000 of them in the past 4 years. Many of these people have family dependents, so the program has had an impact upon not only the 13,000 trainees but upon a total of almost 30,000 people. The heart of the program is education--in trade schools and technical institutes.
Currently, more than 600 courses are being provided in 113 different fields in public and private institutions throughout the country. The Indian trainees come from reservation areas where unemployment is six to seven times the national average--where industrialization is just beginning--and where population pressures on the land base have led to prolonged and extreme poverty. For the thousands who have already been trained, and for more thousands to come, vocational education is the beginning of opportunity.
The program is open to Indian men and women between the ages of 18 and 35 who live on or near reservations. They may receive up to 2 years of vocational training at Government expense. The institutional program provides for transportation, tuition, books, supplies, and equipment; subsistence for the individual and for his family if he has one; medical care; counseling with respect to community living, housing, and education; and, at the end of training, assistance in finding a job.
More than three-fourths of the individuals under this training program graduate from the school and training program of their choice. This high success rate is a tribute to the persistent character of the American Indian people and is testimony, if proof is needed, that the war against poverty can be won.
Vocational training is the beginning of opportunity; and it is the core around which factories hum, goods are transported, resources are developed, communications kept open, and our conquest of space made possible. These are opportunities in which American Indians should be sharing fully.
It gives me the deepest satisfaction to know that the increased funds authorized for American Indians by this act will add to our arsenal in the war on poverty. Moreover, this is a program which is hailed equally by the Congress and by the Indian people who are its beneficiaries. In my meetings with American Indian leaders, they have repeatedly told me that their major request is for a chance to become self-sufficient, active participants in the making of this country's future. This is the import of the bill I have signed.
Note: As enacted, H.R. 4778 is Public Law 89-14 (79 Stat. 74). It was approved by the President on April 22, 1965.
Lyndon B. Johnson, Statement by the President Upon Signing Bill Authorizing Increased Funds for Vocational Training of American Indians. Online by Gerhard Peters and John T. Woolley, The American Presidency Project https://www.presidency.ucsb.edu/node/241816