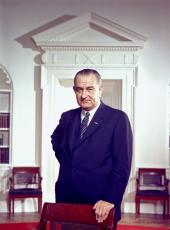 Statement by the President Following the Signing of the United Nations Participation Act Amendments.
IN RECENT WEEKS the United Nations has once again proved its critical value to mankind. Because it is the principal forum to which all nations may bring disputes that threaten world peace, it is vital that the organization of the United Nations reflect its high purposes. Each nation therefore has an obligation to strengthen and support the delegation representing it in the world today.
I am happy to sign into law today a measure that will enhance the effectiveness of our delegation to the U.N. In the past, only the chief representative of the United States and his deputy could represent this country before the Security Council and certain other major agencies of the U.N. This has proved unduly restrictive on the work of our delegation.
Under the new law, other members of our U.N. team may represent this country before any organ or commission of the United Nations. This will provide Ambassador Goldberg with the flexibility he needs to make use of the rich and diverse talents of those who now serve on the American delegation-Representative James Roosevelt, Ambassador Eugenie Anderson, and Dr. James Nabrit.
In my experience we have never had a stronger delegation to the United Nations than we have today. The outstanding men and women who represent us there have demonstrated that they possess those qualities of mind and spirit that will serve, not only American interests in the U.N., but the interests of all mankind in its quest for peace. By this act we hope to make the fullest use of those qualities in every facet of the U.N.'s work.
Note: As enacted, the United Nations Participation Act Amendments (S. 1903) is Public Law 89-206 (79 Stat. 841).
Lyndon B. Johnson, Statement by the President Following the Signing of the United Nations Participation Act Amendments. Online by Gerhard Peters and John T. Woolley, The American Presidency Project https://www.presidency.ucsb.edu/node/241334