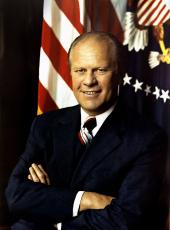 Statement on Signing the Land and Water Conservation Fund Bill.
TODAY, with great pleasure, I am signing into law S. 327, a bill which will substantially increase the authorization levels for the Land and Water Conservation Fund over the next several years.
I believe it can be fairly said that few Federal programs have given more wholesome recreation to Americans than the activities financed from the Land and Water Conservation Fund. In the decade of the Fund's existence, some $2 billion has been channeled into the purchase and development of outdoor recreation lands--places where Americans can participate in competitive sports, learn about nature, or simply find relief from crowds and bustle.
About $800 million over the last 10 years has been used to finance the purchase of Federal recreation lands--over 1.5 million acres of land for national parks, wildlife refuges, wilderness, and other recreational areas. $1.2 billion has been channeled to States and local communities as matching grants supporting the purchase of 1.4 million acres of land and the development of 10,000 recreational projects.
With the increased authorization for the Land and Water Conservation Fund, we estimate that over 6 million more acres of land will be purchased and set aside for recreational purposes through fiscal year 1989. Over the 25-year life of the Fund, ]and in excess of the area of the States of Connecticut, Rhode Island, and Massachusetts will have been bought for Land and Water Fund recreational purposes. This truly will be a heritage treasured by future generations.
In addition, S. 327 will establish the National Historic Preservation Fund to provide matching Federal assistance to State governments and private individuals for the acquisition and preservation of important historic sites.
What better way can there be, in this Bicentennial Year, to commemorate our Nation's rich history than to pledge to preserve outstanding examples of it for future Americans? In celebrating our Bicentennial this year, I and millions of others have been inspired to reflect on our history and the progress we have made. The National Historic Preservation Fund will assure that our historic sites and structures will continue to be available to provide this inspiration.
This preservation of historic sites and structures will be achieved through a creative partnership between various levels of government and the private sector. The Federal Government will provide technical and financial assistance, the States will plan the programs, and the bulk of the actual preservation work will be done at the local level, by private individuals. This is appropriate. The preservation movement is a citizen's movement, an example of productive cooperation among the Federal, State, and local governments, and the private sector. Government can nurture this movement, but we must remember that it gains its greatest strength from the individual pride in the Nation's past.
Unfortunately, S. 327 also provides for certain changes in the procedures of the Advisory Council on Historic Preservation which would compromise executive branch functions. I find these provisions unacceptable, as well as unnecessary to the effective operation of the Advisory Council.
The first provision would require the concurrent submission of Advisory Council budget requests to Congress and to the President. The second would require concurrent submission of the Advisory Council's legislative proposals. Each requirement would make it difficult for me to develop and present to the Congress coherent and coordinated budget and legislative programs.
We will submit to the Congress legislation which would correct these provisions, and I will strongly urge its passage during the first session of the next Congress.
In summary, I am pleased today to sign S. 327. With my Bicentennial Land Heritage Program and S. 327, we will have a program of which we can be proud. These two measures will provide increased recreational opportunities for present and future Americans, and will preserve for the future a great treasure of natural areas and historic resources. S. 327 provides the authorization for greatly accelerated land acquisition and historic preservation efforts assuring the continued momentum of our national preservation program. The Bicentennial Land Heritage Program will assure that these resources are developed and maintained to the highest standards.
As America looks toward her third century, we draw strength from our past. Our heritage of natural areas and the remaining records of our cultural history provide a reassuring sense of the direction from which we have come and a respite from the tensions of continuing progress. It is essential that we preserve our natural areas and historic resources in the face of progress. I pledge to do all I can to further this goal.
Gerald R. Ford, Statement on Signing the Land and Water Conservation Fund Bill. Online by Gerhard Peters and John T. Woolley, The American Presidency Project https://www.presidency.ucsb.edu/node/241524