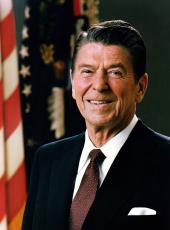 Statement on Signing a Bill on the Tricentennial Anniversary Year of German Settlement in America
I have today signed Senate Joint Resolution 260. This resolution designates the period commencing January 1, 1983, and ending December 31, 1983, as the Tricentennial Year of German Settlement in America. This welcome initiative by the Congress properly calls attention to the many valuable contributions made to our country by the millions of German immigrants over the past three centuries by commemorating the 300th anniversary of the first German settlement in America on October 6, 1683, at Germantown, Pennsylvania.
The resolution also expresses Congress strong support for an important program being administered by the United States Information Agency, the President's Youth Exchange Initiative. I strongly support this effort and thank the Congress for its role in sponsoring United States-German teenage exchange with the West German Bundestag.
The Congress has my gratitude for including in the resolution provisions establishing the Presidential Commission for the German-American Tricentennial. This unique body brings together representatives of the three branches of the Federal Government and the private sector to plan, encourage, develop, and coordinate the commemoration of this historic event and the importance of the United States relations with the Federal Republic of Germany. I look forward to participating in its activities.
The Congress designation of the Chief Justice to serve on the Commission is especially welcome, particularly in view of his Germanic ancestry, and I commend his willingness to participate in advisory functions of it.
I am concerned, however, by some of the language of section 3(b) of S.J. Res. 260, which can be read to require me to appoint as members of the Commission—without discretion—those persons recommended by the Speaker of the House of Representatives and the President pro tempore of the Senate. Such a limitation would, of course, contravene the appointments clause of the Constitution, and I decline to read this section in such a manner. I look forward to receiving recommendations from the Speaker of the House of Representatives and the President pro tempore of the Senate and will select the required number of Commissioners from among those recommended.
Note: As enacted, S.J. Res. 260 is Public Law 97-472, approved January 14.
Ronald Reagan, Statement on Signing a Bill on the Tricentennial Anniversary Year of German Settlement in America Online by Gerhard Peters and John T. Woolley, The American Presidency Project https://www.presidency.ucsb.edu/node/262183