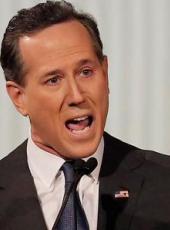 Statement by Rick Santorum in Response To President Obama's State of the Union Address
Sarasota, FL - Republican Presidential candidate Rick Santorum made the following comments in reaction to President Obama's State of the Union Address.
Rick Santorum said: "Tonight Barack Obama transformed the President's annual State of the Union address into the kick-off of his re-election campaign. From beginning to end, the American people heard more of the same - empty promises and grand platitudes that will do nothing to help the millions of Americans who are unemployed or under employed find a good paying job. 
Rather than call for decisive action in allowing projects like the Keystone Pipeline or reducing the regulatory burden his Administration has imposed, the President declared war on those who are most successful in our society. Barack Obama should realize he's the President of all Americans, but sadly, he has instead chosen to govern and campaign as the Divider-in-Chief.
We need to unite America and create an environment that rewards hard work and success, allowing people the opportunity to rise in society. We need a President who will rebuild the sector that built American economic greatness - manufacturing. My plan is diametrically opposed to that of the President's. Barack Obama speaks of raising taxes and imposing barriers to growth, my plan would eliminate the corporate taxes on manufacturers, eliminate the burdensome regulations of this Administration, and free our market to explore for the energy necessary to grow our economy.
Our Party needs to provide a clear contrast with Barack Obama in the general election.  Our campaign does just that by focusing a positive message of a resurgent American manufacturing sector, an Administration that will believe in American exceptionalism again, and valuing the dignity of each and every human life. America deserves better than what they heard from Barack Obama tonight. "
Rick Santorum, Statement by Rick Santorum in Response To President Obama's State of the Union Address Online by Gerhard Peters and John T. Woolley, The American Presidency Project https://www.presidency.ucsb.edu/node/299550