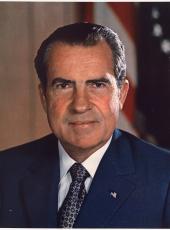 Statement Announcing the Appointment of Stephen Hess as National Chairman of the White House Conference on Children and Youth
ONCE EACH DECADE, since the days of Theodore Roosevelt, the President of the United States calls together a large and representative body of his fellow citizens to assess the present circumstances and future prospects of the Nation's children and youth. Out of these efforts have come valuable stocktaking, heightened awareness, and much useful legislation and action on all levels of government.
This oldest of all White House Conferences, the White House Conference on Children and Youth, will take place in Washington on December 13-18, 1970. Through individuals, State committees, voluntary and professional organizations, and Federal agencies, 6 million Americans ultimately will become involved in its planning and deliberations.
Today I am pleased to announce the appointment of Stephen Hess as National Chairman of the White House Conference on Children and Youth.
I will serve as Honorary Chairman, but it will be the responsibility of Mr. Hess, acting on my behalf, to organize and direct this considerable undertaking.
Never has this White House Conference come at a time of greater national questioning. Long held attitudes on such subjects as family planning, pornography, health services, school curricula, sex education, family structure, drug abuse, moral standards, governance of higher education, responsiveness of government--all are now openly debated and challenged.
The White House Conference can and will define problems, seek new knowledge, evaluate past successes and failures, and outline alternative courses of action.
Earlier this year I made a national commitment to providing all American children an opportunity for healthful and stimulating development during the first 5 years of life. We now know that the process of learning begins in the earliest months of life and that much of a child's intelligence is set long before he enters his first classroom. It is thus incumbent upon us to invent new social institutions and techniques to respond to this knowledge. I will look to the work of the White House Conference to advance this commitment.
Also earlier this year work was begun in the Urban Affairs Council, under the direction of Dr. Moynihan and Mr. Hess, to assist me in formulating a National Youth Policy. It is clear that the many Federal programs that affect youth are often contradictory in effect. Some may indeed lengthen that period between childhood and adulthood which we call youth, thereby increasing the sense of frustration and alienation felt by so many young people. This effort to find ways to decrease this period of dependency and bring our youth more rapidly into full participation in society will now be joined by Mr. Hess and his colleagues.
At a time when government often seems far away and immovable--when many of our youth are rightly asking, "Who's listening? Who cares?"--I hope that this White House Conference, especially through the active involvement of a great many young people, will provide a positive answer. In this regard, I have asked Mr. Hess to listen well to the voices of young America--in the universities, on the farms, the assembly lines, the street corners. I have known Steve Hess a long time, and I know him to be a good listener.
As he begins this challenging new assignment, I pledge him the full cooperation of the Federal Government.
Note: Also released by the White House Press Office was biographical data about Mr. Hess, and a news briefing on a meeting of the Urban Affairs Council by Dr. Daniel P. Moynihan, Counsellor to the President, Robert H. Finch, Secretary .of Health, Education, and Welfare, Mr. Hess, and John R. Price, Jr., whose appointment as a Special Assistant to the President and Executive Secretary of the Urban and Rural Affairs Councils was announced at the briefing by Ronald L. Ziegler, Press Secretary to the President.
Richard Nixon, Statement Announcing the Appointment of Stephen Hess as National Chairman of the White House Conference on Children and Youth Online by Gerhard Peters and John T. Woolley, The American Presidency Project https://www.presidency.ucsb.edu/node/240285