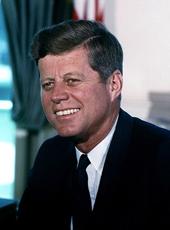 Speech of Senator John F. Kennedy, Eastern Parkway Arena, Brooklyn, Ny - (Advance Release Text)
Senator KENNEDY. Ladies and gentlemen - let me first speak and then you - OK, OK. You and I are in agreement. We agree. We agree. We agree. Then you come next.
Ladies and gentlemen, my colleague, former colleague, in the Senate, Senator Lehman, my present colleague, Mayor Wagner, my distinguished friend, my present colleagues in the Congress, Mrs. Kelly, our National Committeewoman, from New York; and an old friend and colleague of mine, Congressman Anfuso; Congressman Abe Multer, with whom I served in the Congress for 14 years; of course, your own Congressman, Manny Celler, a great representative of this district; Jim Farley, the former Postmaster General; Mike Prendergast, the State chairman - we have them all here tonight - Congressman Keogh, from Brooklyn, Arthur Levitt, distinguished State officials, Congressmen and Senators, assemblymen, anyone else who wants to be introduced - hold up their hands - after November 8 - ladies and gentlemen, I will make it brief, because I know you have been standing for some time. This is an important contest for an important office. This is a great country of ours, and the President of the United States is the spokesman for our national interest and our national purpose, and after 14 years in the Congress, and after campaigning in every State in the Union, and after looking at this country, I have come to the conclusion which you have, that it is time America started moving forward again. [Applause.]
The basic issue which separates Mr. Nixon and myself is that in these turbulent and trying days, he has chosen to run on a domestic platform that we have never had it so good, and he runs on an international program that our prestige is the highest it has ever been in the world, in spite of the fact that his own State Department and our State Department in their surveys taken this summer, which this administration refuses to release, shows that our prestige has gone steadily down under this administration. We are going to reverse that. We are going to move the country forward. [Applause.]
Franklin D. Roosevelt, in accepting the second presidential nomination before 100,000 people in Franklin Field, Philadelphia, said:
Governments can err, Presidents do make mistakes, but the immortal Dante tells us that Divine Justice weighs the sins of the coldblooded and the sins of the warmhearted in a different scale. Better the occasional faults of a government living in the spirit of charity than the consistent omissions of a government frozen in the ice of its own indifference.
Let me give you five ways that Mr. Nixon is frozen in the ice of his own indifference. No.1, we have the highest cost of living this week in the history of the United States, and in the last few months, while costs have been going up, the wage level average has been going down. Who are the people that are hit? No.1, those who are retired, those who live on an average of $72 a month under social security. When we put forward a proposal this summer to provide medical care for the aged tied to social security, we had one Republican vote in the Senate, and when the vote was announced Time magazine said Mr. Nixon turned and smiled. He will not be smiling on November 8. [Applause.]
Secondly, because of the high interest rates of this administration, if you buy a $10,000 home today on a 30-year mortgage, your interest rate on the loan is $3,300 more than it was 8 years ago. This administration vetoed two housing bills last year. Mr. Nixon voted against the housing bill of 1949 which is the basis of all subsequent housing bills. I don't care what pronouncement he comes out in this campaign. The Republican Party and Mr. Nixon have opposed progressive housing legislation for our people. [Applause.]
Three, who is the next group hit by the high cost of living. Those are who are paid a substandard wage. In the midthirties, 90 percent of the Republican Party voted against a 25-cent minimum wage. This summer, as your Congressman can tell you, in the House of Representatives, 90 percent of the Republicans voted against a minimum wage of $1.25 an hour, $50 a week for a 40-hour week, for a business that makes more than a million dollars a year, and Mr. Nixon called it extreme. He is frozen in the ice of his own indifference if I ever saw a Republican candidate who was. [Applause.]
Four, if you want to send your child to college today, it costs you $1,300 more than it cost you in 1952. Last year we passed a bill in the Congress which would provide loans to colleges for building dormitories, which would be repaid at a low rate of interest, for dormitories and classrooms. The Republican Administration vetoed it. Any time this administration or any other administration stands in the way of educating our children, giving them the best education in the world they disqualify themselves, in my opinion, from leading the United States in the sixties. [Applause.]
Fifth, and finally, and finally the question of which candidate stands for opportunity to all Americans regardless of their race, their creed or their color. In 1953 and 1954, the Republican Party controlled the White House, the Senate and the House, a majority in all bodies. Not one civil rights bill ever saw the light of day in either the House or the Senate. In the last 4 years, we passed two bills. I believe we should do better. Congressman Celler was more responsible for those bills, probably, than any man in the Congress. They came out of his committee which he headed. He is now chairman of a committee which I set up to implement the Democratic platform. Mr. Nixon is chairman of a committee to end discrimination in Government contracts. Two suits, two suits, in all that time. He sends Barry Goldwater through the South saying, "I don't mean any of this," and sends Senator Scott of Pennsylvania through the North saying, "Oh, we are all for civil rights. We are for opportunity for all Americans regardless of their race, their religion, their region, their national origin. We want everyone to have a fair chance to develop his talents. In these five ways, in my opinion, Mr. Nixon and I differ. In these five ways, the Republican Party and the Democratic Party differ. And these are only symptoms, only representatives of the great differences between our parties. Everything that Franklin Roosevelt and Woodrow Wilson and Harry Truman tried to do, the Republican Party stood against, and in 1960, in a great time of decision, I come to Brooklyn, I come to this district, and ask your help in picking this country up and moving it forward again. Thank you. [Applause.]
John F. Kennedy, Speech of Senator John F. Kennedy, Eastern Parkway Arena, Brooklyn, Ny - (Advance Release Text) Online by Gerhard Peters and John T. Woolley, The American Presidency Project https://www.presidency.ucsb.edu/node/274686