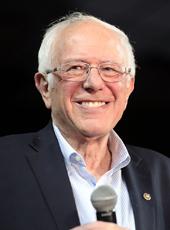 Sanders Campaign Press Release - Sanders, Nurses, Doctors Call for Medicare-for-All, Senator Backs California Ballot Initiative on Prescription Drug Prices
EMERYVILLE, Calif. - Flanked by nurses and doctors, U.S. Sen. Bernie Sanders on Tuesday said it was time for the United States to join every other major industrialized nation and provide better health care at lower cost to all Americans.
"Embarrassingly, the United States today is the only country on earth that does not guarantee health care as a right for all people," Sanders told a rally. "We need to guarantee health care for all people as a right."
Sanders said the United States spends far more per capita on health care than any other nation; twice as much as in Great Britain and half again as much as in France. In the United States, meanwhile nearly 60 million Americans either do not have health insurance or are underinsured and cannot afford high deductibles, premiums and co-payments charged by private health insurance companies.
According to a 2009 Harvard Medical School study, 45,000 people die unnecessarily each year because they go to a doctor or hospital too late or don't have health insurance at all.
Sanders has proposed expanding the successful health care program for seniors and to build on the advances made under the Affordable Care Act, which Sanders helped craft. Patients would be able to choose their own doctors and receive comprehensive care for everything from hospital stays to emergency room visits to primary and specialty care.
Under Sanders' plan, millions of people in the richest nation in the history of the world no longer would have to choose between health care and other necessities like food, heat and shelter.
Sanders also backed a California ballot initiative that could save the state an estimated $4 billion over the next 10 years on prescription drugs.
Today in the United States, Sanders said, 1 in 5 Americans is unable to afford to fill prescriptions while the top five drug companies last year made $50 billion in profits by charging Americans the highest prices anywhere for prescription medicine. "That's crazy," Sanders said
The California ballot initiative faces stiff opposition from pharmaceutical which are bankrolling an effort to block the proposition. They have already raised $68 million and may spend $100 million to defeat the proposal.
To read Sanders' Medicare-for-all plan, click here.
To read Sanders' statement in support of California's prescription drug ballot initiative, click here.
Bernie Sanders, Sanders Campaign Press Release - Sanders, Nurses, Doctors Call for Medicare-for-All, Senator Backs California Ballot Initiative on Prescription Drug Prices Online by Gerhard Peters and John T. Woolley, The American Presidency Project https://www.presidency.ucsb.edu/node/317570