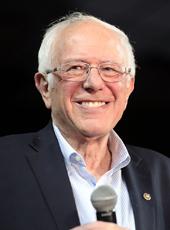 Sanders Campaign Press Release - Sanders Has Momentum in Iowa, New Register/Bloomberg Poll Shows
DES MOINES, Iowa – Bernie Sanders and Hillary Clinton are locked in a tight contest going into Monday's Iowa precinct caucuses according to a new poll by The Des Moines Register and Bloomberg Politics showing her with a narrow 3-point edge within the survey's 4 percent margin of error.
When caucus-goers were asked who cares about them most, 51 percent say Sanders. "Bernie Sanders has very successfully positioned himself as the guy who is going to go to bat for you," said Ann Selzer, who conducted the survey.
"Our campaign has come a very long way in eight months. In late May, according to the Register/Bloomberg poll, we were down by 41 points. Today we are virtually tied. The momentum is with us," said Jeff Weaver, Sanders' campaign manager.
"Turnout will be the key to Bernie's success on caucus night. From now until Monday night we will be working as hard as possible to knock on as many doors and call as many Bernie supporters as possible," said Pete D'Alessandro, Sanders' top Iowa strategist.
"The new poll results reflect the remarkable grassroots excitement and energy that are the driving force behind Bernie's campaign to fix a rigged economy and the corrupt campaign finance system that props it up," said Robert Becker, Sanders' Iowa campaign state director.
The latest findings are a remarkable contrast to the same poll's results eight months ago when Sanders launched his campaign. Clinton then held a commanding 41-point lead.
When the campaign began, 41 percent of Iowans could not identify Sanders. Today, he enjoys an 82 percent approval rating among Iowa Democrats.
Bernie Sanders, Sanders Campaign Press Release - Sanders Has Momentum in Iowa, New Register/Bloomberg Poll Shows Online by Gerhard Peters and John T. Woolley, The American Presidency Project https://www.presidency.ucsb.edu/node/315363