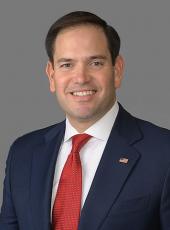 Rubio Campaign Press Release - WATCH: These Young Voters' Reactions to Marco Rubio Will Stun You
Reviews of Marco are the Republican debate on Wednesday night were uniformly good, but it's always nice to see voters themselves affirm that they like that they're seeing from him.
That's exactly what the TV network Fusion got when they asked a focus group of young voters what they thought about Marco, his background, and the media's attempts to attack him.

One student:
"When he mentioned the fact that he didn't inherit any money — basically, most of us don't inherit any money, and that's how we grow up: we struggle, we work, we hustle. So that made it completely relatable."
Another:
"I feel that he is relatable with the voters, in the sense that he did have to work his way through [his] bachelor's [degree,] and then law school."
Regarding the media's suggestion that Marco has been irresponsible about his personal finances because of the student loan debt he carried, the moderator asked: "For anyone here, does that attack on Marco Rubio actually make you think that he should not be President of the United States?"
The answers:
"Not at all."
"No."
"No."
"They made him look better if anything else. They helped him out instead of bringing him down."
"How so?" the moderator asked.
One panelist: ". . . It made him relatable, it shows that he's actually working hard to pay off his debts and pay everything off, which shows that he's going to help out the United States and help us with our debt."
Another: "Yeah, that quote-un-quote attack on him about his history and what he's gone through, I really liked how he was saying, yeah, he didn't inherit any money, and he knows what we're going through. And that really made me think, you know, I think Marco Rubio would be a good president, because he knows what we're going through and he knows what needs to be done."
Marco Rubio, Rubio Campaign Press Release - WATCH: These Young Voters' Reactions to Marco Rubio Will Stun You Online by Gerhard Peters and John T. Woolley, The American Presidency Project https://www.presidency.ucsb.edu/node/326073