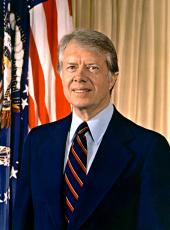 Robert S. Strauss Remarks at a Dinner Honoring the Ambassador.
THE PRESIDENT. Senator Bentsen, my good friend Vice President Mondale, Joan, Ambassador Bush, soon to be Vice President of this great country, Senator Baker, Speaker O'Neill, Lady Bird Johnson, Gene Rostow, George Bristoe, who will follow me, other friends of Bob Strauss:
As I sat in the audience tonight I was grieved at some of the light and disrespectful remarks made about Bob Strauss. [Laughter] Sometimes there is an occasion for levity; sometimes there's an occasion for serious analysis of a man's career and what he's meant to the people who come to honor him. And I don't believe there's anyone here tonight that hasn't been helped in a tangible and specific way by Bob Strauss to reach the ambitions that we have had in our own private lives, sometimes in our public life as well. I can't say that everything Bob Strauss has attempted that he's achieved for himself or for us. No one could do that as a human being. But if you think in your own lives, Bob has meant a lot to all of us.
This past 12 months I've had ambition. My hope was to serve a second term as President and then go back to Plains and retire. Bob has helped me achieve one of those ambitions. [Laughter] And as I leave next month for Plains, Bob Strauss will be in the forefront of my mind. [Laughter]
Bob is also very good with advice. Not long before I left the Oval Office this afternoon I read a last-minute letter from Bob Strauss. This is an absolutely true story, of course. The last paragraph—to the President of the United States, mind you—was: "Mr. President, wash your face and put on a clean shirt." [Laughter] "This new crowd will be a little bit more classy than the ones with which you're familiar." [Laughter]
During the tough days of the campaign Bob was always eager to say to me, "Mr. President, your real problem is public relations. You've never been able to let the American people know about your own great successes. What they know and what they remember are the things that you attempted and didn't quite achieve." No one has ever accused Bob Strauss of having that problem. [Laughter] So, tonight, I want to share part of my problem with my friend Bob Strauss.
When we think of Bob we remember very vividly the wonderful achievements of his public career. We think of the great roles he's played in shaping our Nation's present, our Nation's future. We think of the man who pulled the Democratic Party back together in a very difficult time in 1972. We think of the man who worked miracles, literally miracles, in putting together the Multilateral Trade Negotiations when everyone had given it up for dead. We think of the man who worked to keep the Camp David process on track. And there was, of course, the other Bob Strauss that wore the hat of the main adviser for the President on controlling inflation. [Laughter] But as Bob approaches you for a job, I wish you good luck in finding that particular item on Bob's current resume. [Laughter]
I'm glad, along with you, that Bob has great achievements. And I'm also glad that the people of our Nation have become aware of them, because as the great Dizzy Dean expressed it—and Bob quotes him quite often—"It ain't bragging if you've done it." Right, Bob? [Laughter]
When I think of Bob, two words come to my mind. One is "Democrat" and the other one is "loyalty." Since I see a few unfamiliar faces here tonight who will be more familiar to the American people in the future, I'll skip right over to the second one of those. I won't talk about Democrats tonight. Bob Strauss is loyal in the deepest and most durable sense of the word. He's loyal to his beliefs, and he's loyal to his friends. And when you are lucky, as I have been, to share both his beliefs and his friendship, then you're a lucky man indeed.
Bob has fought many good fights during his life. He's faced some of the most tough, iron-willed, and effective bargainers in the world. Prime Minister Ohira, Japan, during the Multilateral Trade Negotiations, I know how tough a bargainer he is; our Western allies with whom Bob had to deal on some very difficult questions of importance to all of you; President Sadat, a noble man of deep convictions, tough, effective bargainer; Prime Minister Begin, a deeply dedicated man, tough and effective bargainer, iron-willed; the bureaucrats in the State Department- [laughter] —tough, iron-willed, as Bob Strauss would well agree; Helen Strauss- [laughter] —tough, iron-willed, difficult bargainer, but a beautiful and wonderful helpmate who has meant as much to this Nation as has her honored husband.
Bob has of course won some; he's lost some. And through it all he shared some great and noble causes over the years. He's fought for his party, and he's fought for his country. And through all those fights and long afterwards, he's always been a loyalist, loyalist to his cause and loyal to his friends.
Bob Strauss believed in President Lyndon Johnson, and everybody knows it. He never lets anyone forget it, because he's proud of that loyalty. Bob Strauss fought for Hubert Humphrey, and he will not let anyone forget that either, because he's proud of that loyalty. And he fought for Jimmy Carter, and I personally will never forget it. I will never forget it, because I'm proud of that loyalty.
And so, tonight I join you in returning at least part of the favor, part of the loyalty that Bob Strauss has given to us and to his country. When he served as President, Lyndon Johnson used to say that all the brains in our country did not come from a few prestigious old schools. A lot of people figured when he said that that he had one particular school in mind. And now there's another one to which his name and his influence is dedicated. Lyndon Johnson believed in education, as Fritz Mondale has said. It was his burning commitment throughout his lifetime. He believed that our country was full of talent. He believed that in every region of the country there were people with a sense of public duty and the talent for politics. He wanted to make sure that young people with a concern for government and public affairs had a chance to nourish that concern, to fulfill their dreams, to understand what our system of government was all about. And he wanted them to know the "how" of democracy and the "why" of it also, and that is the founding principle of the Lyndon Johnson School at the University of Texas.
I'd like to join in the salutes that have already been given, but since I am President I want to say these words myself, a salute to the person who's been the guiding light to the Lyndon Johnson School and to the LBJ Library and to her husband and to millions of admirers in this country, Lady Bird Johnson. We love you, Lady Bird Johnson.
I almost agree with everything that Lady Bird Johnson says, but it would be difficult, if not impossible, for the Robert S. Strauss fellowship or the entire LBJ School for that matter, to produce one more Lyndon Baines Johnson or one more Robert S. Strauss. What it can do though is to give many young men and women, who have a desire to serve, training in the field of service. They will have an opportunity now to let their country be the beneficiaries of the legacy of that great family.
And I would like to end my remarks tonight with something that Lyndon Baines Johnson said, and might have said about the man we honor tonight if he were here. "The American people," he said, "are tired of wrecking crews. They want builders; they want people who construct." We are blessed to live in a free country, a country of free expression, a country of free political action. But it takes more than just freedom as important as it is, to make democracy work. It takes commitment. It takes dedication. It takes tenacity. It takes a knowledge of other people. In other words, it takes politics in the best and the noblest sense of that word. Our political system has a lot of critics. We have commentators of every ideological stripe who cite the inadequacies of our two political parties and how they relate one to the other. But both parties can be thankful that in this Nation of ours there is one Robert Strauss.
So, tonight in the town where there are so many people who believe so firmly in one particular cause that they've lost sight of how we make decisions in this great pluralistic society, through debate, through bargaining, through tolerance, through politics, tonight we honor a builder, a man who knows how to bring people together, who sees what unites people when all that many can see is what divides people.
A half century ago a man who I suspect had a lot in common with Bob Strauss left us these well-known words—every Democrat's heard them a thousand times—"I belong to no organized political party, I'm a Democrat." But tonight we honor a Democrat who spent a good part of his life knowing in his heart that Will Rogers was right, but trying to convince the rest of us that Will Rogers was wrong, and loving every minute of the effort to convince us that democracy and our party and our Nation has the inner strength, the foundation of principle and commitment, the acknowledgment of differences among us, and the high ideals that never change, to be successful, no matter how great the problem, how difficult the adversity, how serious the obstacle in our lives.
So, tonight it's my great pleasure to salute and to introduce a great American, a Democrat, a loyal friend, a builder of a better life for us all, my true friend, Robert Strauss.
AMBASSADOR STRAUSS. Fellow Democrats and Republicans, I accept your nomination. [Laughter] Before I speak for 2 or 3 minutes, let me remind you, Mr. President and Mr. Vice President, Mr. Speaker, Mr. Majority Leader-designate, Mr. Vice President-designate, and let me remind those in this room that these fellows have had people working for a week on their material, and I just started thinking of mine the last 2 or 3 minutes. [Laughter]
President Carter, as I said to Rosalynn when you commented that I had helped you achieve one-half of your goal, and I also said to her that you, when I suggested it in that note—and it is true, I sent that note that he wash his face and wear a clean shirt—that he took half of my advice tonight. [Laughter] He never took it off. [Laughter]
I must say to you that I think we each have strengths and weaknesses, and one of my strengths has been my ability to recognize my weaknesses— [laughter] —and one of the things I've always been able to do is take what I was doing seriously, but not myself too seriously. But tonight I think I'm beginning to lose that capacity. I began to get disturbed about myself when just before I came up here, my mind was wandering a bit, and even though the President was speaking, I leaned over and said to Helen, "You know, Helen, I think that what Brezhnev said to Senator Percy that hasn't yet been reported was, 'Be sure and give my regards to Bob Strauss.'" [Laughter] You know, that's pretty good for just the last 2 or 3 minutes. [Laughter]
It's getting late, and let me conclude more seriously if I can for a moment by saying to you first, Mrs. Johnson, how proud that Helen and I are and the members of our family are that our names will be associated with the school. I think the former President would be very pleased at that, and we are very proud of that association.
Let me also say that in all seriousness that I was thinking tonight as I sat there, what a truly magnificent Nation this is. You think of Afghanistan, and you think of Poland, and one can't avoid thinking of the Middle East, and we even think of what happens in a stable society like Great Britain when the government changes with dramatic shifts. And here we are with a change of government, with a transition, and here we are in this room that's truly a montage of America—corporate leaders, politicians, young and old, some jaded and some just beginning—but all of us, all of us, absolutely convinced that this process can work and all of us tonight in this joyous, happy, positive room knowing that we are participating right at the halfway point of a change of government, and things go on with stability and with soundness.
And my friend Abe Ribicoff just returned a couple of days ago from Europe, and he said, "The one thing I thought of as Casey and I flew home, Bob, was all I heard about just before I left this Nation was what was wrong with America. But all I heard about in Europe where they saw us from afar was how they could become a part of this great Nation, how they could bring their companies here, how they could bring their families here, how they could bring their security here, all wanting to be a part of this great Nation."
And so, it is tonight that I would conclude by briefly saying to you that this process serves us well. This evening, I think, is a moment of reminder, a pause at midpoint in the transition to say that it works. God bless it and preserve it, and each of you.

Thank you so much.
Note: The President spoke at 10:38 p.m. in the Grand Ballroom at the Sheraton Washington Hotel.
Jimmy Carter, Robert S. Strauss Remarks at a Dinner Honoring the Ambassador. Online by Gerhard Peters and John T. Woolley, The American Presidency Project https://www.presidency.ucsb.edu/node/250512