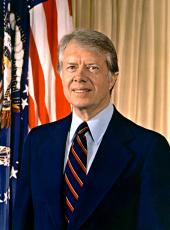 Rhode Island Indian Claims Settlement Act Statement on Signing H.R. 12860 Into Law.
I have signed into law H.R. 12860, the Rhode Island Indian Claims Settlement Act. Once implementing State legislation has been enacted, this act will settle once and for all the decades-old controversy over Indian claims in Rhode Island, particularly in the town of Charlestown. Most importantly, this law resolves those claims in the best possible way—by mutual agreement of the Indian claimants, the State, the town, the local landowners affected by the claims, and the Federal Government.
The need for a legislative settlement has been apparent since 1975, when the Narragansett Indians began pressing claims to aboriginal tribal lands in Charlestown. Their ancestors had been dispossessed of those lands during the 19th century, and they claimed that because these transactions had been consummated without congressional approval, they violated the 1790 Indian Nonintercourse Act.
I applaud the parties to the controversy, Senators Pell and Chafee, and Representatives Beard and St Germain, for their constructive approach to this most difficult problem. I am gratified to see that attempts to resolve such Indian claims can be made in an atmosphere of cooperation.
Interior Secretary Andrus and I support and encourage just and amicable settlements of legitimate claims. I hope that other Indian claims which are now the source of friction among Indian and non-Indian citizens of this country can also be settled in the way the people of Rhode Island have done—in a climate of harmony.
Note: As enacted, H.R. 12860 is Public Law 95-395, approved September 30.
Jimmy Carter, Rhode Island Indian Claims Settlement Act Statement on Signing H.R. 12860 Into Law. Online by Gerhard Peters and John T. Woolley, The American Presidency Project https://www.presidency.ucsb.edu/node/243651