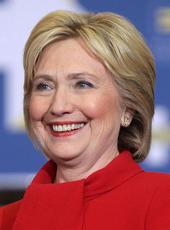 Retired Generals and Admirals Condemn Republican Rhetoric On Guantanamo Bay, Torture
Joint Statement Praises Hillary Clinton's Longtime Leadership On Closing Guantanamo
Thursday, a group of retired generals and admirals issued the following joint statement condemning the recent rhetoric from top Republicans on Guantanamo Bay and torture, and praising Hillary Clinton's leadership:
As a group of retired generals and admirals with considerable years of collective experience, we are dismayed at the rhetoric coming out of the Republican presidential field regarding President Obama's plan to close the Guantanamo Bay prison facility and the use of torture on our enemies.
The Republican candidates have turned this into a game to see who can seem toughest. Yet, how we combat our enemies and defeat ISIS is not a game, and these proposals would only make us weaker. A plan to expand the use of the Guantanamo Bay prison, one of the most powerful symbols for terrorist recruitment, is dangerous and has real negative consequences for our national security. Expanding the use of torture abandons the principles that this country was founded on, compromises our position of leadership on the world stage, and puts our troops, frontline civilians, and all Americans at risk.
Hillary Clinton has consistently been on the right side of history on these issues. In a now public 2013 memo to President Obama, Secretary Clinton noted that not only is the closure of Guantanamo Bay consistent with U.S. values and weakens our enemies, but also sends a strong signal to our allies that we have a credible detention policy. She also actively advanced that goal as Secretary of State, working to get detainees repatriated or resettled with appropriate monitoring and security measures. Secretary Clinton has also made clear that torture does not work and defies our nation's values and interests. This is the kind of leadership our country needs.
Men and women serving in uniform are looking for a commander in chief who will abide by and strengthen our nation's values across the globe, and can focus on domestic issues as well as those that have consequences abroad. We applaud Hillary Clinton's leadership on these issues and call on the immediate end to the dangerous rhetoric coming from the right.
Signers:
General Johnnie Wilson (USA, ret.)
Lt. General John Castellaw (USMC, ret.)
Lt. General Robert Gard (USA, ret.)
Lt. General Walt Gaskin (USMC, ret.)
Lt. General Claudia Kennedy (USA, ret.)
Lt. General Charley Otstott (USA, ret.)
Vice Admiral Don Arthur (USN, ret.)
Vice Admiral Kevin Green (USN, ret.)
Major General George Buskirk (IN NG, ret.)
Major General Paul Eaton (USA, ret.)
Major General Eric Olson (USA, ret.)
Major General Tony Taguba (USA, ret.)
Rear Admiral Jamie Barnett (USN, ret.)
Brigadier General John Douglass (USA, ret.)
Brigadier General Larry Gillespie (USA, ret.)
Brigadier General Dave McGinnis (USA, ret.)
Brigadier General Earl Simms (USA, ret.)
Brigadier General John Watkins (USA, ret.)
Brigadier General Stephen Xenakis (USA, ret.)
Hillary Clinton, Retired Generals and Admirals Condemn Republican Rhetoric On Guantanamo Bay, Torture Online by Gerhard Peters and John T. Woolley, The American Presidency Project https://www.presidency.ucsb.edu/node/318896