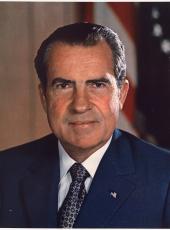 Remarks at the Unveiling of a Portrait of Representative F. Edward Hebert, Chairman, Committee on Armed Services.
Mr. Speaker, Speaker McCormack, Mr. Chairman, Archbishop Harman, Congressman Hebert, all of the members of the committee, the delegation from Louisiana, the distinguished guests from the armed services, from the Senate, Secretary Laird:
It is a very great privilege for me to be here, to be back in the House again where I began my political career 24 years ago. And after listening to this program today, I realized how much I miss the House. I do not want to make invidious comparisons between the Senate and the House--Members of the House will do that [laughter]--but I do want to say that there is a certain feeling of friendship and comradeship among House Members that cannot be duplicated anyplace.
I was told when I first came to the House that where one really gets to know another Member is serving with him on a committee. And I did serve with Eddie Hebert on the Committee on Un-American Activities. We were involved in some very difficult and challenging assignments of investigation.
He has spoken very generously of my role on that occasion. I have written of his role, and I would remind all of you now that his courage, his eloquence, but also his brilliance--and I can only describe it with that--in questioning a witness, was as responsible as anything I did for the success of our investigations. I add that to the Hebert legend which, of course, has been certainly embellished by the many things that have been said about him by his colleagues for his service on the Armed Services Committee.
I thought that when I assumed my present office I would have the opportunity to do many things that I had never done before, and this is one of them.
Reference has been made to the fact that I am somewhat of a sports fan. And I must say that if anybody had told me I would ever give up a World Series game for a hanging, I wouldn't believe it. I will let you in on a little secret, though. I had a radio in the car on the way down. The score was 5 to 2 in the bottom of the eighth--Pirates, in case anybody missed it.
I would like at this point to bring this ceremony to a conclusion, as far as my own participation is concerned, by referring to the work of Congressman Hebert, to his life, and to relate that work to the Members of the Armed Services Committee of both the House and the Senate, and to those Members of the House and the Senate who have supported a strong national defense, and that is, of course, a substantial majority in both parties, Democrat and Republican.
Reference was made earlier to the fact that I had made an announcement today with regard to a meeting that will take place next spring at the highest level between the leaders of the United States and the leaders of the Soviet Union. And, of course, all of you are aware of the fact that at an earlier date a meeting will take place between leaders of the United States, including the President, and leaders of Mainland China.
There could be a tendency to interpret such meetings at the highest levels, unprecedented between the great powers of the earth, as being the end of a period in which the United States needed to be concerned about its strength. That, of course, is not the case.
We are now in a period of negotiation, as I have often said, but we are in a period, also, when we must never substitute the fact that a meeting is to take place, the fact that negotiations are going on, for the reality of an agreement. Certainly that would be the attitude of the leaders of the Soviet Union. That would also be the attitude of the leaders of the People's Republic of China, Mainland China, and it must be our own.
We want peace in the world. We want a reduction of tensions in the world. We would like to have some limitation, if we can safely have it, on the burden of arms that we bear. But unless and until we have a mutual agreement, a mutual agreement among the great powers in which we both limit what we do in terms of our defense, the United States must maintain its defense at adequate levels. And in that respect, I want to say that over these past 2 1/2 years that I have served in this office, that the fact that in this committee, and its counterpart in the United States Senate, and in both bodies--the fact that clearly apart from partisanship, the President of the United States could count on the House and the Senate voting for a strong national defense--that fact, I can assure you, has made it possible for us to reach the position where we could negotiate from strength, not from weakness.
I would simply add this word: Let us be sure that anyone who represents this country as President of the United States will be able to negotiate from strength, not from weakness. That does not mean that he negotiates with belligerence; it does not mean that he negotiates unreasonably; but it does mean that the road to any mutual agreement, any successful agreement, will be when both parties recognize that there must be mutuality, and that neither is coming to that conference table in a position of weakness.
So I express appreciation to you, Mr. Chairman, to all the Members of this committee, to your counterparts in the Senate, to the Members of the House and the Senate, Democrat and Republican, who have had disagreements--as you should have, and as we always will have in this country--on some other issues, but when the great issue of national defense is concerned, you have voted for strong national defense so that we could build what we all want in the world, build a lasting peace.
I think one of my favorite quotes from Eddie Hebert's many gems, and he has many--I would love to sit in this committee and hear what he says sometimes-but one of them, as I recall, went something like this: He said, "I am a Hawk, but no Dove could want peace more than I do."
I think that is what all America needs to hear. Strength, reasonable strength, a willingness to negotiate, that is the road to peace, not weakness. And that is what Eddie Hebert stands for. He is for strong defense. He describes it, "I am a Hawk." But he means by that, I am a Hawk not in terms of wanting war, but I am a Hawk because I want a strong national defense, because only through a strong national defense are we going to have a lasting peace. That is Eddie Hebert's legacy.
Now a word about the portrait. I know very little about art, but it seems to me to be an excellent likeness, and I would simply suggest that as I look at this portrait and compare it with the others around this room, there is one difference. The difference is that in the lapel of Eddie Hebert is an American flag.
That does not mean that others would not have had American flags in their lapels if that had been the custom in their time, but I think that all of us would say today, in our tribute to Eddie Hebert on his three score and ten birthday, in appreciation for his years of service to the country, in recognition of his chairmanship of this great committee, that he not only wears that flag in his lapel, he wears it in his heart.
Note: The President spoke at 3:57 p.m. in the Carl Vinson Room in the Rayburn House office Building.
Carl Albert, Speaker of the House of Representatives, John W. McCormack, the former Speaker, the Most Reverend Philip M. Hennan, Archbishop of New Orleans, and Secretary of Defense Melvin R. Laird were present for the unveiling. Representative Leslie C. Arends, Chairman of the Portrait Committee and ranking minority Member of the House Committee on Armed Services, presided over the ceremony.
Representative Hebert of Louisiana was elected to the Congress in 1940. He served as a member of the House Committee on Armed Services for 30 years and as its chairman from February 4, 1971.
Richard Nixon, Remarks at the Unveiling of a Portrait of Representative F. Edward Hebert, Chairman, Committee on Armed Services. Online by Gerhard Peters and John T. Woolley, The American Presidency Project https://www.presidency.ucsb.edu/node/241044