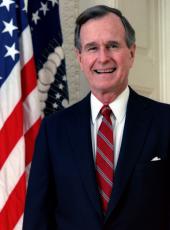 Remarks at the Swearing-in Ceremony for Susan S. Engeleiter as Administrator of the Small Business Administration
The President. Well, welcome, Susan and family and Members of the United States Congress -- delighted you all are here. You know, I'm glad that you all could come as Susan takes the oath as Administrator of SBA. This is a very special occasion for Susan and for her husband and for her kids here, and it is for me as well. I have a wonderful place in my heart for small business people, having been in that category myself. And I think because I once was, I do understand the challenges and the opportunities that face the smaller firms in this country.
As President, I certainly understand, as do all of us, the vital importance of small enterprises to our nation's economic growth and to the employment statistics -- so many jobs held by small business. Many of you are aware of the truly impressive contribution that small business makes to our overall economy: half of our workers employed by small business. During the last decade, small business has produced two out of every three new jobs. So, it's the SBA's mission to help the smaller firms to continue and expand this record. The SBA does play a vital role in our effort to keep America's economic engine strong.
And so, I am pleased that this agency will be led by such a strong, articulate advocate of small businesses. During her 14-year -- I should have let this front row talk about this -- but her 14-year career in the Wisconsin legislature, Susan has been a pioneer: the youngest woman in the country elected to a State legislature when she took office at 22, first Republican woman to serve in the Wisconsin Senate, first woman of any party to hold a major elected leadership post in the Wisconsin Legislature. And her talents, therefore, have been well-recognized early on. She was selected as one of the 10 best Republican legislators in the Nation by the National Republican Legislators Association. She has also been justifiably honored for her contributions to small businesses, both rural and urban. And last year she was named Guardian of Small Business by the National Federation of Independent Business.
And that's not all. She grew up in a small business family, working alongside her brothers in the family's flooring business in Milwaukee. And so, she observed an ethos of hard work and success from youth onward, from the ground up. She was voted one of the outstanding women in Wisconsin history at one point, and I'm delighted to welcome this outstanding woman to our team. I am confident that she will soon be recognized as one of the truly outstanding members of this administration.
So, congratulations, Susan, on this important day. Congratulations to your family. And incidentally, thanks for making this grandparent -- [laughter] -- feel like he's right at home! And now let's go with the Oath of Office. We've asked Chase Untermeyer to do the honors.
[At this point, Administrator Engeleiter was sworn in.]
The President. Congratulations!
Administrator Engeleiter. Thank you very much, Mr. President, for choosing me. I'm very honored to be the new Administrator of the SBA, and I look forward to the challenge. And thanks to all of you for being here today, and I very much look forward to being part of your team, to being a champion of small business around the country. So, thank you all very much for being here on this very important day to me.
Note: The President spoke at 11:22 a.m. in the Roosevelt Room at the White House. Charles G. Untermeyer was Assistant to the President and Director of Presidential Personnel. In his closing remarks, the President referred to a child's voice in the background.
George Bush, Remarks at the Swearing-in Ceremony for Susan S. Engeleiter as Administrator of the Small Business Administration Online by Gerhard Peters and John T. Woolley, The American Presidency Project https://www.presidency.ucsb.edu/node/263333