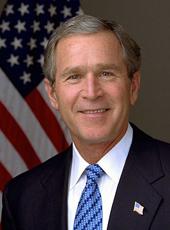 Remarks to the People of Lithuania in Vilnius
The President. Thank you all very much. Thank you, Mr. President. Thank you for your friendship, and thank you for your leadership.
I'm also honored to be here with the Presidents of Latvia and Estonia. I want to thank them for coming as well. Laura and I are honored to be here with you. Thank you for coming out to say hello.
This is a great day in the history of Lithuania, in the history of the Baltics, in the history of NATO, and in the history of freedom. The countries of NATO have opened the doors of our Alliance to Lithuania and six other European democracies. And I have the honor of sharing this message with you: We proudly invite Lithuania to join us in NATO, the great Atlantic Alliance.
Many doubted that freedom would come to this country, but the United States always recognized an independent Lithuania. We knew that this continent would not remain divided. We knew that arbitrary lines drawn by dictators would be erased, and those lines are now gone. No more Munichs. No more Yaltas. The long night of fear, uncertainty, and loneliness is over. You're joining the strong and growing family of NATO. Our Alliance has made a solemn pledge of protection, and anyone who would choose Lithuania as an enemy has also made an enemy of the United States of America. In the face of aggression, the brave people of Lithuania, Latvia, and Estonia will never again stand alone.
Audience members. Aciu! Aciu! Aciu!
The President. You're welcome. [Laughter] You are needed in the NATO Alliance. You will contribute to our common security. Yet the strength of NATO does not only depend on the might of armies but on the character of men and women. We must be willing to stand in the face of evil, to have the courage to always face danger.
The people of the Baltic states have shown these qualities to the world. You have known cruel oppression and withstood it. You were held captive by an empire, and you outlived it. And because you have paid its cost, you know the value of human freedom. Lithuania today is true to its best traditions of democracy and tolerance and religious liberty, and you have earned the respect of my Nation and all nations.
Our Alliance of freedom is being tested again by new and terrible dangers. Like the Nazis and the Communists before them, the terrorists seek to end lives and control all life. And like the Nazis and the Communists before them, they will be opposed by free nations, and the terrorists will be defeated.
Over a decade ago, hundreds of thousands of Lithuanians, Latvians, and Estonians joined hands, from Tallinn to Vilnius, to show your love for freedom. Near Cathedral Square is a stone commemorating that struggle. Inscribed on that stone is one word, "Miracle." The recent history of the Baltic states truly is a miracle. You've gained your freedom. You have won your independence. You now join a great Alliance, and your miracle goes on.
Today, on this great day, may God bless the memory of Lithuanian patriots and freedom fighters who did not live to see this moment. And may God always bless the brave and the free people of Lithuania.
Thank you for coming today. May God bless freedom.
NOTE: The President spoke at 10:20 a.m. in Rotuse Square. In his remarks, he referred to President Valdas Adamkus of Lithuania, who introduced the President; President Vaira Vike-Freiberga of Latvia; and President Arnold Ruutel of Estonia.
George W. Bush, Remarks to the People of Lithuania in Vilnius Online by Gerhard Peters and John T. Woolley, The American Presidency Project https://www.presidency.ucsb.edu/node/213406