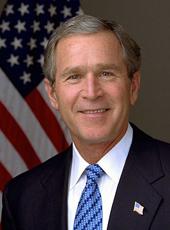 Remarks on the Nomination of Mary E. Peters To Be Secretary of Transportation
The President. Good afternoon, and welcome to the White House. I'm pleased to announce that I intend to nominate Mary Peters to be the next Secretary of Transportation.
Our Nation's transportation infrastructure is vital to our prosperity and competitiveness; it's critical to the everyday lives of our citizens. The Secretary of Transportation is responsible for maintaining a safe, reliable, and efficient transportation system. In addition, the Secretary of Transportation plays an important role in our Nation's coordinated efforts to guard against terrorist threats to our aircraft, our seaports, and our infrastructure. It is the job that requires vision and strong leadership.
Mary Peters is the right person for this job. She brings a lifetime of experience on transportation issues, from both the private and public sectors. She now serves as a senior executive for transportation policy at a major engineering firm. Before that, Mary served in my administration as the head of the Federal Highway Administration. As Administrator, Mary led efforts to improve safety and security, reduce traffic congestion, and modernize America's roads and bridges.
And before coming to Washington, Mary served in the Arizona Department of Transportation for more than 15 years, rising through the ranks to become the director in 1998. Mary has a reputation for character and common sense. She's an innovative thinker. She knows how to set priorities and to solve problems. And as a member of my Cabinet, Mary will work closely with State and local leaders to ensure that America has a state-of-the-art transportation system that meets the needs of our growing economy.
When confirmed by the Senate, Mary will succeed one of our Nation's finest Secretaries of Transportation in Norm Mineta. When I came to Washington, I asked Norm to continue his service by joining my Cabinet. And he shows that when we put politics aside, people from different political parties can work together to achieve results for the American people.
He was the Secretary of Transportation on September the 11th, 2001, and he led the unprecedented effort to bring tens of thousands of passengers aboard commercial aircraft to safe landings. And since then, he's worked to strengthen the security at America's airports and seaports. He's played a critical role in keeping America safe from terrorist attacks. Norm also worked hard to modernize the aviation market. And after Hurricane Katrina, Norm and his team swung into action to repair and reopen major highways and seaports and airports and pipelines along America's gulf coast.
Norm Mineta has served America with integrity and dedication and distinction. He leaves office as the longest serving Secretary of Transportation in our Nation's history. I appreciate Norm's lifetime of service to our country. I wish him and Deni and all his family all the best. I also want to thank Maria Cino for her outstanding leadership of the Department since Norm stepped down in July.
Mary Peters knows the legacy she has to live up to at the Department of Transportation. She will take this new post during a time of historic challenges for our economy and our transportation system. I want to thank Mary for her willingness to serve yet again. She's going to make an outstanding Secretary of Transportation, and I call upon the United States Senate to confirm her promptly. Congratulations.
[At this point, Secretary-designate Peters made brief remarks.]
The President. Good job, thank you. Thank you all.
NOTE: The President spoke at 2:36 p.m. in the Roosevelt Room at the White House. In his remarks, he referred to Danealia "Deni" Mineta, wife of former Secretary of Transportation Norman Y. Mineta; and Maria Cino, Acting Secretary of Transportation. The transcript released by the Office of the Press Secretary also included the remarks of Secretary-designate Peters.
George W. Bush, Remarks on the Nomination of Mary E. Peters To Be Secretary of Transportation Online by Gerhard Peters and John T. Woolley, The American Presidency Project https://www.presidency.ucsb.edu/node/267978