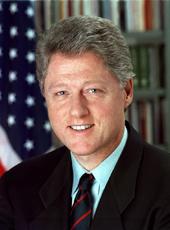 Remarks at the Memorial Service for William Maurice Smith, Jr., in Wynne, Arkansas
Jane, Mark, Murray, Annette, all the members of the family and the friends of Maurice. I stayed up late last night and got up early this morning, and I was trying to think of what I should say. I told Maurice I'd be here, and I figured somebody might ask me to talk. So I thought, well, I ought to start with what he would say to me. Some of it is not repeatable in the church. [Laughter] But it would go something like this: Expletive deleted, don't say too much. [Laughter]
I think all of our lives we will remember a small man with a craggy face, a gravelly voice, a blunt manner, a keen mind, a kind heart, and powerful emotions; a man who was not always good to himself but was always good to others; a man who could say more with fewer words, or just a grunt or the tip of that crazy old hat of his, than anyone we ever knew.
Now, I collected stories the last 3 or 4 days, and this was the odds-on winner: Bill Clark reminded me that in 1984 we had our first meeting in the Governor's office about the '84 campaign. And we were sitting there, and I began the meeting by saying that I had been so impressed with Hillary's no-smoking policy at the Governor's Mansion I was going to apply it to the Governor's office. Maurice got his hat, put it on, stood up, and started walking. I said, "Where you going?" He said, "Birdeye." [Laughter] I said, "I am applying the no-smoking policy of the Governor's Mansion to the Governor's office the day after this next election." [Laughter]
He loved to help people. He loved a good fight. But he never sought to destroy his adversary. He loved political campaigns and legislative sessions. He never met a road or a bridge or a levee he didn't like. [Laughter] He loved the Fair Board and the University of Arkansas. He loved the land and the water and the people of this State. Most of all, he loved his family and his friends. He loved us. And how we loved him—often more than I think he knew.
Hillary was home a few weeks ago, and she went by to see Maurice in the hospital. And when she came back to Washington, she looked at me, she said, "I just love that man." And she said, "It seemed to me like everybody else in the hospital did, too."
I tried to call him over Thanksgiving, and then he called me back, and finally I got him back. We talked twice in the last week. The first time he said, "I wanted to talk to you one more time. I don't think I'm going to get out this time, and I just want you to know I'm proud of everything we did together, and I love you."
Well, all of you know that I owe him a lot. He was the finance chairman of all my campaigns, the master of ceremonies at my inaugurations—ensuring that they would be brief— my chief of staff. He served on the university board; he ran the highway department; and on the side, he always lobbied for Jane's causes for the disabled.
But when I was flying down here on Air Force One today, thinking I wouldn't be on this plane if it weren't for him, I thought of a day 18 years ago, when some of us here were standing on the backyard of the Governor's Mansion after the 1980 elections. And I had just become the youngest former Governor in the history of America—[laughter]—a man with limited future prospects. And that's pretty much the way I felt. And he put his hand on my shoulder, and he looked me in the eye, and he said, "It'll be all right; we'll be back."
I wrote this before I knew the pastor was going to read to us from Luke today. I was thinking of that day today, as we all say farewell to this small man who had such a large impact on all our lives. We say to him, as he said to me so many years ago: Maurice, it'll be all right; God has promised you mercy because you were merciful to us; kindness because you were kind to us; forgiveness because you forgave us; love because you loved us with all your heart. So, farewell, old friend. I say to you what you said to me so many years ago: It'll be all right; you done good; we'll be together again before you know it.
May God bless his soul.
NOTE: The President spoke at 3:05 p.m. at Wynne Presbyterian Church. In his remarks, he referred to Mr. Smith's widow, Jane; his son, William Maurice (Mark) Smith III; his daughters, Murray Smith Johnson and Annette Smith Stacy; and William E. Clark, owner, CDI Contractors.
William J. Clinton, Remarks at the Memorial Service for William Maurice Smith, Jr., in Wynne, Arkansas Online by Gerhard Peters and John T. Woolley, The American Presidency Project https://www.presidency.ucsb.edu/node/225507