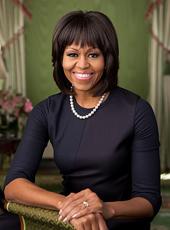 Remarks by the First Lady at the Signing of Legislation To Provide Incentives for Businesses To Hire Unemployed Veterans
Thank you all. Thanks so much. Well, good morning, everyone. Please, rest, rest. I am thrilled to be here today, alongside the Vice President and my favorite person here, Jill Biden -- (laughter) -- oh, yes, you, too, honey. (Laughter.) Secretary Shinseki, members of Congress, representatives of veteran service organizations, and some of our veterans, as our nation reaffirms its commitment to the men and women who have served this country so bravely.
Over the past few years I've had the privilege of meeting with so many of our troops, veterans and military families. And every time I visit with them at a base, every time I sit with them at a hospital bed, every time I talk to their kids at a barbeque or a baseball game, I walk away inspired. Their strength, resilience, and commitment to this country is simply unmatched.
They leave home for months at a time, go to some of the most dangerous places on Earth and risk it all for the country they love. That courage, that unwavering dedication to a higher calling really sticks with me. It stays in my heart. And more importantly, it moves me to act. And that's why Jill and I started our Joining Forces campaign -- because Jill and I wanted to give something back.
So we have been traveling around the country, from city to city, talking with business executive, nonprofit leaders, school administrators, clergy members -- pretty much anyone who will listen. And we've been asking them to find new ways to honor and support our veterans and their families.
And the really wonderful thing that we found is that people are actually listening. Americans are standing up to show their appreciation. Businesses have already hired more than 18,000 veterans and military families, and they've made commitments to hire at least 135,000 more. Schools are working with nonprofits and tech companies to improve the experience of our military children. Entertainment executives are making public service announcements. Community groups are gathering donations and putting together thousands of care packages. And truly, the list goes on and on and on.
And what I've been most struck by is how excited people are to get involved, and that's what we want our military members and their families to know. People want to do something. This is something that Americans want to do. We want to give something back. We want our veterans to know that we are humbled by their sacrifice and we're awed by their service. But sometimes, we just have to be asked. And sometimes, we need a little nudge.
And I am about to introduce my favorite man -- (laughter) -- who is someone who's not afraid to ask for the support for our veterans. He has been standing up for veterans since before he was President. And since he took office, he's been working hard to strengthen our nation's sacred trust with our veterans -- not just with words, but with actions.
He's helped send more than half a million veterans and military family members to college through the Post-9/11 G.I. Bill. He's building a 21st century VA to fully support our veterans throughout their lives. He's taken unprecedented steps to improve mental health care and expand care for our women veterans and wounded warriors. And he's working to put an end, once and for all, to the outrage of veteran homelessness.
Today, with this bill, that story continues. So I am truly proud to introduce you to the man who is the favorite man in my life -- (laughter) -- our President, Barack Obama. (Applause.)
Michelle Obama, Remarks by the First Lady at the Signing of Legislation To Provide Incentives for Businesses To Hire Unemployed Veterans Online by Gerhard Peters and John T. Woolley, The American Presidency Project https://www.presidency.ucsb.edu/node/320684