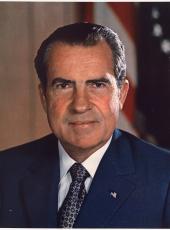 Remarks on Signing a Proclamation Designating April as Cancer Control Month.
Ladies and gentlemen:
We have here in this room today the members of the President's committee on cancer control. We also have some very distinguished guests from the Soviet Union, five doctors who are here working with us on cooperative activities under the program that was set up at the first summit in Moscow 2 years ago.
For purposes of the signing ceremony, the signing of this annual proclamation designating April as Cancer Control Month, I am going to use an extra number of pens--I am using five---because I thought each of our Soviet guests might like one of the pens. As far as our American guests are concerned, you will get duplicate pens, and if somebody asks you, you might say, "Well, I think he used it, too."
I will now sign the proclamation and then have another word to say.
[At this point, the President signed Proclamation 4281 and then resumed speaking.]
Mr. Schmidt will brief the press, and the panel of experts will answer any questions that you have.
One of the most important developments that has occurred has been that while the Federal Government's activities here, as you know, have gone up substantially from approximately $200 million 4 or 5 years ago to $600 million this year, the fears that some had that as the Government interest in and Government appropriations for cancer research increased, the great voluntary effort that we have known for so many years in this country would decrease. Those fears have proved unfounded.
I was delighted to learn, for example, that the American Cancer Society last year raised $93 million in their drive, which is taking place during the month of April. Incidentally, my daughter Julie is in Indianapolis, speaking at their dinner of the American Cancer Society, which is part of this drive today indicating the interest that so many of us have in this particular project. But the American Cancer Society has set as its goal this year over $100 million--may raise as much as $150 million--so it shows that even though the Federal Government is taking a lead role, and a very big role, in providing funds, that we have going parallel with that an enormous private, voluntary effort which is characteristic of the American approach to a problem which concerns so many of our people.
I have been encouraged by the report that I have received. I am not going to give it to you myself, because there are some technical features that I would not be able to answer questions on. But progress has been made.
I have often said that from my own discussions with these experts from time to time, I have concluded that there is probably never going to be found a cure to cancer as such, as there was for polio, a vaccine, or as there was for tuberculosis, where it was found there could be a cure, because there are many different kinds of cancer, and what will work in one case will not work in another. And all of the experts agree that that is why we need a many pronged offensive, in the research area, in the medical field, and so on around.
Also, I would conclude simply by saying that whatever the United States learns in this massive program, we are very happy to transmit, not only to our own people, that information, but to all the people of the world. And that is why we think this fact that our Soviet friends are here today, their experts in the field, is indeed a very hopeful development, because the genius that may find one or several of the cures for cancer--we do not know where it is. It may be in the United States, it may be in the Soviet Union, it may be in an African or Asian or Latin American or European country, but wherever it is, we must discover it. And here we see an example of the best people that we can find in the United States working with outstanding leaders in the Soviet Union, working together toward finding a cure to a disease that afflicts all mankind in, as we know, a very disastrous way.
So with that, we have been pleased with the progress that has been made. We have a good prognosis with regard to progress that may be made in the future, and the experts will brief you on some of the items that have been made.
One last point that I should make, and that is this: This annual proclamation generally serves to stimulate contributions by people to the American Cancer Society and other groups, and I hope that this proclamation will do that. I hope also it will stimulate among the American people, all the American people, a determination to have an examination each year, because all of the experts tell me that there is no single step that we could take that could be more effective in arresting cancer--because it can be cured in many cases when it is discovered early--there is no single step that could be taken than to see to it that examinations are taken by people each year and that early treatment is then provided for them and the best treatment possible.

Thank you very much.
I have had my examination. How many of you have?

I wish you all very well.
N. N. TRAPEZNIKOV [Deputy Director, Institute of Experimental and Clinical Oncology]. Thank you.
THE PRESIDENT. I am looking forward to seeing your leadership when I go to Moscow this summer.
PROFESSOR TRAPEZNIKOV. You are welcome in Moscow.
THE PRESIDENT. Right. I remember when Mr. Brezhnev and I had a long talk about this, both there and in San Clemente, and he, as well as all of your leadership, has a great interest in this problem. We think that working together, we will be as successful as allies in the war against cancer as we were successful as allies in a war many years ago. That is what we want.
PROFESSOR TRAPEZNIKOV. Thank you.
THE PRESIDENT. Thank you.
Note: The President spoke at 12:16 p.m. in the Cabinet Room at the White House.
Prior to the signing ceremony, Chairman Benno C. Schmidt and members of the President's Cancer Panel met with the President to discuss progress achieved in the national cancer program. Later the same day, the White House released a fact sheet and the transcript of a news briefing on the cancer program by Mr. Schmidt.
Richard Nixon, Remarks on Signing a Proclamation Designating April as Cancer Control Month. Online by Gerhard Peters and John T. Woolley, The American Presidency Project https://www.presidency.ucsb.edu/node/256638