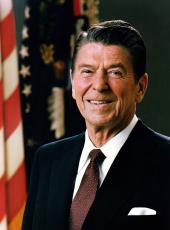 Remarks on Signing a Message to the Congress Transmitting Proposed Enterprise Zone Legislation
In my January 26th State of the Union address, I indicated that a new effort would be made to revitalize decaying areas that had been left out of America's economic mainstream. These areas, whose citizens have often lost hope for a better tomorrow, have failed to respond to decades of massive Federal aid programs. Clearly a new approach is needed to bring hope and opportunity to these troubled areas. And today we propose an experimental program that'll test just such an approach.
Enterprise zones offer a bold new means of invigorating economically crippled communities and improving the life of some of our most disadvantaged citizens. Rather than bureaucratic controls and regulations, a method that has failed, we seek to focus the vigor and innovation of the marketplace on these enclaves of despair. By reducing taxes, by eliminating unnecessary regulations while protecting the health, safety, and civil rights of our citizens, by improving local services, and by involving neighborhood organizations, we will begin to improve areas formerly written off as hopelessly depressed and provide jobs for those who need them the most.
In keeping with our firm belief in the principles of federalism and our confidence in the ability and integrity of government at the grass roots level, the legislation I am proposing today maximizes the options of the State and local governments. Working with these other levels of government as partners and unleashing new economic incentives for the private sector, I'm confident that we can make enterprise zones a valuable tool for spurring economic and social revival where they're most needed.
The people who live in these oppressively poor areas have been offered too many broken promises in the past. We promise no miracles, but we do believe change for the better is possible. The legislation we propose is designed to determine if the enterprise zone concept will indeed work.
Clearly, decades of spending programs have done little more than subsidize the status quo and make wards of the government out of citizens who would rather have a job than a handout. It's time for us to find out if two of the most dynamic and constructive forces known to man—free enterprise and the profit motive—can be brought to play where government bureaucracy and social programs have failed.
Obviously, concern for America's most economically deprived communities crosses party lines. We've received a broad range of bipartisan support for the enterprise zone concept. And I would especially like to thank these distinguished Senators and Representatives who are standing with me here today for their special contributions and leadership of the enterprise zone proposal.
Now, without further ado, I'll sign this message to the Congress detailing the proposal.
Note: The President spoke at 11:03 a.m. at the ceremony attended by reporters in the Rose Garden at the White House.
Ronald Reagan, Remarks on Signing a Message to the Congress Transmitting Proposed Enterprise Zone Legislation Online by Gerhard Peters and John T. Woolley, The American Presidency Project https://www.presidency.ucsb.edu/node/245879