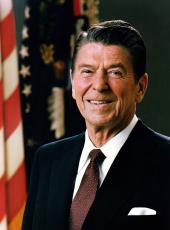 Remarks at a Signing Ceremony for Four United States-China Agreements
Thank you, Premier Zhao.
The developing relationship between China and the United States has been one of the principal events of postwar diplomacy. And today we're taking further steps to broaden and strengthen the ties based on shared principles of mutual respect and mutual benefit. We're concluding new accords that will facilitate trade and investment, enhance the exchange of people and ideas between our countries, expand the prospects for cooperation in developing China's nuclear energy capability, and help address China's critical need for developing skilled managers.
First, we're signing a tax agreement that will make it easier for Chinese and American firms to engage in trade and cooperate in joint ventures. With this agreement, private investors in professional exchanges can make a stronger contribution to Chinese development and to the benefit of both of our nations.
We're also signing the implementing accord for the Cultural Agreement between the United States and China. Our visit has reinforced our appreciation for Chinese hospitality and for China's ancient and honorable culture. I'm delighted that now millions of other Americans will be able to see the artistic and cultural achievements of the Chinese people.
This accord will open my own country's rich heritage to the Chinese people. And under the terms of the agreement, an exhibit from the Brooklyn Museum of Art is just now opening here in Beijing. We're pleased that many Chinese people will be able to see more American art and culture and learn more about our people and our country.
Ambassador Richard Kennedy and State Science and Technology Commissioner Jia Weiwen are initialing the text of an agreement, as the Premier told us, for cooperation between the United States and China in the peaceful use of nuclear energy. We congratulate the negotiators for their hard work and diligence. This agreement will permit American firms and experts to help China meet the ambitious energy goals of its modernization program. Our agreement is based on our shared desire to prevent the proliferation of nuclear explosives in the world. And it brings a new dimension of peaceful cooperation to our relationship.
Finally, we are signing a protocol which extends the successful Dalien Program and creates a special new 3-year course in management.
The Chinese people are known to Americans as people of admirable patience and endless courtesy. Throughout our stay here, we have seen both of those virtues. Let us hope that as contacts grow between the Chinese and American people, each of us will continue to learn about the other, and this important, new friendship of ours will mature and prosper.
Note: The President spoke at 9:03 a.m. in the Western Hall at the Great Hall of the People in Beijing, China.
Premier Zhao Ziyang also made remarks.
Ronald Reagan, Remarks at a Signing Ceremony for Four United States-China Agreements Online by Gerhard Peters and John T. Woolley, The American Presidency Project https://www.presidency.ucsb.edu/node/260702