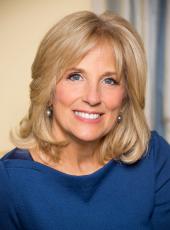 Remarks by Second Lady Jill Biden at the "Community Colleges and Competitiveness: Generating Economic Opportunity Through Innovation in Postsecondary Education" Conference Center for American Progress
Good Morning. Thank you, John, for that kind introduction and for the invitation to be here today.
I admire the critical work that the Center for American Progress is doing to inform the debates on issues of consequence to our country.
I am particularly delighted with your focus on community colleges. My guess is that most people in this room are not community college graduates. Like me, you probably attended 4-year institutions and even went on to pursue advanced degrees. You may not even know someone who has attended a community college.
In the past, community colleges have not always gotten the respect they deserve. Too many people have tended to see them as trade schools for students without better options. People underestimated their value, but that is beginning to change.
And here's why: For more and more people, community colleges are the way to the future. They're giving real opportunity to students who otherwise wouldn't have it. They're giving hope to families who thought the American dream was slipping away. They're opening doors to the middle class – at a time when middle class families have seen so many doors closed to them.
I believe that community colleges are one of America's best-kept secrets – and as I travel the country and speak with so many Americans - students, parents, teachers, and employers – it's clear that the secret is getting out. We are here today because community colleges are truly entering a new day in America.
This issue is a priority for the Obama-Biden Administration: we are committed to making community colleges better and more accessible to students across this nation.
Some of you know that I have been a teacher for almost three decades and a community college instructor for the past 16 years. Last spring, the President asked me to use my role to increase awareness of the valuable contribution of these institutions. Since then, I have been visiting community colleges around the country and reporting back to the President about their challenges, their innovations, and their ideas.
As we know, the nations that out-educate us today will out-compete us tomorrow. Of students who graduate from high school and go on to college, only 40 percent graduate within six years. We know we can do better. And we know that our community colleges will play a critical role in improving that number.
I've found that community colleges are more vital to our higher education system than ever before. They are at the center of America's effort to educate our way to a better economy.
Today, community colleges are the largest sector of our nation's higher education system – serving 6 million students every year.
They are the entry point to higher education for millions of teenagers and adults at various stages of their lives and careers.
Some students come simply because they cannot afford a four-year school. Others come because community colleges offer training in the skills that are needed in a rapidly changing job market. Finally, some come because community colleges are able to provide support in a smaller, more nurturing environment.
For a middle class student who wants to attend a 4-year college but can't afford the tuition, community college is a gateway from a high school diploma to a baccalaureate degree. The numbers tell the story – the average cost of tuition for a private 4-year university is over $26,000 for the current academic year – and public universities average $7,000.
With the average community college tuition totaling $2,500, it's clear that community colleges present a far more affordable way to achieve the first two years of a college education, especially when the credits earned on a community college campus can often transfer directly into many 4-year programs.
For a laid-off worker, community college offers job certification programs that teach a new skill or a new profession. I think most people would be stunned to look at a catalog for an average community college today – they would find coursework:
in radiology and emerging healthcare industries;
training in cutting-edge technologies like semi-conductors;
offerings in architecture and green building techniques;
and classes in highly marketable areas like content management systems, just to name a few.
For an immigrant or first generation American, like many of my students, community college is often the place to begin a postsecondary education.
Over the past 16 years, I have seen firsthand the power of community colleges to change lives.
And that is, in large part, why I never really considered the possibility of not teaching at a community college after the Inauguration last year. Since then, I've been teaching at a community college in Northern Virginia. Last semester, I was privileged to teach students from 22 different countries, each one of them with a story to tell - stories about dedication and sacrifice.
In a setting like this today it is often hard to imagine how hard many of these students struggle:
How they rush from class to work and then home to care for their children, squeezing in homework where they can;
How they wait until payday to afford basic school supplies;
How they share stories in their journals about war in their home countries or abuse in their families.
I find myself humbled by their strength to overcome adversity.
These students fight against significant odds just to be in my classroom. I often say that they are my heroes - and that is no exaggeration.
They persevere because they understand that education will change their lives for the better. Education will improve their job prospects. It will enrich their understanding of the world around them.
Earlier this month, I spoke at the winter commencement at the University of Delaware. Dozens of students receiving their degrees that day had started their postsecondary education at a community college.
One of those graduates was Michael Popovich, who served in the U.S. Coast Guard, and then used GI Bill benefits to pursue his education. Michael started at a community college, went on to earn a degree at a four-year school, and already has a job doing cutting-edge research to develop green fertilizers.
Two weeks ago, I visited Delgado Community College in New Orleans and toured a state-of-the-art radiology lab used to train desperately needed nurses and EMTs. Delgado is filling the critical need for a skilled workforce – just as other community colleges are doing in cities and towns all across America. At Delgado, I also spent time with students and volunteers at a women's center on campus. There I spoke with many women who were juggling families and jobs while pursuing an education.
Tonight, I will attend the State of the Union Address with a woman named Julia Frost as my guest. I met Julia last fall when I visited Coastal Carolina Community College in North Carolina. A Marine Corps Veteran and a military spouse, Julia is currently using her GI Bill benefits to enroll at the community college to pursue her dream of becoming a teacher. The courses she has taken at Coastal will transfer directly to the University of North Carolina at Wilmington, where she plans to complete her Bachelor's degree in Elementary Education.
Julia, Michael and the students I met at Delgado are just a few examples of the students our community colleges are educating every day. Community college graduates just like them are working in jobs that will enable us to expand our green economy, provide Americans with the excellent health care they deserve, and rebuild our country's infrastructure.
Community colleges are a major contributor to our economic recovery today and our country's economic prosperity in the future.
President Obama has set an ambitious goal for higher education. By 2020, he wants America once again to have the highest proportion of college graduates in the world.
Today, approximately forty percent of Americans have a two-year or four-year degree. Once, that percentage was high enough to lead the world. But today we've been surpassed by 10 other countries.
We estimate that over the next decade, an additional 8 million people will need to graduate from college to meet the President's goal. Community colleges are critical to this effort.
To make this happen, we'll need to invest in these students and invest in the colleges they will attend.
In the year since the Obama-Biden Administration has been in office, the maximum grant under the Pell Grant program has increased to more than five thousand dollars. And the President is committed to continuing to increase the size of Pell Grants in the future.
Without Pell Grants many of my students simply could not pursue an education. Recognizing their importance, the Department of Education is making it simpler and easier for all college students to apply for Pell Grants and other federal aid.
Secretary Duncan and I visited a local high school several weeks ago and saw firsthand how changes to the federal financial aid form are already making it easier for students to begin the financial aid process.
At the same time we are working to improve access to higher education, we are also working to improve quality.
For our country to succeed and prosper in the global economy we need to ensure that more students are entering college and succeeding. Improving retention rates is absolutely critical.
The president has proposed the biggest investment in community colleges in more than 50 years.
This proposal would challenge community colleges to get better and would reward those that succeed. It would offer resources to improve instruction, and help community colleges establish partnerships with businesses so that their courses will be pathways to real careers for their students.
We want to help community colleges do what they do best: be the place where students of any age or socioeconomic background will find the academic courses, the job training, or the certification programs they need to improve their own economic prospects – and that of our country.
Education, in the words of Nelson Mandela, "is the most powerful weapon you can use to change the world."
Community colleges are doing that every day. With our support, we can help them serve more students than ever.
This is the moment for community colleges to shine.
Thank you.
Jill Biden, Remarks by Second Lady Jill Biden at the "Community Colleges and Competitiveness: Generating Economic Opportunity Through Innovation in Postsecondary Education" Conference Center for American Progress Online by Gerhard Peters and John T. Woolley, The American Presidency Project https://www.presidency.ucsb.edu/node/336790