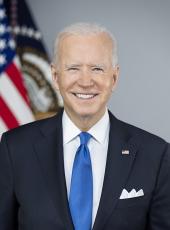 Remarks in an Exchange With Reporters Prior to Departure From Hennepin County, Minnesota
Build Back Better Act
Q. On the timeline, sir, for Build Back Better, do you want it to pass in December or is it okay if it rolls into later months, sir?
The President. The sooner, the better. The sooner, the better.
Coronavirus Vaccination Efforts
Q. Mr. President, are you considering any new vaccine requirement or efforts to try to get more Americans vaccinated? You said that is the key to protecting against Omicron. Is there anything you're going to do?
The President. I'll be talking about that on Thursday.
Q. Anything you can preview for us?
Shooting at Oxford High School in Oxford, Michigan
Q. Mr. President, are you planning to go to Michigan to talk to the families?
The President. I don't know that I'm able to do that. I don't even have the detail of who the families are. Although, I was talking to Debbie Dingell; she was talking to me about it. And I think she knew somebody who was there. I'm not—I don't know anybody who was injured. But she was telling—talking about it.
I don't have the detail. I don't have any detail.
U.S. Travel Restrictions From South Africa and Elsewhere/Coronavirus Omicron Variant
Q. Mr. President, how long will the travel restrictions on countries in Southern Africa be in place?
The President. Well, it kind of depends. I—it's going week to week here to determine what we need and what the state of affairs. We're going to learn a lot more in the next couple of weeks about the lethality of this virus, about how much it spreads, about whether what we have can control it, et cetera. So it will depend on those issues.
Q. And, Mr. President——
The President's Approach With Partner Countries
Q. Are you committed to telling the allies if you have to impose further travel restrictions? When the—President Trump instituted the travel restrictions, it was a real shock to European allies. Are you committed to—I mean, are you committed to, sort of, coordinating that?
The President. Unlike Trump, I don't shock our allies.
Q. Mr. President, how concerned are you about Russia and Ukraine?
NOTE: The President spoke at 5:05 p.m. on the tarmac at the Minneapolis-Saint Paul International Airport. In his remarks, he referred to Rep. Deborah A. Dingell. A reporter referred to H.R. 5376.
Joseph R. Biden, Remarks in an Exchange With Reporters Prior to Departure From Hennepin County, Minnesota Online by Gerhard Peters and John T. Woolley, The American Presidency Project https://www.presidency.ucsb.edu/node/353581